03 May 2012
A story of an American economist named Eleanor M. Hadley who contributed to Japan's post-war democratization, especially in the field of redistribution of wealth of the nation.
She visited Japan before the war between the two nations started. She was an exchange student and studied Japanese. During the war, she studied economics in Harvard. After the war she was hired by US Occupational force, so called G.H.Q.
The book described her life experience in Japan. She toured Japan and witnessed severe poverty in rural areas. In those days poor peasant families had to sell their children to prostitutes, Geisha or servant house to earn living.
After second world war, what she was involved in was dismantling of Zaibatsu (Corporate conglamour) such as Mitsubishi, Sumitomo, Mitsui, and Yasuda. She, her colleagues and her superiors thought that was best way to rebuild Japan's economy. Pre-war time Japan was much like Plutonomy. Small portion of the population dominated most of the wealth. Dismantling of Zaibatsu was to hike tax on the rich and dissolve their share-holding companies to re-allocate the wealth to number of people in the country.
The below is photo of former residence of Mitsubishi Zaibatsu family.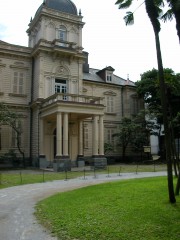 It was like "Gone with the wind" for the family. Actually their residence was even occupied by the Yankees. They lost huge part of their asset by post-war economic reform. They did protest that but G.H.Q. actually did it with her advice.
Interesting thing is that kind of reform was even objected within G.H.Q. because this type of reform was more like communism. Forcibly taking away wealth from the rich, did not match with US free market economy ideology.
She and her colleagues were later dismissed from public office on suspicion of communist activity and treason. Her name was cleared 20 years later.
Thanks to G.H.Q's reform, Japan has become relatively egalitarian society among advanced nations. Ironically the U.S. at present has become plutonomy society. That is why "Occupy Wall Street" movement occurred. Only top 5% of the population dominates 60% of the nation's total wealth. Top 400 richest households wealth is equivalent to that of bottom half of the population.
The rich can do anything they want in the world's most democratic nation because they finance President, Senators, and Congressmen. They can even control media to shut down unfavourable information for them to manipulate mass-population.
Recent Micheal Moore's film described how plutonomic American society is and in contrast the film showed President Roosevelt's proposal of Second Bill of Rights during second world war.
The right to a useful and remunerative job in the industries or shops or farms or mines of the Nation;
The right to earn enough to provide adequate food and clothing and recreation;
The right of every farmer to raise and sell his products at a return which will give him and his family a decent living;
The right of every businessman, large and small, to trade in an atmosphere of freedom from unfair competition and domination by monopolies at home or abroad;
The right of every family to a decent home;
The right to adequate medical care and the opportunity to achieve and enjoy good health;
The right to adequate protection from the economic fears of old age, sickness, accident, and unemployment;
The right to a good education.
All of these rights spell security. And after this war is won we must be prepared to move forward, in the implementation of these rights, to new goals of human happiness and well-being.
Micheal Moore said it did not come to realization in the U.S. because Roosevelt died before the war ended. In fact Japan acquired the above rights. They are written in Japan's post war constitution.
Article 25. All people shall have the right to maintain the minimum standards of wholesome and cultured living.
In all spheres of life, the State shall use its endeavors for the promotion and extension of social welfare and security, and of public health.
Article 26. All people shall have the right to receive an equal education correspondent to their ability, as provided by law.
All people shall be obligated to have all boys and girls under their protection receive ordinary education as provided for by law. Such compulsory education shall be free.
Is it because of G.H. Q. people including Ms. Hadley?
If so, we should be thankful to her and the U.S.
I recently come up with the idea of my new novel. The title would be "Second Bill of Rights." The main character is a son of Japan's notable Zaibatsu family. Before the war he met a brilliant young American woman who was an exchange student like Ms. Hadley in Tokyo. He and she became good friends discussing arts, culture, politics and economical system of Japan, U.S. and rest of the world.
After the war, his family ruined. They saw each other again in Tokyo, this time she was a G.H.Q's economist. But the two got deeper relationship than pre-war time.
Doesn't it sound interesting?
03 March 2011
Last weekend I visited most weird beach in the world. That is in Kaminoseki town, Yamaguchi prefecture.
It is said to be the construction site for newly built nuclear power plant that is scheduled to start operation in 2018.
See this video.
This is what it was like. The beach is watched by construction workers and security guards but people set up tents and held music concerts like enjoying party. Although annoucement that says "This is construction area. Please leave here immediately" was made every hour, they never moved. I joined them. They are activists who protest ongoing construction of nuclear power plant in Kaminoseki.
If the plant is constructed there, people living on nearby island called Iwai-shima should have very harsh life. Not just fear of radioactive leaking but the sea being polluted by warm water released from the plant, which kills fish they hunt for living.
They occupy the beach to show objection to the construction. They also sail to the sea where construction ships are anchored. Using fishery ships and kayaks, they try to stop the construction of the plant.
Nuclear plant is out of date power generation. The cost efficiency is lowering and renewable energey has become more common around the world.
Nuke plants have now become like US military bases in Japan. Both do not function as people expect to do. However myth that these things are very functional is still common.
A few weeks ago I joined the protest march to the U.S. embassy in Tokyo to show objection to construction of U.S. marine helipads in Takae, Okinawa. Two people were arrested by the police near the embassy.
06 March 2009
The below article is translation of this original Japanese article posted on Japan's Citizens Internet Site, JANJAN.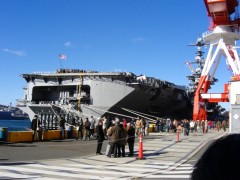 The American navy nuclear powered aircraft carrier George Washington (CVN 73) entered Tokyo Bay and moored at Yokosuka base, and it has passed already 9 months. I have always opposed the station of that aircraft carrier. Recently, I had a chance to contact a crew member handling the nuclear reactor of that aircraft carrier, and since I had opportunities to communicate with him by e mail and also meeting him directly, I asked the man who contacts nuclear reactors directly about the safety.
For that crew, to communicate with me may be a little bit risky action. To contact with the opposition group like me is an action that his superior does not want to allow, and if military classified information are mentioned during the contact by mistake, he will face a court-martial. The consent was given on condition that strictly "answer questions within the limit that does not touch classified information". Since the real name and detailed characteristics can not be revealed in the article, it is decided that he would be called "Mister".
As referred to crews of warship, catching a glimpse, everybody tends to think that they are soldiers trained for combat, however, actually, most crew members are just people who have no training other than self-defense. Mister" told me that he is a crew member belonging to the second largest department which is in charge of the nuclear reactor of the ship, and had received special practice and training for that.
The duty is almost 10 hours per day, and also, once a week is 24 hours duty. When it was asked whether such harsh working is safe, he answered that in the military, it is common knowledge to work for 3-4 days with 3-4 hours sleeping, so he does not suffer. When he was asked concerning his salary, that was an astonishing amount. In addition to that, since living cost is almost nothing, it could be saved as much as desired. Well, it is the level that one does not have to worry whether tiredness lowers morale.
The following is the questions and the answers of the "Mister".
Me: I heard that nuclear reactors are being turned off during mooring. Nevertheless, I heard that the reactors must be cooled continuously, and for that, the cooling system is working continuously by electricity drawn from the ground, however, if the ground electricity supply system is destroyed by earthquakes, etc., and thus it could not be cooled, wouldn't it be melt down?



Mister: First of all, such things can not happen. Warships are designed in anticipation of all situations in the world. Of course, it is designed to withstand also earthquakes. When the electric power can not be supplied, by the power source of the ship using diesel fuel, the cooling system could work continuously. Even if that does not function, in the present condition, it is possible to cool it sufficiently only by air.
As a precaution, nuclear reactors are watched by human eyes for 24 hours, without leaving even one second. All staffs in charge of nuclear reactors are professionals with more than two or three years working experience, at least at 2 or 3 nuclear facilities.

Me: It appears that in the past, accidents such as the leakage of cooling water and the radiation exposure of workers happened, but the U.S. navy has insisted that "no accident". I can not understand, why?
Mister: The definition of an accident by the navy is the situation that nuclear fission products are leaked from the reactor. The pointed out examples do not fit in with accidents.



Me: If a plane crashes to the ship from the top or the side, are nuclear reactors safe?

Mister: Nuclear reactors are located in the bottom lower than the sea level. Even if it is attacked by a torpedo, since shielded heavily (protective partition), the reactors can not be damaged.



Me: It appears to use considerably highly concentrated nuclear fuel, right?



Mister: That is because nuclear reactors are smaller than general ones. Even if it is destroyed, the amount of nuclear materials leaked may not be greatly different.

Me: As a crew, (routinely) do you feel the fear of radiation exposure?



Mister: Not at all. In the ship, a counter is installed, and the amount of radiation exposure in the ship is only about 1/3 of the amount received from the sun light.



Me: Now, I heard that the aircraft carrier has entered the maintenance period until May. Are you repairing nuclear reactors, change nuclear fuel, etc.?

Mister: According to the regulation, such things can not be done in foreign countries. However, if a part is changed for maintenance, since it is a contaminated material, they are stored stringently, and to stay nothing of them outside of base, it can not be taken to the outside of vessel, and it will be carried back to our country.

Me: Last year, there was an incident that a non-American Nigerian soldier killed a driver. Is the morale OK?
Mister: All the crew members in charge of nuclear reactors are only Americans. That incidence made us angry. Because, due to the incidence, our reputation became bad.
 
Me: Do you feel welcome from Yokosuka's people?

Mister: It is surprising that the station of the warship became controversial so much. Welcome and unwelcome, I feel both. An interesting thing is when we called at Korea last November, it was completely different hearty welcome. Perhaps, because Korea has the urgent problem of national security.

Me: How could the reason of the aircraft carrier stationed in Yokosuka be explained?

Mister: It was understood that first of all, the first is a deterrent power, the second is the relief of natural disasters, and the third is, although actually this is thought to be the most important, to show off American influence.

Me: What do you think about President Obama taking office?

Mister: Most military are republicans. That is because the Republican party is in the position to support military expansion. However, personally, I am excited about the first Black man taking office. It is not the time of racism anymore.
Me: From the view of a nuclear energy engineer, can you consider to promote nuclear energy as an energy source?



Mister: I think it should be done. Although accidents are much worried, Chernobyl, etc. happened because their maintenance was completely neglected. Wind power and solar heat could be applied to small communities, but it is not suitable to supply electricity to big cities. Among Bush's policies, one that could be supported is the decision to build 20 new nuclear power generators in the country.



The engineer who responded to the interview was a typical nice guy. Personally, I also have known many good guys among Americans. Because, may be I had lived in America more than 5 years.



One can not tell whether George Washington will actually cause accidents. When it happens, it happens. Nonetheless, I am also aware of the argument that the risk of nuclear reactors is not the main issue. The problem is that using our tax, a home port is provided to a huge aircraft carrier of other country. American military also testify in the congress that the military is stationed in Japan because it is cheap due to so called "Simpathy budget" which is Japanese government provides for the aid.
I hear the opinion that speaking from the aspect of national security, we should accept U.S. military presence, however, in reality, the right answer is that American soldiers are not required. Already, Japan has an army called the Self-Defense Force with more than enough power to protect the territory. Although "threatening from China"can be frequently heard, according to the estimation of the defense ministry, even if Chinese army attacks, the Self-Defense force could defeat them within several hours.
Of course, that is merely an assumption. Nonetheless, even if Japanese and Chinese become the conflict state, if considering the fact that China is the country who owns U.S. treasury bonds most in the world, the possibility that America will become Japanese side is very low. Since the level is the"removal of North Korea from terrorist countries", it is evident that they will be hardly enthusiastic.

In spite of such situation, American military is allowed to use the base. According to the common sense of international communities, it cannot help but considering as "became an occupied country willingly".

If American force remains continuously more than this, it is not beneficial to both Japan and America. Because of the base problem, the impression of American on Japanese including me worsens daily. If America also considers the Japanese American relationship to be important particularly after the financial crisis, they should feel it is the time of withdrawal.

It is better to stop providing Simpathy budget" in order to reduce American force stationed in Japan greatly, operate Yokosuka naval base as the base for the Japanese Self-Defense Force, and the nuclear powered aircraft carrier uses the base not as a home port but only as a port of visit. Of course, it will be better to turn off nuclear reactors, and to revise the status of forces agreement to reinforce the right of the safety inspection.
Indeed, to do such things will become great advantages not only for Japanese people but also for Americans including "Mister". I believe that indeed, it is the role of Japanese government to persuade the U.S. government to do such things.
16 August 2007
A few years ago, there was a shocking TV show broadcasted in Japan. It was translated version of "Did we land on the moon?" It was a hoax theory of Apollo lunar landing that took place in 1960's and 70's. It was broadcasted in U.S. already on FOX channel that gave a shock to American viewers.
After Japan's hoax theory boom, a few books about this topic were published and I bought 2 of them.
The following are the famous reasons that the lunar landing was fake.
1. The flag was waving in the vacuum moon surface.
2. The same mountain shape of the photos that should have been taken in different places.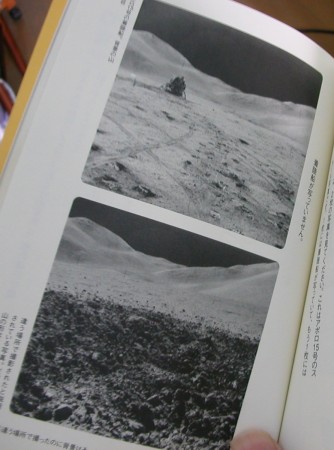 3. Humans could never pass Van Allen radiation belt, which covers the earth because of enormous amount of radiation passing through the rocket.
The answers from NASA are the below.
1. It did not wave because of the air, it waved because the astronaut was rolling the pole to stick it on the ground.
2. The two photos were shot a few miles apart, but the background mountain was miles away from the both shooting points.
3. Van Allen radiation belt was safe as long as the rocket stayed there less than an hour.
Well, I just believe what NASA says. But what if NASA lied?
The books I bought suggested some interesting points of the theory.
Van Allen belt is flexible one, it can stretch to longer than NASA claimed. In fact, not so much was known about this radiation belt in 1960's. The belt was discovered in late 1950's. Russians were reluctant to manned mission to the moon because of this heavy radiation belt.
What is important is Apollo mission was the mission the U.S. government never wanted to fail. They did not care about the astronauts' lives but they cared about national pride. It was amid Cold War and Vietnam war. Failing the project means losing the war to the communists and trust from the voters.
They neither fail nor cancel the mission. Apollo mission was assassinated JFK's promise. It has to be acomplished by the end of 1960's.
Think about it, did they want to air failing mission on live worldwide? At that time, there was a great possiblity of the mission failing as well as succeeding.You never know what would happen in the outer space. Even the rocket got in a trouble, no one could come and support.
It was much cheaper to set up the studio that looked like moon surface than to really send men to the moon without sufficient technology.
If it was hoax, what about moon rocks that was said to be taken from the moon and reflection mirror placed by the astronauts?
These things can be done by unmanned mission, in fact Russians did. As for moon rocks, you can find ones in Antarctica which became meteorites.
The reason I kind of believe the hoax theory is not because of anti-America sentiment. I am American lover.
One is I do not trust media and information from the authority. As Goebbels said, people tend to believe big lies rather than small lies. No one could deny such big project really existed once it was reported worldwide.
The other is there should be a limitation on our technology, especially things related to space programs. We were born on the earth and will be dead on the earth, no other places to go. I do not like to live in space. Try not go so far, stay on this planet, that is our destiny.
These days, ecology crisis has been a biggest issue in this world, so I would say "Rather than spending so much money on space project to make dreams come true or to escape from the earth, we should concentrate on fixing this damaged environment of our precious planet. That would be good for our descendants."