03 January 2014
Year of 2014 started.
On one of new year's days I was invited to the dinner at Tokyo's most expensive French cuisine restaurant, LA TOUR D'ARGENT. It is located in The Hotel New Otani Tokyo, one of Japan's high class hotel chain.
The below photo is me in kimono at the waiting room of the restaurant. Only waiting room is as big as one ordinary restaurant. I was allowed to take a photo of me within waiting room area.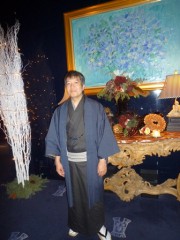 As you see the interior is georgeous. The dining room was georgeous as well. Mirror ceiling and chandeliers, candles. Tens of garsons in black uniform walking around to serve the same number of tables. That reminds me of the film "The Great Gatsby."
I had champagne, wine, and full course of very delicous meals. The speciality of the course was roast canard. Each guest was given a card of canard (duckling) he/she eats with its number.
A sommelier selected a wine that fits the course menu. He said one of most expensive wine the restaurant has is Romane Conti, which one bottle costs 2500000 yen, 25 thousands US $ or Euro. Of course it was not what our group could afford. So I chose half bottle of wine which costed around 19000 yen.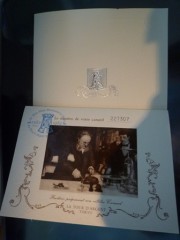 I really enjoyed that. But at the same time I had to feel guilty about it. The dinner cost a lot. That one dinner can equal a few people's monthly food expense. In the world half of the population are starving. This luxurious dinner should cost equivalentl to annual income of some portion of the people in this world.
Moreover, the bottle of Romane Conti costs construction of a school that hundreds of children can attend in third world nations.
Not just in third world but even in first world like Japan or America, such dinner is far exceeds the living standard of ordinary people. Last year I went to Okinawa. I visited the US Marine facilities. At the entrance of US Marine training camp, I saw the below sign that says "Hard training makes hard marine."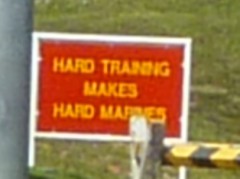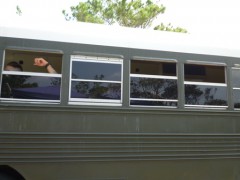 I saw the bus of trainees entering the gate. I heard those young people come from very poor family that could not afford college education for their children so they had no choice but to join the marine, what is called, Poverty Draft.
Meanwhile, very rich people like who can afford very expensive dinner like LA TOUR D'ARGENT exploits such young people to grow their wealth provoking wars all over the world. Kind of plutonomy. That is the social structure of today's world. I wrote a novel on this theme.
The bus transporting capitalism slaves to the military base reminds of one very historical place in Poland which I visited 6 years ago. The similar sign was posted at the gate of the facility.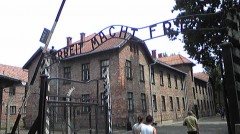 ARBEIT MACHT FREI. (Labour makes you free.)
18:55 Posted in Culture, France, Politics, Society, Tokyo Life, USA issues | Permalink | Comments (0) | Tags: military, poverty, class gap, economy, kimono, okinawa
11 December 2012
A plutonomy means a form of capitalism that is designed to make the rich control a nation's government, its economy and its society.
At a certain place in a certain country, the wealthy have gathered and are having a meeting.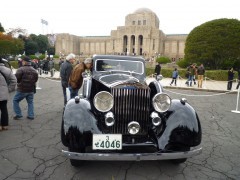 They are the elite of the country. Although few in number, they control the majority of the country's wealth. This is why they can do anything. They have the power to manipulate society to suit themselves. They have the economy, of course, politics, and even the media which forms public opinions in the palms of their hands.
As they all gather under the chandelier, one of the wealthy breaks the ice while drinking his champagne.
"Hey, the global economy is on a bit of a downturn recently. I feel that our wealth has also been on a decreasing trend. Shouldn't we come up with some kind of countermeasure to this?"
"You're so right. Taxes are still just too high! We should really bring down things like the income tax rate."
"-and let's privatize the public enterprises. And relax the regulations. Let's pressure the government to get rid of regulations which are an obstacle to business. And to reduce labor costs, make them allow more temporary workers. The politicians and government officials all got where they are now through our donations and pay-offs; they'll do whatever we ask."
"But the government's budget will shrink by the amount the taxes we pay goes down, won't it? How do we make up for the deficit?"
"That's easy. We just reduce the education and social welfare budgets which have been used for the public up to now. The expensive taxes that we've been paying have been diverted to those that barely pay any tax. That's why we just need to keep raising consumption tax, insurance and pension payments, which they have to pay an equal amount of."
"But surely the public won't allow it. If we do that, public services will be degraded, the burden on individuals will increase, and they'll be critical that the rich get preferential tax treatment, and that workers are treated as disposable. We have to be conscious of the fact that this country is a democracy. Even if we have all of the wealth, regardless of one's assets, when it comes to votes it's one person, one vote after all."
"Which is why we'll use the media. We are also their major stockholders and advertisers; we'll feed them this information. We'll tell them that freeing the economy will lead to the development of the public and government as a whole, that they should consider the principles of capitalism, and that a large variety of cheaper, high quality goods and services will become available to consumers thanks to this freeing up. We'll tell them that if enterprise profits, workers will also receive benefits through the trickle-down phenomenon. If we run a campaign like this using some kept scholars, nobody will oppose us!"
The proposals decided upon at the meeting were executed by the government, and went unopposed by society thanks to the media's guidance of public opinion. Now then, on to the second meeting ten years later.
To be continued to Chapter 2
The story is an interesting and cynical perspective of the past few generations of society, specifically focusing on the disparity in wealth between the wealthy and the average member of the public. The story shows the wealthy conspiring to widen the gap between themselves and the workers of society.
It may be interesting to read this story along with a song. "Mercedes Benz".
03 May 2012
A story of an American economist named Eleanor M. Hadley who contributed to Japan's post-war democratization, especially in the field of redistribution of wealth of the nation.
She visited Japan before the war between the two nations started. She was an exchange student and studied Japanese. During the war, she studied economics in Harvard. After the war she was hired by US Occupational force, so called G.H.Q.
The book described her life experience in Japan. She toured Japan and witnessed severe poverty in rural areas. In those days poor peasant families had to sell their children to prostitutes, Geisha or servant house to earn living.
After second world war, what she was involved in was dismantling of Zaibatsu (Corporate conglamour) such as Mitsubishi, Sumitomo, Mitsui, and Yasuda. She, her colleagues and her superiors thought that was best way to rebuild Japan's economy. Pre-war time Japan was much like Plutonomy. Small portion of the population dominated most of the wealth. Dismantling of Zaibatsu was to hike tax on the rich and dissolve their share-holding companies to re-allocate the wealth to number of people in the country.
The below is photo of former residence of Mitsubishi Zaibatsu family.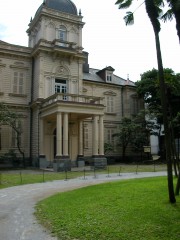 It was like "Gone with the wind" for the family. Actually their residence was even occupied by the Yankees. They lost huge part of their asset by post-war economic reform. They did protest that but G.H.Q. actually did it with her advice.
Interesting thing is that kind of reform was even objected within G.H.Q. because this type of reform was more like communism. Forcibly taking away wealth from the rich, did not match with US free market economy ideology.
She and her colleagues were later dismissed from public office on suspicion of communist activity and treason. Her name was cleared 20 years later.
Thanks to G.H.Q's reform, Japan has become relatively egalitarian society among advanced nations. Ironically the U.S. at present has become plutonomy society. That is why "Occupy Wall Street" movement occurred. Only top 5% of the population dominates 60% of the nation's total wealth. Top 400 richest households wealth is equivalent to that of bottom half of the population.
The rich can do anything they want in the world's most democratic nation because they finance President, Senators, and Congressmen. They can even control media to shut down unfavourable information for them to manipulate mass-population.
Recent Micheal Moore's film described how plutonomic American society is and in contrast the film showed President Roosevelt's proposal of Second Bill of Rights during second world war.
The right to a useful and remunerative job in the industries or shops or farms or mines of the Nation;
The right to earn enough to provide adequate food and clothing and recreation;
The right of every farmer to raise and sell his products at a return which will give him and his family a decent living;
The right of every businessman, large and small, to trade in an atmosphere of freedom from unfair competition and domination by monopolies at home or abroad;
The right of every family to a decent home;
The right to adequate medical care and the opportunity to achieve and enjoy good health;
The right to adequate protection from the economic fears of old age, sickness, accident, and unemployment;
The right to a good education.
All of these rights spell security. And after this war is won we must be prepared to move forward, in the implementation of these rights, to new goals of human happiness and well-being.
Micheal Moore said it did not come to realization in the U.S. because Roosevelt died before the war ended. In fact Japan acquired the above rights. They are written in Japan's post war constitution.
Article 25. All people shall have the right to maintain the minimum standards of wholesome and cultured living.
In all spheres of life, the State shall use its endeavors for the promotion and extension of social welfare and security, and of public health.
Article 26. All people shall have the right to receive an equal education correspondent to their ability, as provided by law.
All people shall be obligated to have all boys and girls under their protection receive ordinary education as provided for by law. Such compulsory education shall be free.
Is it because of G.H. Q. people including Ms. Hadley?
If so, we should be thankful to her and the U.S.
I recently come up with the idea of my new novel. The title would be "Second Bill of Rights." The main character is a son of Japan's notable Zaibatsu family. Before the war he met a brilliant young American woman who was an exchange student like Ms. Hadley in Tokyo. He and she became good friends discussing arts, culture, politics and economical system of Japan, U.S. and rest of the world.
After the war, his family ruined. They saw each other again in Tokyo, this time she was a G.H.Q's economist. But the two got deeper relationship than pre-war time.
Doesn't it sound interesting?
19 November 2011
The story is one Afro-American civil activist disappeared somewhere in Missippi 1964 and FBI men searched for them. Then they faced brutality of local people. The film described how uncivilized and scary deep South like Mississippi was.
I remember when I was in America, Afro-American professor of Black Studies criticized the film because the main characters were two good white men saving poor Afro-Americans. In fact, the film was made from white people's perspective.
When we, Japanese hear about Mississippi, first thing to come up is "The Adventures of Tom Sawyer" by Mark Twain. But reality is racist conservative deep South. Now things have changed a little bit better, I guess.
America has changed since that time, which was proven by the fact that Obama was elected as President. However, it seemed he dissappointed those who voted for him. His supporters believed Obama can understand pain of the poor people because he shared the same experience. After he was elected, what appears to be was he was after all, American President just like other Presidents, who had different skin color. He had to serve for rich white men who dominate the country's wealth. He had to keep sending troops to the battle fields to save America's pride and military industry.
The consequence is "Occupy Wall Street." Now new type of seggregation emerged in a country of democracy and freedom. The rich and the poor.
Agony goes on as life goes on.