09 February 2010
I was fortunate to be born as Japanese. I went to 3 places for skiing this year. All three places were fabulous.
I have skied in foreign countries such as Colorado in US and Switzerland in the past.
That was great experiences.
But I enjoyed skiing in Japan. Not just skiing but also hot spring after skiing.
Last week I went to Zao Hot Spring Ski Resort in Yamagata Prefecture. It has great view point with frozen trees (Soft rime) on top of mountain.
It makes you feel being in Fairy Tale.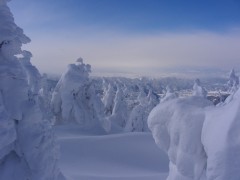 You can ski down from there. After you reach the bottom, you can enjoy bathing hot spring and ease your body.
The below video summerises my ski trip of last week.
Japan has various places like the above and beach resort of Okinawa, where you can swim all year around.
Great contrast, isn't it?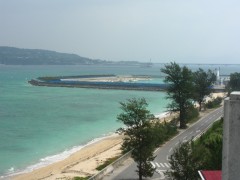 I love my country because it has great fun places. I want to protect them.
10 April 2009
Not high-season any more, but you can do that on Shiga Highland, Nagano Prefecture, 2 hours and half train ride and 1 hour and half bus ride from Tokyo.
It was for me first time in 14 years. Last time was 1995 in Brockenridge, Colorado in that year's January and Zelmatt, Switzerland in August.
That was really fun. Acutually this time was first time I skied in Japan.
Skiing has changed since then. Snowboarding became more popular and new type of ski boards, curving skiing which is shorter and round shape are now commonly used. I used this new type of skiing equipment.
The photo is what I took from the top of the slope. The highland was very beautiful.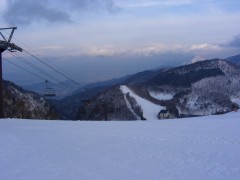 The town was also famous for hot springs. I bathed very good hot spring. The big bath room had big glass window that I could enjoy spectacular view of highland's snow mountain. That was awesome experience.
Skiing is not as popular as it used to be. It was very popular at the time of big economy boom between late 1980's and early 1990's.
The boom in the past was caused by the popular movie "Watashiwo-Ski-ni-Tsuretette (Take me out to Snow Land)."
I was impressed by the movie and decided to join the ski tour. Not only the skiing scenes were great but youngsters' life in the film was nice.
At that time youngsters could afford a nice sporty car to drive to ski slopes from a city on vacation and rent a lodge holding parties.
Now youngsters are struggling with their working-poor conditions. I skied and envied the life of ski boom period.
The below is You Tube clip of the Ski Slope I videotaped. Ski slope was really empty and I never had to worry about bumping to other skiers.
10 November 2007
It is getting cold lately. A winter is coming close. I do not like winter except that I can go out and ski.
I have good memories of skiing.
During my college days in the U.S., I visited Colorado to ski 3 times. The same ski resort, Steamboat.
It was college's students ski tour. In the first time we travelled by Amtrack. I remeber it was more than a half day trip from Auckland. Crazily long and boring. 2nd time and 3rd time we went there by plane. Less than 4 hours.
On 1st time trip, since I had never skied before so I took 1 day ski lesson and that enabled me to ski very well afterwards. Steamboat was a huge ski resort. Even I stayed there for 5 days, I couldn't ski on all of the courses there.
The photo was taken there.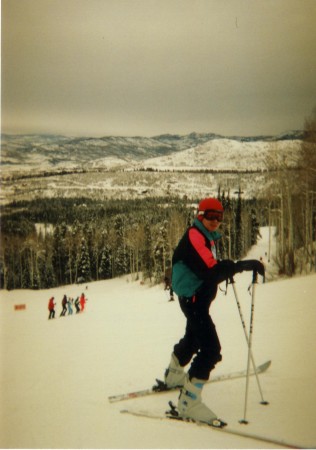 Other place I skied than Steamboat was Zermatt in Switzerland. I skied there in August seeing the view of Matterhorn.
But not as good as Steamboat, because the ski zones were limited because it was summer.
Well, now I get older, I don't think I want to go out and ski somewhere. There are many good ski resorts in Japan. But not as good as Steamboat or Zermatt. I don't want to get in crowded ski bus or trains to get to a crowded ski resort.
As it gets cold, I would stay longer at home watching DVDs. I rented an old Charlie Angels' drama episode that Angels went to Veil in Colorado to bodyguard a foreign important person. Kate Jackson (or lookalike) skied chasing a criminal very well.
That brought me back Steamboat memories, too.
Skiing is what you have to do NOW. As the whole earth gets warmer, more and more ski slopes are being closed. We wouldn't be enjoying skiing in near future. Maybe we should ski on artificial snow ground.
I was lucky I could enjoy skiing on real snow. It was high quality powder snow. I remember I could not make a snowball out of it.