15 April 2010
The lyric starts with "We met at the Ski lodge, and we fell in love."
I like this song because this reminds me of my ski trip this year.
I've visited 6 ski resorts this year from January to March. I really enjoyed.
The last ski slope I visited was Shiga Highland in Nagano Prefecture. That is where my favorite ski film was shot.
In 1998, winter Olympic was held there.
I skied from one ski slope to another crossing mountains. It was a blizzard day. Very hard to ski but I enjoyed it.
See the below video clip or this site.
Next day was very clear day, so I just enjoyed skiing on the slope. See the below video or this site.
The song matches with the below video.
Not just skiing, I enjoyed bathing in hot spring bath. That is the way Japanese skiers enjoy skiing.
Getting cold on the ski slope and then taking a hot spring bath afterwards. It made me really warm.
Speaking of warming myself, I got warm by trip to Okinawa in late March.
Warming myself seeing emerald green sea. See this site or the below.
Yes, I was warm this year's winter.
Now after my long vacation period was over, working hard in concrete jungle.
That is totally different world. I don't know how to express my current situation.
14 March 2010
I've seen this movie a few times in the past. But I watched it on TV last week during my ski trip to Naeba, Niigata Prefecture, Japan.
True story of the last emperor of Sino dynasty, Pu Yin, who was crowned at the age of 3. Since he became the emperor, he had been like imprisoned in the Forbidden City Palace until the revolution kicked him out from there. After that, he was used by Japanese imperial army to set up puppet state called Manchuria Empire. He was crowned as emperor again but again he could never actually rule the country, only used as puppet.
The film described how Japan exploited him for its greedy purpose. I know history about that. Pu Yin was accused of treason for his collaboration with Japanese but acquitted.
A few years ago, Japanese TV station produced a mini-series drama of Pu Yin's brother who joined the Japanese army and married Japanese peer's daughter. The story was from Japanese wife Soga Hiro's perspective. The brothers believed they could establish truely good state for Chinese but Japanese only used them to expand their territory and steel resources from Chinese.
Today not many Japanese know about this part of history, especially youngsters don't. Many Chinese visit Japan for tourism. Last week I saw many Chinese skiing in Naeba Ski Resort in Niigata. They seem to enjoy skiing and bathing in hot spring. Not just Naeba, I've seen Chinese skiers in other ski slopes such as Zao in Yamagata, and Shizukuishi in Iwate. These days skiing has become popular sport in China and skiing in Japanese ski slopes is greatest status for them.
I am so glad many Chinese come here and enjoyed although very sad things happened between the two nations.
I hope they enjoyed magnificient view of Naeba like this.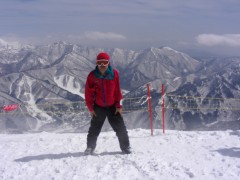 02 March 2010
Vancouver winter Olympic was over. Frankly, I do not care.
I was never interested in it because I think this event is just nonsense one.
There are many issues related to Olympic games such as doping, commercialism.
But my personal opinion is sports are just for leisure and health. I don't like heroism in it.
In fact, who wins or loses relies on how much money the athletes were invested by their sponsors.
That is why rich nations' athletes can get more medals than others because their sponsors could afford good facilities and coaches to make the athletes medalists. It is never fair games.
I do not like commercialism using athletes' heroic images. They are just good at sports, so what? They are not entertainers.
I want to say "Enjoy sports just for fun, leisure and health." Those who need professional skills for sports are only those who teach people how to do the sports like trainer or instructor.
If someone wants to take advantage of his or her physical advantage, use it for military, fire fighter, coast guard, police, construction work and other professional works which physical strength is vital. The below video shows such people. I like them.
09 February 2010
I was fortunate to be born as Japanese. I went to 3 places for skiing this year. All three places were fabulous.
I have skied in foreign countries such as Colorado in US and Switzerland in the past.
That was great experiences.
But I enjoyed skiing in Japan. Not just skiing but also hot spring after skiing.
Last week I went to Zao Hot Spring Ski Resort in Yamagata Prefecture. It has great view point with frozen trees (Soft rime) on top of mountain.
It makes you feel being in Fairy Tale.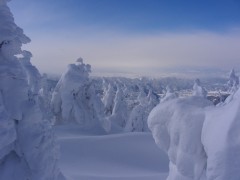 You can ski down from there. After you reach the bottom, you can enjoy bathing hot spring and ease your body.
The below video summerises my ski trip of last week.
Japan has various places like the above and beach resort of Okinawa, where you can swim all year around.
Great contrast, isn't it?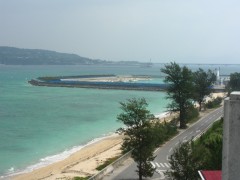 I love my country because it has great fun places. I want to protect them.