31 December 2020
I just happened to watch the old time TV show on internet. The TV drama-series "Little House on the Prairie" was first aired in 1970's US and later dubbed version of it was aired in Japan as well.
I liked the show but it seemed the stories in the show were mostly fiction or modified for the dramatic effect.
But the very first episode seems not since I read the original novel written by Laura Ingalls Wilder and compared to the episode.
It started with Ingalls family departing from the woods and found the place to settle down. They could have owned the land by cultivating the fields in accordance with Homestead Act of late 19th century, a pioneer period.
But they had to live in a very wild environment and had to deal with native people and wild animals. They had to dig the ground to make a well for water. They had to cut trees to make logs to build the house.
In a very small house, at first there was no floor boards and the roof was hood taken out from the horse carriage. What they had was only basic needs.
Our civilization is now on the edge due to the deadly flu and global climate change. It was because we try to have too much destroying the natural ecosystem. The modern system we rely on too much was found to be very vulnerable to such crisis.
It is time to rethink our way of life. "Little House on the Prairie" may be a good model of how one lives one's life without luxuries modern people have gotten used to.
The answer may be somewhat of that little wooden house or Native People, whom the family called "Indians" in the show.
19 November 2020
New vaccines were recently invented for the flu. I guess things might be going back to pre-COVID-19 period.
But there should be three major lifestyle and system changes, which may remain in our society even after the pandemic is gone.
1. Basic Income; Wordwide lockdown measures let the world governments compensate their citizens for loss of income because they couldn't go to work or open restaurants. People and governments realized everyone needs basic income to prepare for such crisis, which may come unexpectedly in the future.
2. Online education and work; People realized there is no needs to spend extra-time or fees for commute to do the same things as we can easily do on internet.
3. Less crowded space to stay; People realized the more crowded place one is in, the higher risk of infection of the flu. Let's always make a social distance everywhere, every time. Too many people gather in a small space is not desired. No more events like a rock concert in a big stadium. For businesses holding of big events to invite so many people is considered a great risk. That may have to be cancelled due to another pandemic resulting in a huge loss.
Designs of streets and buildings have to contain such notion. So in post-COVID-19 era, wider streets and corridors, bigger seats in less packed rooms and auditoriums. Conventional city layout should be drastically altered.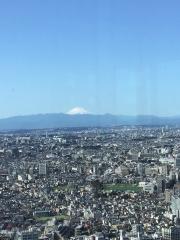 In that sense, rural lifestyle transcends urban one. More people will live in countryside and be able to work from home online not worrying about money because certain amount of money is paid or you can produce food on your farms so you do not die by losing jobs.
That is the very 21st century lifestyle.
06 July 2017
Recently I have come to believe life means killing time until death. Cultivating such thinking is particularly liberating when you are in grips of depression, with seemingly never ending suffering.
The notion that it is imperative to accomplish great feat is often at the root of all suffering. I believe that enjoying the simple pleasure at a moment, without obessesing with accomplishing greate deeds, without setting goals is one way of living a life.
What do you think?
30 April 2014
Recently in Japan one third of households are single person, meaning living alone in one residential unit. Percentage of life-long unmarried people is 25% in male and 15 % in female today. That is 3-4 times increase from 20 years ago.
Businesses respond to that trend. Home electric appliances such as toaster, juice mixer, hot plate targeted to single life people make big sales. Travel agents provide tours for single attendee, which only one person can apply alone. Karaoke room for one singer.
Share house, kind of dormitory style apartments have been built for single households. Since living alone for life is no longer marginalized, such lifestyle is no longer inconvenient one.
Some worry about aging population with low birthrate caused by more unmarried people. Why has such lifestyle become common recently in Japan? You might not believe that since Japan is more traditional and group-oriented society than any other advanced nations.
One of the factors is economy. Japanese economy has gone bad. Especially, among younger generation, income has dropped drastically from their parents' generation.
The other factor is Japan's lack of dating culture like the West. Japan is conservative society so marriages had been commonly arranged by the couples' parents and relatives. That way couples needed no love affairs to reach engagement. Marriage has been considered customary life event among older generations.
Nowadays free choice is important in terms of finding a partner. But not many youngsters do not know how to hunt their appropriate partners because their parents cannot teach them how and culturally such things are not popular so they are not trained to do so. That is a big difference from the West.
Anyway, Japan's population is aging and more people are becoming single-person household. Is it so bad? If so, how should it be amended?
One way to do is lowering life expense. Providing free school education, free medical care, free school meals and financial aids for households with children.
The other is acknowledging diversed lifestyle, not only single-person life but people with children like single-mothers or fathers. Traditional family lifestyle is father-mother and children but nowadays there are many unmarried parents in the world. Like in France more than half of all parents, in US one-third are unmarried. In Japan still only 2%. Japan's system makes single parents hard to deal with society. We have to change that if we are worried about aging population. It is better to help those who want to have children but give up than taking on those who are unreluctant.
Personally, however the population as a whole is aging, it is totally up to individuals to choose what she or he wants to be. No one should tell others what to do.
What do you think about this issue? How is the situation in your country?