20 October 2005
Fucking Prime Minister Visits War Criminals' Shrine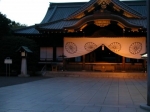 Prime Minister Koizumi is idiot.
He is just making our country worse. He visited the controversial shrine which honours war criminals responsible for Japan's invasion of China. The shrine insists the war was just and liberated Asians from western imperialism. That is not true. The Japanese army killed many, many Asian civilians there.
Asian victims and their familes never forget that.
Half of Japanese citizens including me oppose his visit to the shrine. business people, too.
Prime Minister says it was private visit. Private? He went there with press. Since he is a PM, he can never be a private person.
For Americans, it should be great news, as Japan's relationship with China got worse, US government can get more dealing cards when it comes to negotiate with Japan or China. For China and Japan, it is just a bad card.
The top picture is the sanctury of the shrine.
The shrine has the museum that shows how bravely Japanese army fought in the war. The war Japan failed.
The below is picture of famous zero-sen air-fighter.