25 December 2005
I went to Egypt last week. 14 hour flight from Tokyo.
I really had fun visiting pyramids and old ruins.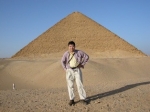 An Egyptian guide I met talked so much about the war in their neighboring country, Iraq.
He repeatedly said to our tour group that the US started the war because they wanted oil, not to provide democracy. He was so emotional about that. I've seen very few American tourists visiting there. I understood why.
I recommend Americans not visit there nowadays although the pyramids and ruins were magnificient.
11 December 2005
Yesterday I went to the meeting to hear the testimonies of Nanking Masscre survivors. Two people showed up and talked about their experience in ther villages near the former Chinese capitol, Nanking, December 1937. They are very old people. One of them is 85 year-old man, and the other is 77 year-old woman. They were child at the time the masscre occured.
Japanese army came into their villages. The stories they told the audience (mostly Japanese) were horrible. Their parents were killed in front of them.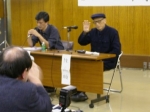 The old man's villagers were gathered on the ground and shot by machine-guns. 23 of them were all together killed and later stabbed by the swords. The old man was saved but sexually abused by the soldiers.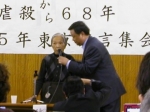 The old lady's mother was shot to death in front of her and she was also shot in her hand. Her life had changed greatly since then. She had to be married to someone for her life at the age of 12 or 13.
After the meeting I walked past the Parliament Building. The meeting was held near the parliament. It was very peaceful place. See the picture in the Photo Gallery. The contrast between the stories of the survivors and the landscape of the capitol was so big.
The reality was they are co-related. That place made a decision to dispatch troops to China at that time and caused them such painful memories. Yet the goverment has not compensated the victims. Some of the politicians expressed apologies but always after that, some of the cabinet members said something to turn down. Current prime minister visited war crimials' shrine. Their stance is so inconsistent.
Some so called right wingers are trying to rewrite the history. They believe nothing bad was done by Japanese army. They think or want to think the atrocities were made up by Chinese.
This nation is on the crisis. Now is such an important time to strengthen relationship with neighboring Asian nations but top politicians who have to place importance on national interests are deteriorating that. Unless Japan reviews and compensates the past atrocities, we will have no future.