29 December 2007
"Cars" reminds me of my driving experience in America
I rented a DVD of animated movie "Cars." The story was one rising racing car "Lightening Maqueen" got accidentally stuck in a forgotten town on route 66. He met cars in the town and learned how to live life. Funny and heart-warming story. Pictures were very detailed and beautifully drawn.
The world of cars living like humans was a great idea.
Looks like cars are living things for Americans. Yes, I know that because I used to drive in the U.S.
My car was '89 Mitsubishi Galant Sigma. 3 liter, 4 door sedan. Kind of luxurious car. I loved that car. I named him "Nobunaga" after famous Samurai lord in 16th century.
Everyone who drove my car said "moves smoothly like Cadillac." I was glad to hear that just like I was the one who was given such compliments.
I drove from San Francisco to Los Angeles. 7 hours, that was longest drive in my life. The roads were wide. 1.5 time wider than Japan's. He was very nice friend to me.
When I left the U.S. and sold him to new owner, I gave him beer for the farewell.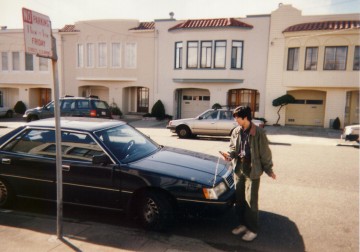 Well, I guess that is the memory of 20th century. This is 21st century. People are well-aware of environmetal crisis. Cars are releasing green house gas. Also, what we have to pay attention is crude oil is running out. The oil is said to be run out in 40 years. That is why oil price is getting high recently.
We need to use public transportation instead of private cars to reduce emission. Not the time to enjoy driving.
It is critical time to think about future of our precious earth. Change the current lifestyle for our humankind to survive in this century and next century.
That is the main theme of 21st century.
Hope all of us have a happy new year.