09 January 2008
Maybe not only for Australians, but for Canadians, Americans, Britons and other Caucasion dominated countries except Norweigians and Icelandish.
I've just heard the news this You Tube site attracted enormous attention from Japanese and Australians.
Australian patrol ships were dispatched to watch Japan's whaling in the Antarctic sea.
The video featured how racist Australia's anti-whaling policy is. Kind of radical and provocative.
The scenes of Australians killing Dingos and kangaroos are included.
I don't know which part of it is true and not.
People here in Japan are so concerned that western nations' anti-whaling movement comes from the notion that whales are cute animals rather than endangerness of the whales. Not environmental, more of political and cultural.
Anti-whaling activisits should insist that their act is solely based on endangerness of the species. They seem very emotional, and forcing their own values on others. I hate Green Peace in that sense.
When I was in U.S., some criticized Japan's whaling but none of them say eating whalemeat is barbaric. I remember one American driving instructor said "I want to try if I can." I ate some whale meat when I was small. It was not so delicious but I don't care if others like to eat. You can eat anything you want except humans on the earth.
We eat beef, pork, lambs and so on. They are all cute. Since we conqure the earth, we've got the rights to eat them.
But in one point other than the endangerness issue, I think Japan should refrain from hunting whales in Antarctic Sea. That is sending fishery boats to far, far to the south harms environment because it wastes so much fuel gas. Japanese traditional whale hunting has been done on the coasting areas of the islands.
This Japanese article has the photo of dismantling of the whales hunted from the coastal sea area. The whale is not what is classified as "endangered species" by IWC. We have the right to hunt minke whales, which IWC classified as "endangered" within our territorital seas. Inuits in Alaska, hunt endangered whale species and it is permitted by US government and IWC. But I think that is OK to do. It is their native culture and what they do is within their territorial sea.
29 December 2007
I rented a DVD of animated movie "Cars." The story was one rising racing car "Lightening Maqueen" got accidentally stuck in a forgotten town on route 66. He met cars in the town and learned how to live life. Funny and heart-warming story. Pictures were very detailed and beautifully drawn.
The world of cars living like humans was a great idea.
Looks like cars are living things for Americans. Yes, I know that because I used to drive in the U.S.
My car was '89 Mitsubishi Galant Sigma. 3 liter, 4 door sedan. Kind of luxurious car. I loved that car. I named him "Nobunaga" after famous Samurai lord in 16th century.
Everyone who drove my car said "moves smoothly like Cadillac." I was glad to hear that just like I was the one who was given such compliments.
I drove from San Francisco to Los Angeles. 7 hours, that was longest drive in my life. The roads were wide. 1.5 time wider than Japan's. He was very nice friend to me.
When I left the U.S. and sold him to new owner, I gave him beer for the farewell.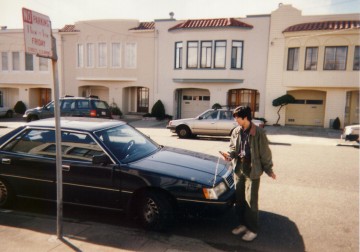 Well, I guess that is the memory of 20th century. This is 21st century. People are well-aware of environmetal crisis. Cars are releasing green house gas. Also, what we have to pay attention is crude oil is running out. The oil is said to be run out in 40 years. That is why oil price is getting high recently.
We need to use public transportation instead of private cars to reduce emission. Not the time to enjoy driving.
It is critical time to think about future of our precious earth. Change the current lifestyle for our humankind to survive in this century and next century.
That is the main theme of 21st century.
Hope all of us have a happy new year.
11 August 2007
I recently heard very, very surprising news that the U.S. navy has decided to station nuclear aircraft carrier, George Washington in Yokosuka city, which is 2 hour train ride from the capital of Japan, Tokyo. In fact it was agreed more than 3 years ago between the U.S. and Japanese governments.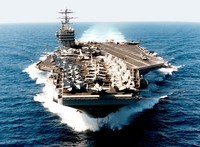 Outrageous and stupid! Japanese government allowed that happen. How ignorant they are!
We are paying so much money to the U.S. military. The government have to let them not to do what we hate.
Nuclear aircraft carrier is so dangerous. They've made some radioactive leaking accidents in the past.
The carrier will be stationed there permanently, we will have to live with the danger for half a year long every year.
If the worst thing happens in the Yokosuka, people living in the capital area would be required to evacuate, 30 million people have to leave! No way! Impossible! Millons of people would die after the accicent by cancers. It is like 3rd atomic bomb after Hiroshima and Nagasaki.
Local residents near Yokosuka navy base are suing the government not to construct pier to station the carrier. Since the carrier is US navy's property and its operation information is highly classified, we would never know how actually the inner nuclear reactor is operated nor intervene their operation. Even an accident happens, the U.S. government would not take any responsibility nor compensate for the damage because US-Japan Status of Force Agreement stated so.
It is time Japan rethinks the militaristic relationship with the U.S. We cannot get along with the U.S. navy's policy.
They made us help invade innocent Iraq.
We, ourselves have to realize the only military that can protect our country is ours. We have to amend the constitution so that we can have full-fledged military force so that we do not have to rely on the U.S. military any more.
Please read this article NUCLEAR CARRIER UNWELCOME on Japan Times. Yokusuka base is only 20 miles away from Japan's capital, Tokyo. This is just outrageous! U.S. government has to know this would just threaten relationship between the two countries. I became very anti-US person after I hear this news. A lot of us would be.
God damn America! Yankees, GO HOME!
04 February 2006
I decided not to eat beef in my life. I do not eat steak or sukiyaki any more.
Beef are delicious but also very dangerous these days because of mad cow disease.
US beef imports to Japan is currently suspended now.
Actually, mad cow disease is not the only reason I stopped eating it. Raising cattles for meat consumes so much energey and burdens our planet's environment. Cutting forest trees, Grazing the filed. Raise cattles only for milk! Let them eat only grass, not their own meat to cut cost.
Americans should eat less beef and eat more fish like we do!