16 March 2009
Protest MOX fuels transportation to Japan
From Cherbourg, France 2 ships that carries very, very hazardous nuclear fuels, so called MOX departed. The ships' destinations are several Japanese ports near nuclear power plants.
That is nothing but bothersome not only to Japan but also France and other nations in the world. From France to Japan the ships would sail on the Atlantic ocean and Pacific oceans. If the MOX fuels got some troubles such as radiation leak, coastal regions near the ships would be affected. The potential regions would include North America, South Africa, Australia, New Zealand. The transported MOX fuels contains 1.4 tons of plutonium that can possibly be converted to nuclear weapons.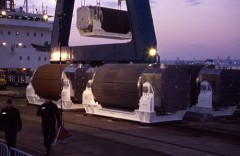 If the terrorist attack the ships, what would happen? Is this what people of the world can be happy with?
That MOX fuels are not even welcome by Japanese. Only by people related to nuclear power plant businesses.
The MOX fuels are very inefficient. The current power plants in Japan are not well equipped for MOX fuels.
The use of MOX fuels are not even permitted by local authorities. After the fuels arrived, it would have to wait for years in order to be used in the plants. It may never be used!
People of the world, especially French, Americans, Australians, New Zealanders, and Japanese. Please protest this stupid and dangerous sailing. That is much worse than whaling ship and even nuclear powered aircraft carrier like CVN 73.