26 March 2009
Film: Walküre (Valkyrie)
I went to see Tom Cruise's movie "Valkyrie." The film of actual event which took place in Germany during World War II.
German military officer, Colonel Stauffenberg tried to assassin German dictator, Adolf Hitler to remove Nazi Party from power and bring peace in Europe. The consequence was he failed and was executed.
I've seen German film of the story before. Then I went to Berlin and saw the memorial of his execution.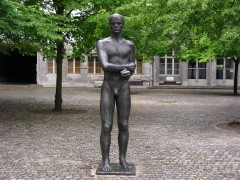 Tom Cruise wasn't fitted to his role in the film. Not bad actor but his image could not overlap with the real person in that event.
In fact, it is odd that a German officer spoke in English, which was their enemy's language in those days.
The most important thing we have to learn is why we could not stop expansion of that tyranny and how Hitler and Nazis got popularity.
How very civilized people could be manipulated by them, how good people could do brutal things for good reasons.
I am now writing a novel which a story took place in Berlin between 1932-33 using real persons and organizations in that period.
If you are interested, please check My Novel category.
I am now exploring Germany by writing a novel. That's fun and giving me great insight to this exciting country.
Deutcheland, uber alles in der Welt.