20 August 2009
I fell in love with this guy!
See this videoclip! He is Japan's new hero. Sorry, only Japanese version.
His speech in Hiroshima. Scenes of anti-nuke group activities, and Uigurs who protest nuclear tests done by China (time code: 3:42) in the city come first.
And the people who protest and support his speech (time code: 6:34) and then scenes in the convention hall which his speech took place.
He was Japan's Airforce chief but was dismissed because of his provocative essay he released in public.
I've already introduced him in other article on this blog. Please read this.
He is passionately patriot. But his statements were too provocative.
But he and I have things in common. Both of us want to get rid of U.S. military bases from Japan to protect our sovereignty and tradition.
He even claims Japan should arm with nuclear weapons.
I've met him twice and shook hand with him. I could take a picture of him. The below is what I took at Kudankaikan hall in Tokyo, where his speech was held.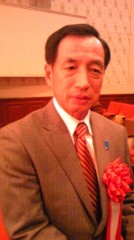 He was very polite and gentle. His speech was filled with passion.
Second time was the meeting for journalists. He has made a similar speech. I was given a opportunity to ask a question. I denounced his statement about denial of Nanking Massacre because I've met some survivors of the atrocities. But I said to him, I am for Article 9 amendment so that Japan can possess legitimate military but it was illegal to cause civilian casualties even at the time Nanking Massacre occurred. Why not we swear not to repeat the same mistake like Germany did?
His response was kind of surprise. "I've met a military official in China. They spoke so ill of what our military had done over there. I wanted to tell him, why not they spoke the same things about Britain? We are better than what Britons did. The Convention treaty was signed between the two countries. It was done. Why can't we forget about it?"
He seemed to admit the fact that the atrocity occurred. He was kind of honest and clever, I think. He just try to use this history issue to change his country's military policy. Interesting guy!
Thanks to him, I rethink about what patriotism is and what our tradition is. I became patriot and traditional.
Recently I started to wear Japanese traditional clothes including swim suit of the below. The suit became unpopular since the U.S. occupied Japan because Americans thought such Japanese tradition was barbaric. Now I am trying to recover this tradition. I am proud of wearing it and showing myself in it in public. This suit makes any man sexy and real Japanese traditional man, so called Nihon Danji. It is not only used for swimming but participating in festivals. The below is how I wear it, please enjoy watching.