24 December 2009
Novel "Kokoro" by Natsume Soseki
The story was written by Japan's infamous novelist, Natsume Soseki. The novel was released in early 20th century. The novel starts with the sentence "I always called him "Sensei (Sir)." It is a memoir of a man who met a cool older guy on the beach. When the two guys first met, they both wore swim suits like this.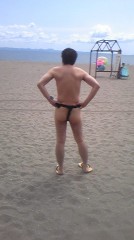 He was attracted to this Sensei. He actually fell in love with him. Sounds like gay love.
But Sensei was married. He said he cannot accept the main character's love because he had bad record in the past.
The past is that he betrayed his best friend in order to get his current wife. His friend then committed suicide by his action.
The main character learnt that after Sensei committed suicide.
I first knew this story by theatre play. That was really good. Then I read the book. That was good as well.
I always want to be a novelist like Soseki. I write novels on this blog and my Japanese blog.
Is it bad to live as novelist? "Novelist" is my dream job.
I've never got any chance of becoming one.
Next year, I hope I can make it. So, please, somebody give me the chance!!