29 June 2014
I have recently become a big fan of TV drama "Hanako and Anne" aired daily on NHK, Japan's public broadcasting station.
It is a story on a real woman who lived between end of 19th century and 1960's. The woman's name was MURAOKA Hanako. She was a translator who translated famous English books including "Anne of Green Gables" and "The Prince and the pauper."
She was born in a poor family but she could attend most prestigious girls' school established by a Canadian Christian missionaries in Tokyo because of charity. She learned hi-society manner and English there.
After she graduated from the school, she became a teacher, publisher, translator and radio announcer. She was also a sufferagist.
Surprised to know there was a life like hers. She met great people in life. Her life was far from average women at that period.
She lived through the second world war. During the air raid on her town she translated Canada's famous children's book "Anne of Green Gables", which she was given from her Canadian friend who left Japan because hostility erupted. In the war time, she could never expose herself to be English speaker in public. English was treated as the enemy's language. But she kept on translating the book although she never knew who would publish it.
Why could she hold on hopes in such severe time?
Maybe because she remembered words from her school's principal, Ms. Blackmore.
"If some decades later, when you look back on your time with us, you feel these were the happiest days in your life. Then I must say your education will have been a failure.
Life must improve as it takes its course. Your youth, you spend in preparation because the best things are never in the past but in the future. "
That was very impressive words.
In fact, her translation of the book was published 7 years after the war ended and became a best-selling novel, giving hopes to Japanese in the post-war era.
Yes, we should not give up hopes and look to the future, never look back the past.
Then we will make things better than the present.
24 December 2013
The novel was written by Japan's most notable novelist in 20th century, Endo Shusaku.
Recently the news that Hollywood decided to make the story into film next year was reported. The setting of the story was early 17th century of Nagasaki, Japan when the government ruled ban on Chrisitianity and entry of foreigners except Chinese and Dutch. That policy was aimed to get rid of western influence on its society in order to avoid colonization. Dutch was neutral as for this matter. Dutch hated Catholic nations and advised Japanese government to stop trading with Catholic nations.
The story started with a news that one most prominent and highly respected missionary sent to Japan abandoned his faith after severe torturing by Japanese authority. That shocked two Portuguese Catholic priests. They decided to secretly enter into one secretly Christian village in order to locate the missionary and continue Chrisian preaching for the localies.
However, they were found and arrested by Nagasaki authority and then their followers were tortured to death. One of the two died. One surviving one prayed God for his tortured followers but no salvage was done. God kept silence.
Later he finally met the person he wanted to meet from the beginning. The missionary he once respected whom he tried to locate. He was advised by the missionary to abandon his faith just as he did. Then he followed his advise. What he did was stepping on plate of engraved Jesus Christ picture. That was most usual custom to check if a person is Christian or not in those days. If you could do that, that proved you were never Christian or you just abandone your faith by doing so. He stepped on it to save tortured followers. It was a deal with the authority.
Since that era, Japanese Christian teaching was totally abandoned until it was re-allowed in late 19th century.
Surprisingly the story is based on real characters and real events. In the book the authority says "Christianity can never place roots on Japanese land. It is never universal teaching." That sounds true.
In fact centuries after that era, even after freedom of faith was insured by the constitution, less than 1 % of the population are Christian today. More surprisingly in this season you can veiw many illumination and Christmas trees and find Christmas events in Tokyo. But very few of them are dedicated Christians. Japanese Christmas events are nothing but commercial purpose.
One remain of Christianity of that era may be tea ceremony. There is a legend that Japanese tea ceremony was modeled after Christian mass ceremony in that era. In fact founder of tea ceremony, Sen no Rikyu was a man of the era that Christianity was still allowed and his wife and daughter were Christian.
If that is true, Christianity was continued throughout banned era. The root was placed. Praise Jesus and Praise tea!
17 August 2013
Last month I attended my alma mater's alumni event in Tokyo.
A lot of alumni living in Japan gathered at a restaurant exchanging memories and update information of the university. One faculty member from SFSU joined and told me about current situation. I graduated in late 1990's. He said a lot more buildings were constructed on campus.
But most surprising attendees were alumnis who graduated in 1960's. They were oldest in the group. He told us about his experience in that period. There was a student strike movement in those days following civil rights act. Ethnic minority students demanded the university to require all the students take ethnic minority study related subjects. They had been frustrated with racism in the university. Classes were boycotted and school buildings were occupied. The president of the university was changed during that time. It was Dr. Hayakawa, Japanese American. He accepted that demand.
Since then SFSU requires all the students to complete ethnic minority related courses. I did, of course. I remember what I took were Japanese American studies, Black studies, LGBT studies, and history of Japanese and Chinese women. Those were greatest studies in my life.
That ethnic study requirement was what my alma mater first acquired and spread all over the US. It was a good thing that I am proud of as alumni.
So my novel idea is based on what I heard and I research.
One Japanese student who grew up in a conservative family, Hiroshima, 1960's joined the university. He longed for America and American culture. He met a lot of kind of students there and instructors. One of them was an English teacher who was Japanese American, strict and conservative. Because of his instruction his English ability improved faster.
The strike started. The president was changed. It was that Japanese American teacher. The Japanese boy expected him to understand the movement because of his ethnicity but he was actually opposing that movement and trying to supress the students.
The Japanese boy along with his friends who were white, Afro-American, Asian Americans negotiated with him. He used what he learnt and loathed from his childhood to convince the president. Japanese heritage, tea ceremony, Kendo and so on.
Sounds interesting, doesn't it?
The theme song should be "Blowing in the wind." The answer is blowing in the wind.
12 August 2012
This is translation of Japanese novel on my Japanese blog site. The original title of the novel was "Nihon Danji wo Yamerarenai (Can't stop being Japanese traditionl man).
A Candadin man experiences FUNDOSHI, Japanese traditional male underwear, swimming suit and custume for festival.
Jacques Charbonneau was a Canadian man born and raised in Montreal, Quebec, Canada. He belogns to majority of that reigion, so called "French Canadian."
From his childhood, he spoke French at home. His parents and relatives were all French Canadians. But he spoke English at school. Half of his friends were Englisha dn the other half were French.
Therefore his native languages were both Englisha and French. He was a billingual but since he entered Tronto University in State of Ontario, one more language was added and then he became tringual. The third language was Japanese.
Why he studied Japanese was he met a Japanese girl named Yuriko Watanabe, whom he fell in love with. She could speak English but he wanted to speak to her directly in her mother's language. The he chose Japanese as his major. With help of Yuriko, he mastered Japanese. His Japanese was excellent so that even Yuriko said that he could speak like Japanese national. He graduated from Japanese department of the university with top rank. After graduation, he started translation and interpretation among English, French, and Japanese. Afterwards, Yuriko became an important job partner and finally a partner in his private life.
When they got married, Yuriko's father, Taizo Watanabe flew to Canada and approved their marriage. The wedding was held in a small church with attendance of small number of people. Taizo was her only family member since her mother was already dead and she was the only child for Taizo.
Jacques wanted to visit Yuriko's hometown but he had been busy for his work and he was too afraid of flying. He could not have chance to visit Japan. He always regretted that he never visited his wife's hometown. He thought he should overcome flying phobia and visit Japan. He could speak Japanese fluently but he could only use it to his wife and Japanese living in Canada.
Yuriko never recommended Jacques to visit Japan. Her hometown was one of most conservative place so localies never welcome a foreign white man like Jaques. She heard that localies did not think her marriage to a foreigner was a good thing. So They thought they did not have to regret it.
But in the third year of their marriage, the couple had to visit Japan. Taizo got sick and was hospitalized. He got out of the hospital but had to stop working and stay home for rehabilitation. A woman who lived nearby sometimes visited him to see how he was but he seemed so depressed that Yuriko should look after him to help him recover his condition.
Yuriko was so worried that the two decided to go there. Translation work could be done even after they moved to Japan as long as they could maintain internet access. They checked the IT environment there and found out there was no problem doing it.
Jacques stood for more than 10 hour flight and finally arrived in Kansai International Airport in Japan. The two travelled to her hometown, Awai Town. The town was on the coastal line of the Sea of Japan in Chugoku region, it was a fishery town. From her home, spectacular ocean view was seen from a window. Taizo gladly welcomed Yuriko and Jaques after a long absence. Taizo was a local fisherman.
They used the room Yuriko had used from her childhood. They started getting along as family. Jacques found Taizo very weak comparing what he saw at the wedding. He got thinner and looked pale. He was as tall as Yuriko but looked smaller than before. He wished he would come back his fishery work afte he regained health. He thought about how to deal with him. Jaques called hime "Otosan (Father)" like Yuriko did.
A week has passed. Things happened as expected. Localies called him "Gaijin (Foreigner)." They spoke about him behind him but they never greeted. They treated hime like outsider. He tried to understand what they said but the language they used was blended with strong accent and dialect. With Yuriko's help. Jacques gradually understood what they said.
Even after they understood the language, living in conservative and closed community was hard for him. Furthermore he was a tall white Canadian. Some stayed away just by looking at him. He was appearently discriminated.
One more troubling thing happened, that was because of season he visited.
Hot and humid climate. It was far different from where he grew up. Even Montreal could get as hot as 30 degree but such hotness was what he never experienced before. It was because of Japan's humidity.
He got sweat very soon. Japanese got used to it but Jacques never resist such wet feeling. He was adapted to the coldness but not such humidity sweating so much.
His body finally responded to it. He got eczema. It was itchy and reditsh. He could not stop scratching. What should he do? He came over to help his father in law recover but he, himself became sick.
Yuriko advised him to see a doctor. The doctor diagnosed his symptom. The result was "latex allergy" in other way, it is called "Rubber allergy."
Jacques asked a doctor "Why did I get such allergy?"
"It is because of underwear you are wearing. The rubber band got soaked and melted down to your skin. Japan's humid summer melted rubber and got into your body that caused allergy symptom. Unless you stop wearing it, it can never be cured."
"You tell me never to wear underwear? Oh, no!" Jacques was shocked to hear that. It was never comfortable living without undewear. Especially for men it was necessary to tighten private zone to stay normal.
"Since you can't wear conventional underwear, we advise patients to wear something else instead" the doctor said showing him white long cloth.
"THIS IS FUNDOSHI".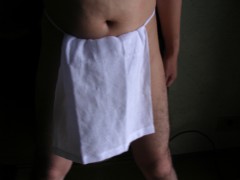 Continued to Chapter 2.