04 January 2010
Saw Our Majesty
On 2nd of January, 2010, I went to the imperial palace to see annual new year greeting by the Emperor Akihito and his family members.
That was the day usually closed area of the palace becomes open to public. People with Rising Sun flags entered the palace and saw the emperor on the palace balcony covered by glass from the ground. He said "I am glad to have new year with all of you."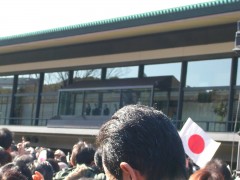 I am usually asked what the emperor means to us. Well, the answer is nothing. We are told that the emperor is symbol of the State.
But generally, he is far away from us. We know he does exist but we are not interested in him and his family.
I do think I have to appreciate his existence because the emperor functions great deal of our society.
Some claims the imperial system suceeded by bloodline should be abolished but I disagree. The system benefits our nation.
Under the emperor, we are all unified as Japanese. That's a good thing.
The emperor works as great diplomatic tool when it comes to dealing with big nations like China and the U.S.
Last month the emperor met with China's No.2 politician regardless earlier appointment than usual.
That gave a signal to the U.S. that Japan is placing more importance on China than ever.
The U.S. and Japan have a quarrel recently. China has now become a big card for us.
Anyway, I am glad we have such a great imperial system. Imperial system is a tradition of over 1000 years.
A Happy New Year with the Emperor!