09 January 2010
An Alliance Larger Than One Issue
Read this New York Times Article written by Joseph Nye, an prominent expert of US-Japan relationship.
An Alliance Larger Than One Issue
SEEN from Tokyo, America's relationship with Japan faces a crisis. The immediate problem is deadlock over a plan to move an American military base on the island of Okinawa. It sounds simple, but this is an issue with a long back story that could create a serious rift with one of our most crucial allies.
--Ommited paragraphs from the original article.--
Even if Mr. Hatoyama eventually gives in on the base plan, we need a more patient and strategic approach to Japan. We are allowing a second-order issue to threaten our long-term strategy for East Asia. Futenma, it is worth noting, is not the only matter that the new government has raised. It also speaks of wanting a more equal alliance and better relations with China, and of creating an East Asian community — though it is far from clear what any of this means.
When I helped to develop the Pentagon's East Asian Strategy Report in 1995, we started with the reality that there were three major powers in the region — the United States, Japan and China — and that maintaining our alliance with Japan would shape the environment into which China was emerging. We wanted to integrate China into the international system by, say, inviting it to join the World Trade Organization, but we needed to hedge against the danger that a future and stronger China might turn aggressive.
After a year and a half of extensive negotiations, the United States and Japan agreed that our alliance, rather than representing a cold war relic, was the basis for stability and prosperity in the region. President Bill Clinton and Prime Minister Ryutaro Hashimoto affirmed that in their 1996 Tokyo declaration. This strategy of "integrate, but hedge" continued to guide American foreign policy through the years of the Bush administration.
This year is the 50th anniversary of the United States-Japan security treaty. The two countries will miss a major opportunity if they let the base controversy lead to bitter feelings or the further reduction of American forces in Japan. The best guarantee of security in a region where China remains a long-term challenge and a nuclear North Korea poses a clear threat remains the presence of American troops, which Japan helps to maintain with generous host nation support.
Sometimes Japanese officials quietly welcome "gaiatsu," or foreign pressure, to help resolve their own bureaucratic deadlocks. But that is not the case here: if the United States undercuts the new Japanese government and creates resentment among the Japanese public, then a victory on Futenma could prove Pyrrhic.
The photo of planned relocation site for Futenma, the construction plan threatens lives of endangered marine mammals, dugongs and a lot of other wildlives.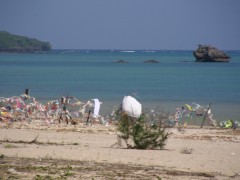 Watch this video, too!