24 January 2010
US military base Relocation Plan was rejected by local citizens
A candidate who opposes US military's relacation of Futenama Marine base in Okinawa to Henoko located on the same island won the mayor election of Nago city which includes Henoko area. Former mayors all agreed the relocation plan. The below photo is Henoko beach. The relocation plan is to landfill beautiful beach and ocean that endangers dugongs and other wild life. More than 30 of new species were found by WWF Japan in this area. Even U.S. environmetalist groups oppose the plan by suing their government. S.F. Federal Court ordered the military to review the plan.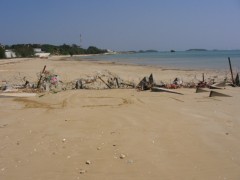 This relocation plan has been controversial since new ruling party took power in September. New ruling party, Democratic Party of Japan announced alternative plan but it has yet reached agreement with the U.S.
This mayor election result proved to be Henoko plan is no longer feasible.
So where would Futenma be relocated to? Well, that is their business, not ours. To Guam where local citizens have no right to choose American President or mainland or reduce the marines.
The U.S. military is useless in this country. It was important during the Cold War era because its presence functioned as deterrent to Soviet Union and we could get financial aid from the U.S. and export Japanese goods to the U.S. market in exchange for providing bases to the U.S. which countered communism.
Now Soviet Union fell down, the Cold War ended. Not just Futenma, Kadena, Yokosuka, Yokota, Atsugi, Zama, Misawa, Iwakuni, Sasebo, all should be gone. We can protect our country ourselves, in fact we have to anyway.
The below photo is sign near the beach that says "Beach is our treasure. Take garbage (and base) to your home. Environment and Sanitation Department of Nago City." (and base) is handwritten.
U.S. military, GO HOME where you belong!!