19 March 2010
Film"Elizabeth, The Golden Age" tells the importance of unification
A story of British queen who established the Golden Age of British Empire in 16th century.
The film described how she managed the country, how she unified the nation when it comes to the war with Spain.
It is not easy to unify big population, that is why a country needs a symbol of unification like queen, king, or president.
Sometimes the leader had to be cruel to maintain leadership and charisma.
I am recently relearning how past leaders of my country established this unified state such as Tokugawa Shogunate and young warriers who established modern type of government in late 19th century. They used Emperor as symbol of unification.
Unity or Anachism, that is critical point of every society.
If not united, people are torn apart, kill, rob each other and easily invaded by other nations.
Well, Japan was lucky in that sense because it was island nation and had good leaders like Britain.
In early 20th century Japan experienced similar situation of Queen Elizabeth's Britain did.
The war with Russian empire, countering unbeatable fleet sailing from Russia on the Sea of Japan.
Thanks to British made warships and financial help from Britain, Japan imperial navy could beat the fleet and saved our nation.
The below is exhibited former imperial navy's flagship, Mikasa located Yokosuka, Japan.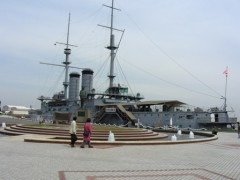 Well, real pacifists know how to manage the nation and win the war.