07 June 2010
German Film"Anonyma-Eine Frau in Berlin" tells how you survive in turmoil
A true story of German woman who lived through in Russian occupied Berlin, 1945.
Women in Berlin were raped by Russian soldiers. But they have to go through that because they were defeated.
Not only that, their nation was in fact aggressor of the war, which killed many Russian civilians.
The main character took note of that horrible days. As time passes by, they felt normal in their situation.
Well, I guess the same is true in Japan after the war. Japan was defeated nation, too.
Although more than 60 years have passed, we still feel occupied by the U.S.
Recently there was a dispute between the two countries over military base on Okinawa island.
See the articles on Okinawa tag to know the detail.
After months of turmoil, Japan seemed to give in. Many felt very humiliated by the outcome, that resulted in resignation of prime minister.
However, there is a difference, we do not get used to the defeat any more.
I think because of this, more Japanese have become hostile towards the U.S. rather than accepting the defeat.
I am one of them. So I will not accept the outcome but work hard to change the course.
In fact, Japan is not very dependent on the U.S. any more. Japan lends so much money to the U.S.
So this gave a great chance to make a distance from the U.S.
I recently feel so close to German. The both countries started aggression and invaded neighboring nations. The both countries were allied during the world war II. They both are defeated and then occupied by the former enemy states and lived through humilation after the war.
Stupidly I can even feel close to Hitler.
Well, every nation has a story of survival. I am studying German recently.
Ich liebe Deutschland. Danke. The below photo is Reichstag in Berlin, where I visited in July, 2008.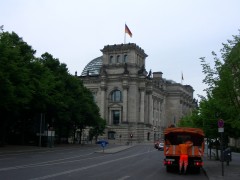 Deutschland uber alles in der Welt fur me!