07 December 2011
Book on US Occupation of Japan after WW2 "Washington Heights"
A book "Washington Heights" is written by a female journalist, AKIO Satoko. She studied how the United States government managed occupied Japan after the country defeated his enemy. Then she spotlighted on "Washington Heights," which was exclusive residential area for the U.S. military personnels located in the center of Tokyo. The area was built after the war was over by the order of U.S. occupational force. Before the war, it was Japanese imperial army's property. It was located next to Meiji Jingu Shrine, memorial shrine for the Meiji Emperor (crowned between 1868-1912) .

After the Olympic the place turned to famous public park, Yoyogi Park and Japan's public broadcasting station, NHK building.
The book mainly described episodes of Japan's Occupied era (1945-1952) and economic booming era until Tokyo Olympic in 1964. When the U.S. force arrived in Japan, they occupied many places in Tokyo for its administration purpose. The General Head Quarter was placed in Dai-ichi Life Insurance Building near the Imperial Palace.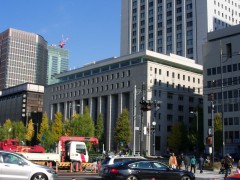 But they needed housing for soldiers and staff working for the G.H.Q. So they ordered the Japanese government to build housing block for Americans, requiring facilities and equipment equivalent to American standard of that time. That was the hell of a big job for the Japanese government because the places were all burnt down, and shortage of goods.
The Washington Heights, American style housing provided Japanese new culture and lifestyle. Because American personnels and their family living there wanted entertainment, many Japanese entertainers were recruited for performances for them. That caused a big entertainment icon, Journey's Production, which has released many great talents to Japan's showbiz until now. Morie Hana, a famous Japanese fashion designer opened clothing shop for women living in the residential area. She studied most sophisticated western clothing during that time. As for food culture, Japanese learnt fresh vegetable farming to meet demands from Americans. Japanese learnt how to farm vegetable for the fresh salad taking sanitation into account.
As for how Americans thought about occupying Japan was described as well.
When Americans first arrived in Japan after the war, they were surprised because their former enemy citizens were so friendly to them. Many Japanese in fact, felt liberated when the war was over. So occupation worked more smoothly than expected. The U.S. occupation in fact provided democratization of Japan including women's suffrage, reform of biased wealth distribution towards elite class. The U.S. aim was to demilitalize Japan so they thought cracking down feudal customs and elite class power was best way to do.
The U.S. at that time were so worried about communist threat from Soviet Union. So they treated Japan nicely although Japan was a former enemy.
Most interesting episode noted in the book was that a former Japanese military officer met Afro-American man working as lower rank staff of G.H.Q. who told him that Blacks were glad when Japan attacked Pearl Harbor.
The conclusion of the book was U.S. occupation provided Japan great things but we have to remember Japan has been controlled by U.S. since that time and even after Japan recovered independence, we are always facing indirect occupation by the U.S. such as military bases in Okinawa, Tokyo, and diplomatic pressure to liberalize trade and commerce.
Recently the U.S. hegemony has been on the edge as you see "Lehman Shock" and "Occupy Wall Street" movement. The U.S. can no longer function as a role model for Japanese.
Thanks to the U.S. we could have developed the nation acquiring many great things from them but it is time we develop us ourselves in our own way.