08 October 2012
Japan's protest against Osprey (MV-22) deployment
Joined demonstration march in Shibuya, most crowded shopping and entertaining district in Tokyo.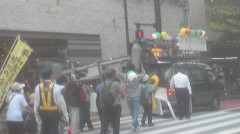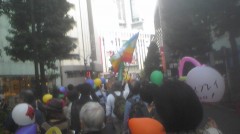 Estimated around 400 people participated. 12 ospreys were deployed in Okinawa, Southernmost island of Japan. Osprey is a hyprid helicoptor that cause strong noize and probability of accident is higher than conventional helicoptors. Propellers work as helicoptor on pad but when it goes high, the mode is changed to airplane that enables it fly further.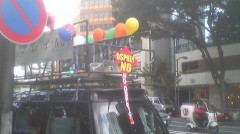 But this mode change action can cause severe accident including crashes onto the ground without control.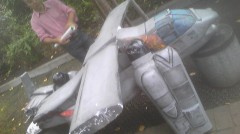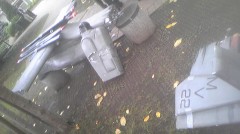 It is said that US military deployed Ospreys in Okinawa because they were not allowed to maneuver flying in their homeland because of safety problems, that aggrevated Okinawans and Japanese nationals. US-Japan treaty is one between independent sovereign nations.
As other issues such as Nuclear aircraft carrier (CVN 73) in Yokosuka, safety may not be prioritized issue. Highest prioritized issue is why we have to carry burden of US military which does not actually defend us. Threat from China? China is no longer enemy for the U.S. China has become even more important economic ally than Japan for the U.S. Even US influential congressman said military stationed in Okinawa is nothing but ruin of the Cold War.
Recently even after deployment of the new helicoptors, Chinese ships has invaded Japanese sea near Okinawa very frequently. If deterrence works, why do Chinese do that?
We really wonder why US military is stationed in our country.
We should stop treating America as friendly nation although it is not our enemy.