25 October 2012
Visited Miyako wearing Kimono
Last weekend I went to Kyoto city which was called Miyako in famous Hollywood Geisha film "Memoirs of a Geisha."
I visited there a few times in the past. But this time was kind of new experience because I wore kimono all the time during my trip.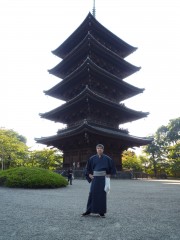 Do you know what kimono literaly means in Japanese? It means "thing to wear." Yes, that simply means "cloth." In the old days everyone wore it in everyday life. Now people wear it occasionally only for special events such as New Year's day, coming of age or wedding ceremony. Most of us do not wear it casually. Even in Kyoto, you could rarely see people in kimono.
That should be considered very dissapointing, isn't it. That is why I decided to wear in Kyoto. Not just for special event. I did it all the time during the trip including the time I am staying at hotel and using transportation such as bus and subway. I impressed not only foreign tourists but Japanese there.
In Kyoto I visited the Geisha towns, Budhist temples and shrines. I could enjoy viewing those places in a very different way because of kimono. Kimono restrains you and makes you walk difficult. Not just kimono, I wore Japanese tradtional socks, called Tabi and sandals, called Zori. Those things disturbed me as well.
But that is why I had different experience from the past trips. I experienced how people viewed the places when the places was first established. I could share experience with people in the old eras.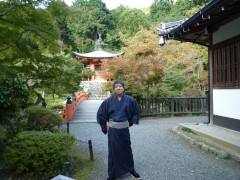 Japanese lifestyle has dratiscally changed since Japan opened door to the West. We seemed lost our identity by that. Wearing kimono can revive our lost identity and traditional feeling.
See the photo of the below. That is traditional way of enjoying meals and sake. I did it on balcony of riverside restaurant. I enjoyed nice view as well as tasty sake and delicous Kyoto cuisine.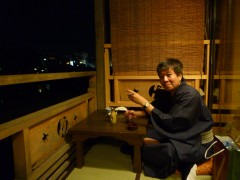 Kimono and Kyoto are what we should be proud of.