29 July 2021
I recently come to think "Small is beautiful" meaning you do not have to seek bigger size. Why not just stay in a small scale, which may be more comfortable?
I live in Tokyo, where so many tall modern buildings stand. But I am not attracted to such scenery any more.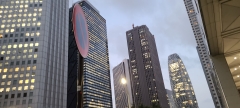 Now I am attracted to traditional district of Kyoto, where wooden low height houses line up.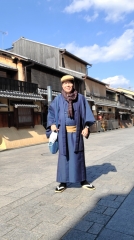 Tall modern buildings consume so much electricity that requires mega power plants causing mass emission of carbon dioxide or radioactives.
Since so many people gather in small areas, people become more susceptible to infectious disease like the current pandemic.
Why do we seek higher, bigger, and more gorgeous things? I am fed up with these things.
Not only the tall modern buildings but ongoing Tokyo Olympics are good example. Why do athletes want to compete with others for the gold medals? To become a hero, or get a prestigious status?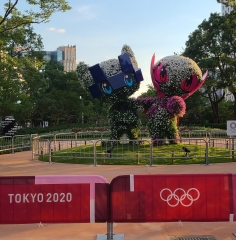 What is the significance of competing in Olympics? Is it worth risking their bodies? No way. Just a sport.
Major corporations utilize them as tools to boost their sales. Olympics are commercial shows.
This time due to the pandemic, no spectators are at the competition, meaning mass-gathering is a bad way for public health. Instead TV broadcasting worked.
Why do we need to watch such big events?
I would rather like to join a small banquet with ten or less people to be entertained by Geishas. So I can get much more closer to real entertainers than televised figures.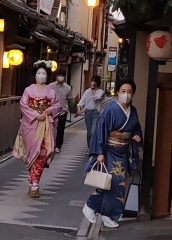 What should be the goal for humanity? I do not think tall modern buildings and Olympic athletes represents the answer.
05 January 2017
1st time I watch this film was more than 20 years ago. When I was attending US university. I took a course titled "History of Japanese and Chinese women." During the 4 month-long semester, the attending students had to see the old Japanese film as part of course requirement and the students all discussed matter related to the theme of the film. The film was of course, played with subtitle.
The film was released in 1953, 8 years after Japan's surrender to the war. Japan regained sovereignty and new constitution that ensures basic human rights and women's suffrage became effective. The story took in Gion district, famous Geisha town in Kyoto.
So women including Geisha girls should have basic human rights as other people. The two geisha got in trouble with their clients. One younger apprentice geisha (called Maiko) was about to be raped by her client so she fought back and hurt him. That aggrevated the client. Then the older geisha who ran Geisha house and hired the apprentice had to compensate by sleeping with the client's big client so that both can reach a big business agreement.
She was used as a prostitute and a tool for the business. The apprentice was shocked to know that because she thought that is not what a Geisha does.
In the last scene, the older Geisha says "You are living in a new era. I want you to keep your body clean."
A sad fact of Geisha life.
Nowadays, such thing should not be done so often, I believe.
A lot of people seem to misunderstand job of Geisha. Geisha literally means "Artist" or "Entertainer."
Geisha is after all, entertainer. Just showing dances, and singing songs in the party room. Of course they escort guests by pouring sake and chatting with them. They do not sleep with guests.
They are not prostitutes. They have never been like that even in the very old days. But what happened to them is sometimes Geisha needed a big money to make a debut buying expensive kimono. So easiest way to get that is have patrons. Geisha agencies preferred that way so that the agencies could get back the debut fund they owed their hired geishas. Some popular ones did not have patrons because she could payback the debut fund only by entertaining guests in party rooms.
Geisha not only entertain adult men but they entertain families including children. No alcohol, and nasty or obscure talk in the room. Just enjoying shows, meals, casual talk and views from the window. Independent and decent women's occupation.
That should be the tradition we have to preserve.
13 February 2013
I went to Kyoto last weekend holidays. The main purpose of the trip was to meet a foreign instructor of Japanese Sado. Do you know what Sado is? Sa means tea, Do means way, meaning "Way of tea." You can learn how to serve tea and sweets to guests and how to be served as guests.
Some people not only foreiners but even Japanese claim that it is too much of formality. I always thought that way. But my encounter with this Sado instructor changed my view.
His name is Randy-san. He manages a cafe in Kyoto. He is a Canadian man who has lived in Japan for more than 20 years. He first came to Japan to learn martial arts but later found out he had to be skillful for both martial arts and academic things. Then he chose Sado.
I joined his cafe's tea ceremony lesson for beginners. 6 students including me attended the lesson. His Japanese is excellent. He wore a very suitable kimono for tea ceremony. Only I wore kimono among 6 Japanese attendees. Actually my kimono was not suitable for tea ceremony.
He could explain every detail of Sado such as how to prepare and proceed.
Then each student was instructed to perfom how to do each act of pouring hot water, mix with tea powder and then serve guests and how to be served. It is precisely ruled like social dances. No free form on your own. You have to memorize each act and perform that in public to be a good host and guest. That is kind of a hard thing to do. Interesting those things should be taught by a Japanese instructor but this time the other way around. I, Japanese was a student and Randy-san, Canadian was an instructor.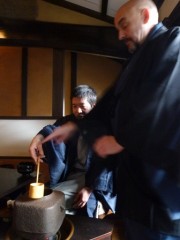 He said "up, pull, cover" when I try to bring up hot water from the pot. I had to repeat that 3 times. Weird, just for bringing up, you have to know how to do each act. But that is the way of tea ceremony.
I asked him why we should follow so many rules just for tea ceremony.
He answered that we should not consider them rules rather these are manners. It is fun to have meals and drinks without manners in casual clothes relaxing at home. But you can also enjoy formal dinner at high class restaurant wearing formal clothes. Just like that. You can enjoy such formality.
He said significance of Sado is like significance of life.
Wow, it seems a foreinger, westerner had a better view on Japanese culture because he sees things objectively.
Maybe that is a dilenma we, Japanese including me have had for a long time. He just seemed to solve that instantly.
It is like how I learnt why Geisha girls put thick white make-ups on their faces by a Hollywood film "Memoirs of a Geisha." In the old days party rooms were so dark without strong lights that Geishas needed such make-ups to shine their faces to be recognized. Japanese films don't usually show indoor darkness of the old days. Without knowing darkness of that period, you can never learn how the old time people live and see the world. Hollywood did a better job in that sense.
Ironically Randy-san got me more interest in one of my country's heritage. Similar thing happened in sports field recently. Judo has been criticized for causing scandals such as harrassment and violent instruction to female athletes. International Judo organization denouced that scandal saying that violent instruction is against original philosophy established by a founder of Judo, Kano Jigoro.
We, Japanese are forgetting what we really are. We have to bring it back!
25 October 2012
Last weekend I went to Kyoto city which was called Miyako in famous Hollywood Geisha film "Memoirs of a Geisha."
I visited there a few times in the past. But this time was kind of new experience because I wore kimono all the time during my trip.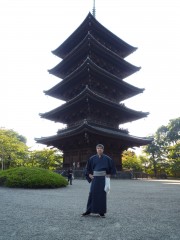 Do you know what kimono literaly means in Japanese? It means "thing to wear." Yes, that simply means "cloth." In the old days everyone wore it in everyday life. Now people wear it occasionally only for special events such as New Year's day, coming of age or wedding ceremony. Most of us do not wear it casually. Even in Kyoto, you could rarely see people in kimono.
That should be considered very dissapointing, isn't it. That is why I decided to wear in Kyoto. Not just for special event. I did it all the time during the trip including the time I am staying at hotel and using transportation such as bus and subway. I impressed not only foreign tourists but Japanese there.
In Kyoto I visited the Geisha towns, Budhist temples and shrines. I could enjoy viewing those places in a very different way because of kimono. Kimono restrains you and makes you walk difficult. Not just kimono, I wore Japanese tradtional socks, called Tabi and sandals, called Zori. Those things disturbed me as well.
But that is why I had different experience from the past trips. I experienced how people viewed the places when the places was first established. I could share experience with people in the old eras.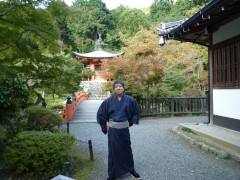 Japanese lifestyle has dratiscally changed since Japan opened door to the West. We seemed lost our identity by that. Wearing kimono can revive our lost identity and traditional feeling.
See the photo of the below. That is traditional way of enjoying meals and sake. I did it on balcony of riverside restaurant. I enjoyed nice view as well as tasty sake and delicous Kyoto cuisine.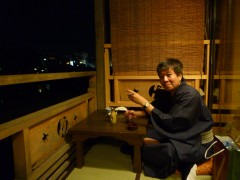 Kimono and Kyoto are what we should be proud of.