19 August 2018
Japanese pacifists sing praises for Costa Rica's disarmament.
According to the documentary "A Bold Peace," the nation abolished national army in 1948, the same period Japan announced current constitution which states disarmament.
Japan was actually forced to do so by US occupational force. But Costa Rica did that internally.
This was a way to counter US imperialism in the region. US used military forces of Central American nations to remove anti-America regimes by provoking coups.
In that sense having military is a huge risk for the small nation.
Even if the nation tries to counter US by arming itself as much as possible, it can never compete with America 's gigantic military force.
That was a strategy for them. Thing in common with Japan.
Because Japan officially does not have a military force, Japan has actually never sent combat forces to overseas since the end of Second World War, only supply or monitoring staff.
If we had one like South Korea, we might have gotten involved in Vietnam war and massacred civilians.
The common issue is how we deal with the US.
Conclusion of the film describes how US undermines peace, environment, social welfare and prosperity of the world although they often claim themselves to be the leader of free world.
Let's think about how we deal with the US!
31 October 2014
A biographic story of Grace Kelly who left Hollywood when she was a top star and got married to the Monaco Prince.
I remember TV documentary on her life a long time ago. It was her family's philosophy that leaving the business when he or she is on the top ranking. Not letting anyone see you downgrading.
Indeed, she did.
The film was criticized for historical inaccuracies, so it was noted as fiction based on facts.
But I enjoyed the film because Nicole Kidman who played Grace Kelly was really beautiful.
I first learnt that Monaco's official language was French. The kingdom always had struggles with its fearful neighbor, France.
Maybe getting Grace Kelly married to the royal family was one of biggest strategy to secure their kingdom's soverignty.
Monaco never had military but such a big weapon, the world's most famous celebrity so that no one wanted to destroy the kingdom including her.
A country image is a big thing. Japan has monarchy, emperor Akihito and his family.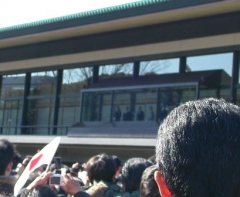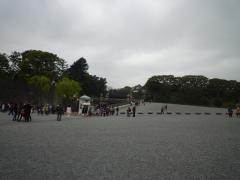 Their residence is size of Monaco. One family occupied huge area in the capital but they contribute a lot to the nation. Former emperor, late Hirohito was about to be accused of war criminal but the U.S. force did not indite him because of fear of rebellion from his people that might make occupation difficult.
The film made me think about Monaco whenever I go to the imperial palace in my city. Actually I am a guide who escorts foreign travelors to the imperial palace. If you want to know more about the tour, please visit this site.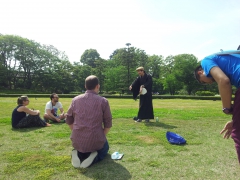 26 June 2013
Recently I have become a big fan of Germany, Deutschland.
The documentary film I saw represents one aspect of that.
Germany has recently decided to terminate operation of all of nuclear power plants in their country until 2022.
German people started heated movement of non-nuclear policy after Chernobyl accident in 1986.
The film described non-nuke and self-sufficient power generation movement of people living in one small town, named Schonauer. After going through fierce battles with big power company and debates and referendums among localies, they established their own power generation system and company.
Germany is indeed very sophisticated society. German people are so enthusiastic about civil activities.
Since Fukushima accident, Japanese citizens are learning what Germans did and are doing.
I am one of student of German experiences.
Ich bin Deutsch!! Danke schonn!!
The below photo is me in German logo T shirt, that says "Nuclear? No Thank You."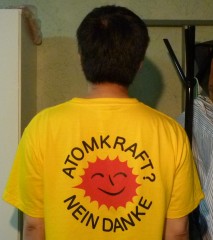 The below video is what I took at the anti-nuke event in September 2011. One German anti-nuke activist made a speech on the stage to tens of thousands of audience attending.
06 February 2012
I rented a DVD of the film which contains Japanese subtitles and censored faces for the release in Japan. The film won US film Academy Award for documentary. It is about dolphin loving westerners trying to save dolphins in the cove in Taiji town in Wakayama Prefecture in Japan.
This documentary is interesting one in the sense that anyone can learn that documentary shouldn't be produced in neutral stance, in other words it can be propaganda or be very biased.
To me, it was like brain training material. The film is based on the producers' emotional matters. The story is mainly narrated by Rick O'berry, a former dolphin trainer for the famous TV show "Flipper." He felt guilty of using dolphins for entertainment. Since then he started activity to protect dolphins. He even had broken the law to do that. In this film he trespassed to capture dolphin hunting scenes.
I list up things agreeable and disagreeable matters in the film.
Dolphins shouldn't be used for aquarium shows because they are put in stressful situation.
Agree, in that sense we should treat them better. Maybe animals shouldn't be used as toys or entertainment like bull fighting in Spain or Rodeo in US.
Dolphins are as intelligent as human, so they shouldn't be killed and eaten.
Disagree. What is definition of "intelligence" they mean? Does that mean not intelligent creatures should be killed and eaten?
Dolphin hunting is not Japanese culture but only local matter in the town. Most Japanese do not eat dolphin or whale meat. Cultural aspect can not be a reason for justifying dolphin hunting.
Disagree. Although dolphin hunting is only local culture in the town, it is their culture anyway. No foreigner or Japanese outside the town can interfere their activity. What they eat is their business. As long as the specie is not endangered, anyone can eat anything except human on the earth. I do not care Koreans eating dog meat though I don't and I think dogs are as intelligent as human.
The film featured some facts Japanese merely pay attention as follows.
If people continue to fish in the oceans at current speed, the marine resource will all disappear in 40 years. Japan is the world's largest consumer of seafood.
If you are arrested by the police, the police can detain you for 135 days until indictment is decided. If indicted, you are convicted at rate of 90%.
Japan pays so much money to small nations to gain pro-whaling votes in IWC. Japan's intention is not economic one but very political, which is protesting western imperialism.
IWC delegate from Japan says whaling is one way of pest control because they are eating smaller fish.
Dolphins and whale meats sometimes contain very highly concentrated mercury inside and those are provided to school lunches for children. (Now we should be worried about radioactives.)
One thing I wondered was why Taiji town did not permit the documentary crews to videotape their hunting of dolphins, not letting them do that illegally. That way they can solve the problem. It is bloody and brutal but what is the problem? That is what humans do for survival. We do that to cows, pigs, birds and even to fruits and vegetables. Plants are living creatures. Even vegetarians cannot avoid such sin for survival.
Let's be logical, rational and realistic rather than emotional racist, imperialist or idiotic idealist.