23 September 2013
Destroying "Finding Nemo"s World
Last weekend I visited Okinawa, Southernmost prefecture island. Over there I saw such cute view like Disney's animated film "Finding Nemo."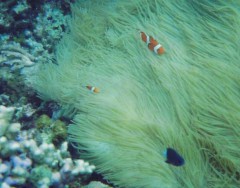 Clown fish over sea anemone with a blue fish. Looks like Marlin and his son, Nemo and their friend, Dolly. I was amazed but felt so sad at the same time. Because their lives are now in threat by planned construction of US Marine Base runway expanding from Camp Schwab.
The fish were in Ohura bay, which has been designated as most vulnerable place for environmental destruction because of rich bi-diversity such as clown fish, blue coral reef (the world biggest and Northernmost of its kind), dugongs and so on. If the runway is constructed by reclaiming the sea, the sea current will change and environmentally harmful substances would be released from the base. That must give adverse effect on wildife there.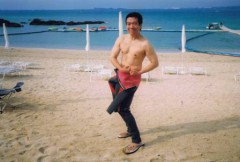 I scuba-dove into the sea from the opposite side of the bay to the U.S. Marine Base. Far away behind me in the above picture is where US Marine Camp is and where runway is planned to be constructed.
Growning opposition has emerged recently from localies. But the US and Japanese government are pushing hard to implement the project.
That coincides with hypocrisy in the film. That was, of course animated fiction. Fish don't talk and read. The film portrays them as good living creatures like human beings. In reality we eat fish and hunt them and put them in small aquarium unit just for viewing. In fact after the release of the film, clownfish were hunt overwhelmingly.
U.S. pretends like tropical fish loving and environmetally friendly nation but the reality is opposite and their act is very hyporitical. Not just Disney's fantazy but US policy against Japan's whaling. US is accusing Japan of whaling but at the same time it is harming most endangered marine mammals, dugongs in the bay with Defense Ministry of Japan. Some environmetal activists like Sea Shepherds even oppose dolphin hunting in Taich town of Wakayama Prefecture.
"Finding Nemo" is after all, Finding Nonesense and Hypocrisy.