24 December 2013
The novel was written by Japan's most notable novelist in 20th century, Endo Shusaku.
Recently the news that Hollywood decided to make the story into film next year was reported. The setting of the story was early 17th century of Nagasaki, Japan when the government ruled ban on Chrisitianity and entry of foreigners except Chinese and Dutch. That policy was aimed to get rid of western influence on its society in order to avoid colonization. Dutch was neutral as for this matter. Dutch hated Catholic nations and advised Japanese government to stop trading with Catholic nations.
The story started with a news that one most prominent and highly respected missionary sent to Japan abandoned his faith after severe torturing by Japanese authority. That shocked two Portuguese Catholic priests. They decided to secretly enter into one secretly Christian village in order to locate the missionary and continue Chrisian preaching for the localies.
However, they were found and arrested by Nagasaki authority and then their followers were tortured to death. One of the two died. One surviving one prayed God for his tortured followers but no salvage was done. God kept silence.
Later he finally met the person he wanted to meet from the beginning. The missionary he once respected whom he tried to locate. He was advised by the missionary to abandon his faith just as he did. Then he followed his advise. What he did was stepping on plate of engraved Jesus Christ picture. That was most usual custom to check if a person is Christian or not in those days. If you could do that, that proved you were never Christian or you just abandone your faith by doing so. He stepped on it to save tortured followers. It was a deal with the authority.
Since that era, Japanese Christian teaching was totally abandoned until it was re-allowed in late 19th century.
Surprisingly the story is based on real characters and real events. In the book the authority says "Christianity can never place roots on Japanese land. It is never universal teaching." That sounds true.
In fact centuries after that era, even after freedom of faith was insured by the constitution, less than 1 % of the population are Christian today. More surprisingly in this season you can veiw many illumination and Christmas trees and find Christmas events in Tokyo. But very few of them are dedicated Christians. Japanese Christmas events are nothing but commercial purpose.
One remain of Christianity of that era may be tea ceremony. There is a legend that Japanese tea ceremony was modeled after Christian mass ceremony in that era. In fact founder of tea ceremony, Sen no Rikyu was a man of the era that Christianity was still allowed and his wife and daughter were Christian.
If that is true, Christianity was continued throughout banned era. The root was placed. Praise Jesus and Praise tea!
01 December 2013
I went to one Art drawing workshop. The art of drawing naked human body. I have been to several of such workshop. I drew naked men or women posing on sketchbook.
This time was something different. I, myself became a naked model. I took off all the clothes and stood naked in front of more than 10 people including 3 women.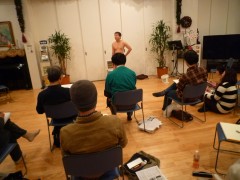 The reason I did that is I should be the one to be drawn to learn better about how to draw others. One should be the object of what he/she draws to know how to draw better. Vice-versa experience or role-reverse game.
It was a very meaningful experience. At first I was embarrassed and nervous but after a while I get used to be looked at. I stood still for 15 minutes and another 15 minutes I sat down on the chair still. I did not even move my head during those times. I felt double length of the time. 2 scenes of naked figure of me was drawn by artists around me. How did they view me?
The result was as follows. I picked 2 drawings as my favourite among more than 10 works. The above is picture I think most beautiful although it did not look like a real figure of me. The other is picture, I think closest image I have about myself.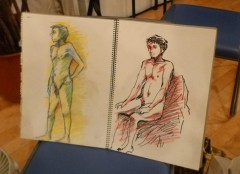 It was a really great experience that I want to share with other people. You learn how others view yourself and find yourself objectively.
However, I will never do that again. Once is good enough.