01 June 2015
Film "Pride" The oppressed united
I just happened to know this film while participating in Tokyo Pride Parade event.
It was British movie. The Japanese title was "Parade e Yokoso (Welcome to the Parade)"
The story is based on facts. In 1980's coal miners did strike against Thatcher adminisitration's policy to close down unprofitable mines.
Gay activists in London launched fund-raising campaign named "Lesbians and Gays support miners."
At first they were not accepted by miners' community but later on both sides understood significance of corporation getting over the difference. Like one of important characters said "You support us so we support you."
In the end, miners joined gay parade to show solidarity with the activists.
The both oppressed communities got united to help each other.
I recently came up with the idea of new novel using the concept of unification among oppressed communities. Gays are not the only oppressed but women, disables, and recently those who are fearing new foreign military base construction in their local prefecture, Okinawa, Southernmost prefecture of Japan. For details, please read the articles tagged Okinawa in this blog.
The mining town in the film was in Wales. It was several hour drive from London but very different culture and people exist, even language is different. One different tribe in one nation. That thing is very much like Okinawa.
I kind of do the similar action to the film, helping that prefecture people. On 24 May 2015 I joined protest activity such as human-chaining demonstration around Japan's Diet building in order to show solidarity with them.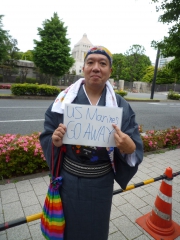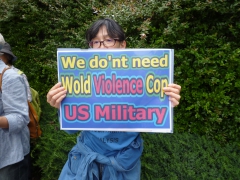 Last year I saw the rainbow on the construction area. It appeared from the sea. The construction project is reclaiming the beautiful coral sea. It was on the same day after I attended Okinawa's gay pride event.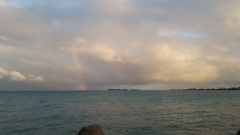 Well, it seems another oppressed ones got united helping each other for the better future.
Just my fantasy?