31 July 2023
I just saw the film at a small theatre in Tokyo.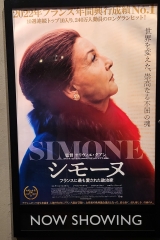 It was a biopic about the French politician who lived through holocaust and after the war became a lawyer and the minister of French government and became the first female president of European Union assembly.
She helped promote women's rights by legalisation of abortion in France, 1970's. She contributed to improvement of prisoners' condition. Why was she so enthusiastic about human rights issues?
The film started with her childhood in Nice with her family living in a happy condition before the second world war. Her family were Jews and believed France would never betray them.
But later her family were arrested by German Gestapo. She, 16-year-old, her sister and mother were deported to Auschwitz. Her brother and father were thought to be executed. The three survived in Auschwitz but they were deported again, and then her mother died in other concentration camp.
After the war, Simone married a man and gave birth to three children studying at a law school in Paris. But she had been traumatized by her experience in the holocaust and couldn't sleep on a bed. Even after the war, she could not tell others about her horrible experience during the war.
But such experiences motivated her to help others in the world. In her old age, she came back to Auschwitz on 60th anniversary of liberation of Auschwitz. She spoke and wrote all about her experience. She insisted that Europe should get united so no more war happens. Surprisingly she had lived in Germany after the war.
The film taught us it is the responsibility of living people to make the world better place and right the wrongs. Indeed, we are living in a better world, at least much better than what she experienced.
I, myself have visited Auschwitz in Poland, and learnt what happened there.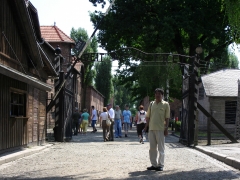 Such history should never be repeated. I felt it is MY responsibility not to let such horrible events happen again.
Sadly, it is happening and very hard to stop that.
28 February 2021
It's been thought women are not good at mathematics and not suitable for engineering jobs. But that kind of notions were proved to be nonsense a long time ago. The film "Hidden Figures" described three Afro-American women working for NASA rocket engineering department as mathematicians, in Jim-Crow era, 1950's to 1960's.
I learnt about the film by Voice of America article on NASA's International Space Station program. NASA named the supply ship to the ISS Katherine Johnson after one of mathematicians in the biopic film.
They were not only being woman but Black women, who had to sit down on back seats in public bus and could not share the same bathroom with their white co-workers. But they did contribute to the very difficult space programs by calculating the orbit and designing rockets.
If they were white male, this story cannot be a film.
Breaking stereotype is the most important factor to counter racism or other type of discrimination such as gender, and sexual orientation. Stereotype is the origin of discrimination. Prejudice is biased view on others using stereotype images. Then people discriminate others based on prejudice.
Stereotype is baseless information about others. Like all Japanese can do Karate, which I don't. You cannot generalize others based on such stereotype. The sad thing is people judge others by these stereotypes and then sometimes treat them badly.
In the film, NASA officials found the women very useful to the organization's projects so they accepted them equally. If they hadn't accepted them as legitimate staff, NASA would have lost such great assets and wouldn't have succeeded in historic space missions in those days.
Stereotype, prejudice, and discrimination undermine progress of our society.
Let's get rid of such things from our world.
27 August 2020
A real story about women who worked in America's conservative mainstream news media network, FOX during 2016 US presidential election.
A popular anchorwoman, Gretchen was demoted and finally fired because she refused to accept her boss, Ailes, president of FOX news network. Then she decided to sue him for his constant harassment over a year.
Another popular anchorwoman, Megyn Kelly was also harassed by him in the past. At first she was reluctant to join Gretchen's lawsuit fight but later she joined for women's rights.
What was surprising to me was, even in 21st century America, such cases happen in a major corporation and it was really courageous thing for women to file a lawsuit against a boss.
Women were still dealing with harassment but tried to conceal their emotional struggle in public. They often blamed themselves for what happened.
FOX and its owner Murdoch supported Trump. Actually FOX culture was really Trump-like, sexist and racist. But people love such culture. Actually, more people view FOX than liberal news channels like MSNBC or CNN.
FOX is like Goebbels strategy channel, attracting and harmonizing conservative people. The media represents the very honest opinion of some major portion of America who are fed-up with political correctness and diversity campaign. FOX is like silver-fox.
This year, another election, it seems Trump can be reelected. His opponent, Biden is not a very strong candidate. Even polls indicated Biden has got more support but Trump has been supported by hidden fans who never responded to the surveys.
America is dominated by FOX and Trump culture. It is just scary but this is the real America we have to deal with.
15 September 2019
A story of a Mexican American woman who worked in Japanese cuisine restaurant for the purpose of getting a stable job and later came to want to be a sushi chef. The story took place in California.
In Japan you can rarely meet a female sushi chef. It is said that women are unfit for the job because their body temperature is normally higher than men so they cannot grip rice and raw fish properly.
But such things are nonsense. The bottom line is it is just male chauvinism that prevented women from entering that industry.
In the film the owner of restaurant preferred Asian men standing and making sushi inside counter facing directly to customers. It was his intent to keep the image as a Japanese restaurant. She cooked in the inner kitchen. She could make better sushi and never smoke but Asian men who smoked were allowed to face customers.
Why are we so stubborn?
The film seemed to question how Japanese should deal with new ideas and educates us how to live with diverse population. Meaning we have to give up conventional stereotypes of our own.
There are many foreigners who do Japanese things lately. There are many foreign sumo wrestlers. There are many women who do what traditionally men do.
A dark skin Mexican female sushi chef indeed looks odd to us but that doesn't mean it is wrong. As long as they can make delicious ones, it is desirable.
In the film protagonist knew importance of freshness even before she became a chef. That is very much related to sushi making.
Japanese cultures are not just for Japanese to enjoy and preserve but all of the people in the world.
Besides above, what you can learn from the film is sushi rice is made with vinegar, sugar, and salt. Japanese chef use carbon steel knives, sticking chopsticks on rice is very inappropriate act which resembles funerals.
Great lessons for Japanese viewers. Most Japanese never knew.