11 July 2009
It is just nice to wear. When most Japanese wore kimono casually like until early 20th century, they wore this underwear under kimono.
It is called "Fundoshi (Loincloth)."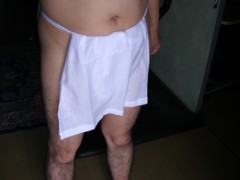 I became a traditional man. I will try to wear traditional Japanese kimono casually like I wear T-shirts and jeans.
Recently kimono has become more popular among youngsters. More Japanese say they love their country and its traditional culture ,not foreign ones than before. Well, that sounds good.
We have to realise how important to preserve Japan's tradition.