08 April 2015
Last Sunday, I went to Kanayama Shrine in Kawasaki city in Kanagawa Prefecture, neighboring prefecture to Tokyo. Over there held annual festival named Kanamara-Matsuri.
I saw very surprising scenes. The giant symbols of male genitals are exhibited.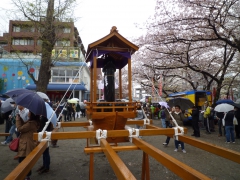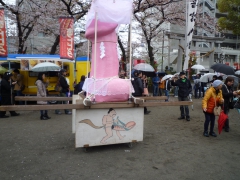 They are the things worshiped for centuries at the shrine.
The festival was to pray for the health of people, especially to avoid sexual transmitted diseases.
The symbols were to be carried outside the shrine and to be exhibited on streets in the town.
They are portable shrine, so called Mikoshi.
Not just Mikoshi, there sold candies whose shapes were like the genitals of female and male.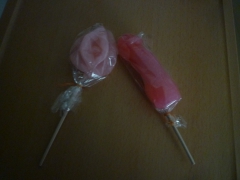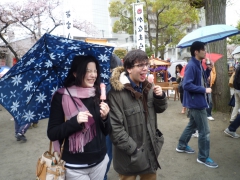 One third of spectators were foreigners although this place is not known as major tourist spot but it seems known as Japan's unique culture.
It is very unique taking Japan's conservatism into account. Japan is also very modernized and industrial state.
Then why such festival is held.
It is because that was Japan's very original culture before modernization in late 19th century, before westerners came to educate us to be "civilised." That was westerners who changed our attitude towards sex. Since then, sex has been treated as an indecent matter that we should avoid talking about.
Now westerners are campaigning free sex and praising Japan's native culture that has been forgotten.
The priest of the shrine claimed that significance of the festival is to know that you are living life. If not, one could never come to the festival.
It is not indecent thing but rather we should worship as humans.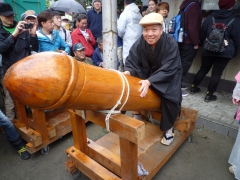 28 May 2013
I am training myself to be a healthier and muscular man.
I go to training gym nearby. The gym is Gold's Gym (Gorudo Jimu, in Japanese) located neaby area. It has good equipments and interior is fancy. Its trainers are well-educated and kind.
I recently realized that I should do work-outs not only at gym but also at home. I do not know how. I never had any work-out machine at home though I had a treadmill.
Then I asked a former Gold's Gym trainer who is now working as a freelance to come over to my place and give me instruction. I bought a dumbbell (10kg) for that.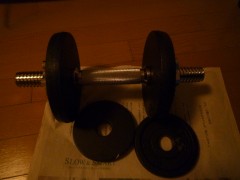 His personal training was excellent. He first taught me how to run on a treadmill, then push-ups, several ways of muscle training using one dumbell and finally abdominal. Surprised to know there are many ways to do at home. I am doing this excercise menu twice a week at home.
I really met a great personal trainer. He was nice, friendly, energetic and caring. But he is also polite and gentle. I will continue receiving his instruction. He, himself is a body building competitor. He is now working hard to participate in the Tokyo Open tournament held in July. He said he could not eat rice for dinner for the preparation.
I have a goal for training as well, not just being healtheir and muscular. I will be a nude model for drawing at an art school. I want to make my body more suitable for drawing.
Not just work-outs, I change my lifestyle for eating. From now on, I do not eat rice or spaghetti for dinner. I eat eggs and soys more often than ever. I will have much less sweets and alchohol.
Every day I drink protein powder with milk or water twice to gain more protein in my body.
I will make it.
09 January 2013
In the beginning of this year, I went to Nozawa Onsen village in Nagano Prefecture.
The below is last year's footage, February 2012.
It is famous ski resort but it is also famous for natural hot spring town. The word, Onsen means natural hot spring in Japanese.
Interestingly enough, the town is not only famous for Japanese skiers but Australians, New Zealanders and other foreigners. A ski resort famous for foreigners I knew was Niseko in Hokkaido. I visited there two years ago. Then I learnt Australians there became more interested in Nozawa Onsen. That was why I visited Nozawa last year and this year.
The place was better than expected. Snow quality was great. The courses were varied. I saw many Australians and other foreigners skiing and snowboarding. Not as many as number I saw in Niseko but I could meet some Aussies every time I got on a lift. I even could meet them attending ski school which only provided Japanese intruction. They told me they learnt it by body language. Wow!!
I saw them outside the ski areas. That is public bath houses. There are 13 community bath houses in the village. It is open early in the morning until late at night. All of them were managed by localies and free of charge for anybody including tourists. The hot water comes from volcano line underneath the village. It smells sulfur and some of them were really hot. I could not imagine foreigners enjoying that. But I saw them quite frequently.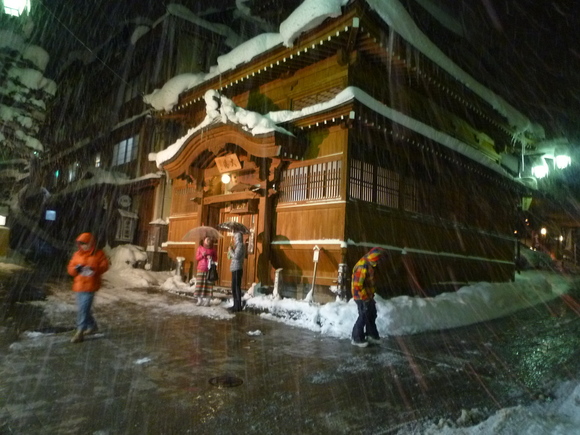 I spoke with localies. They told me they actually made sales to Australians flying there. However, they never change their village to resort style. They keep the way they have been from the past. You can't find any big hotels and leisure facilities over there. Just small local hotels, bath houses, temples, shrines, small shops, restaurants and bars. No big places except ski slopes. Very much like Japanese traditional village.
Localies seems to be proud of keeping their originality and personality. When I bathed in a community bath, one local man scolded a young boy saying "wash your penis before you get into the bath tub." That means keep the bath clean and respect the manners.
It is a very mystique place. Real winter wonderland!
06 October 2012
I hope some day I will be a very sexy muscular man. Now I am like this.