25 October 2020
Last September I visited Fukushima Daiichi Nuclear Power plants being in the process of abandonment. 9 and half years ago, diesel generator for emergency that had run 4 of 6 plants were destroyed by tsunami and released massive amount of radioactive to surrounding area in Fukushima prefecture, located about 200 kilometer away from Tokyo. What happened was inside these reactors, nuclear fuels lost coolants and melted and then hydrogen was touched with oxygen of air, that caused explosion.
I joined two-day tour to the Fukushima nuclear plants and its nearby area. On the first day, my tour group was escorted by workers of TEPCO, which is responsible for the accident and current abandonment, to the site.
Surprisingly, visitors were not required to wear protective suit to enter the site because most of the sites are already cleaned up. Even workers there do not need to wear ones.
I could bring my own radioactive counter to back side of the plants. The photo was just taken behind the No.1 plant which exploded first followed by No.3, No. 4 and No.2 explosions. All of the crippled 4 plants (No.1 to 4) were capped but nuclear debris are still inside the reactors and planned to take out a few years later.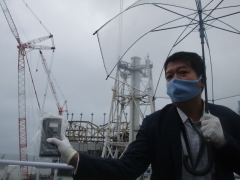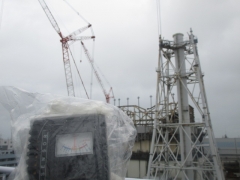 Compared to the level measured in Tokyo (photo below), it was detected extremely high level, over 80 micro SV.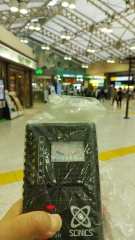 That night we stayed at J Village sports athletes accommodation and training facility located 20 km away from the site, in which TEPCO and Japan's defense force used during the crisis. Now the facility is back to normal as had been before the disaster.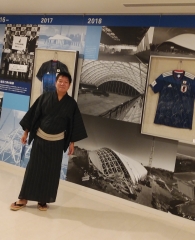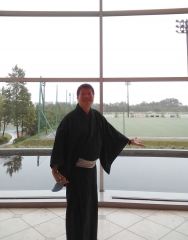 Last year some foreign Rugby teams used the facility during the Rugby World Cup tournament. It has a hotel-like accommodation and several field grounds for soccer or Rugby. Hotel room was cozy with a shower room. But the hotel has nice view big communal bathroom on top floor.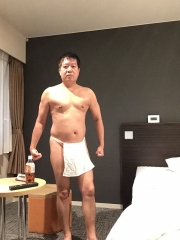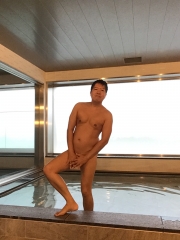 Next day we visited the cattle farm named Kibo no Bokujo (The Cattle farm of Hope) of more than 200 oxen abandoned after the disaster. It is located in Namie town, 10 km northwest of the nuclear plant site. The owner of the farm, Mr. Yoshizawa we met said he takes care of the abandoned oxen even the government instructed him to kill them. The farmland is enclosed by high-voltage electric wire to prevent oxen from escaping. Before the accident, Fukushima was known as one of greatest breeding place for oxen that had produced delicious beef.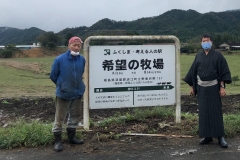 He said he wanted to keep them until they naturally die to symbolise the responsibility of humankind who breed them and established nuclear power plants that affected their lives.
He gets no income but pays annual cost of more than 10 million yen (around 100 thousand Euro or US$ worth). All the cattle are castrated so no more offspring will be created. The cost was funded mostly by donation.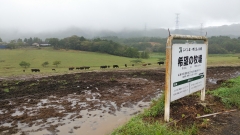 This tour is not only for learning about the nuclear accident but the big earthquake and tsunami disaster. Over 20000 people in Northeast region Japan died or are still missing by that.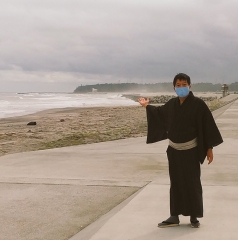 On the sea coast, 6 km away from Fukushima Daiichi plants there still remains of what happened in tsunami hit residential area.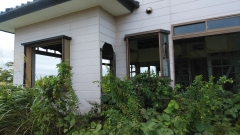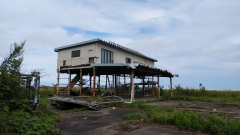 The new museum in memorial of the disaster and nuclear accident was established and opened in September.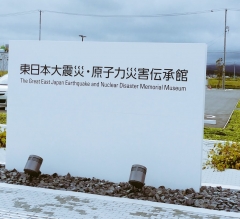 However, the disaster never ended. As fore-mentioned, the abandonment is still halfway and might even take another decades to finish.
Just recently TEPCO announced it will release processed contaminated water in which hazardous nuclear substances was filtered out but still tritium is contained to Pacific Ocean. They claim it is not hazardous to environment because tritium has very low-level of radiation, which experts claim outrageously wrong.
When I visited the crippled nuclear plants, I was requested to take a photo with a water bottle that contained tritium to appeal it is safe.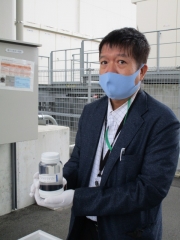 Well, it seems we have to continue fight against the nuclear industry.
If you are interested in the tour, contact me through this blog or twitter. I can refer you to the travel agent. The cost is around 45000 yen (400 Euro or US$). Dark tour or I would say, good Study tour for you.
29 September 2020
What I am writing might include inappropriate things.
Recently, the world is in turmoil. High temperature caused big forest fires in Brazil, California, Australia and other parts of the world, much more frequently ever before.
The pandemic by novel corona virus shut down or suppressed many of human activities. Over 1 million people died since the outbreak. No good medicine is discovered yet.
How are we going to deal with such matters?
Are we just being frightened?
Or maybe we've got a chance to rethink our way of life. This pandemic and big climate change forcibly changed our lifestyle.
California decided that the state would allow only electric cars in new car sale market from 2035.
More people work at home using internet. No time loss for commute. Seems like pre-industrial era, where most of people work at home or near their residence as farmers or craftsman. Internet enabled us to do similar things to what we do in office or school. Why not have we done that even before the pandemic?
Due to the high unemployment rate and unstable job market, people lost their jobs or get less income. To mitigate this situation, some economists propose "Basic Income" measure in which the government provide minimum level or less amount of income for living to all the people of the nation monthly.
In Japan, this year 100,000 yen (900 US $ worth) money was provided to all the Japanese nationals once a few months after the pandemic broke out.
The presented measure is to do it monthly all time around but abolish unemployment benefits, social welfare and retirement pension. But no homeless people on the street.
Such things would never have happened unless the pandemic broke out.
Because we are forced to stay home and work from home, we have to think of alternative way of living. Pandemic forced us to realize how vulnerable we are, and how fragile our world is.
As for the eco-crisis we've already faced a long before the pandemic, it has become obvious that people do not need to drive, ride or fly a long distance just for the business or study. Energy for transportation can be drastically eliminated.
Global warming might cause another pandemic by melting of permanent ice in Siberia or North Pole. This pandemic might become prep-school for another greater ones.
We all have to be serious about the world ecology crisis. We must act now and keep doing it.
Even after the vaccine or cure medicine is discovered, we would never go back to the life we had in pre-pandemic era.
Good lesson and good chance!
29 February 2020
Tokyo 2020 Olympics is on the verge of cancellation due to the outbreak of novel coronavirus.
The main stadium in Tokyo.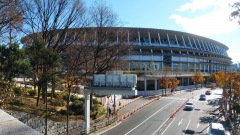 It seems, this disease keeps spreading for months worldwide including the host nation, Japan. It is impossible to lock down. The only solution is invent the vaccine. Even someone found the one for the virus, it will take a few months or even years to bring it to practical use.
It is reported that IOC will decide whether to cancel the games by May at latest.
In my opinion, I don't care. I was actually against the Olympics to be held in Tokyo because of too much crowds and heavy traffic. Tokyo is already too crowded and busy.
Citizens don't want any more crowds in the city.
As for economic effect, it is just for a few weeks. It does not last so long and only benefits big companies who want to gain big money by sponsorship and construction of facilities.
In fact such things are true in every Olympics these days. It has been much commerialised for money making. Athletes have to do the matches in inadequate season and time to match with American TV broadcasting.
Summertime in Tokyo is too hot for athletes. It had to be scheduled in Autumn. 1964 Tokyo Olympics were held in October. But it was not good season for Americans because of baseball matches.
Swimmers had to swim early morning like 8AM in 1988 Seoul Olympics because that time was prime time in America.
In early 20th century, Olympics were used to heighten nationalism like Nazi-Germany did in 1936 Berlin and America did in 2002 Salt Lake after 911.
It is said if the Olympics were cancelled, it may be postponed to next year's same season.
But you never know when the outbreak ends.
But most ideal thing is to cancel the event so there is no more fuss. Then no more Olympics from now.
Tokyo, Beijing, Paris, and Los Angeles. All cancelled. Or each event can be scaled down or disperse.
It costs so much money and places too much burdens on athletes.
It is a great timing to rethink the significance of Olympics. The Olympics may be one of remnants from former century.
06 July 2017
Recently I have come to believe life means killing time until death. Cultivating such thinking is particularly liberating when you are in grips of depression, with seemingly never ending suffering.
The notion that it is imperative to accomplish great feat is often at the root of all suffering. I believe that enjoying the simple pleasure at a moment, without obessesing with accomplishing greate deeds, without setting goals is one way of living a life.
What do you think?