14 November 2014
Biographic story of Bayern king in 19th century Deutschland (Germany).
A young Ludwig succeeded Bayern crown after sudden death of his father.
Unlike his father, he never liked war and loved music and art. He believed art and music could maintain the peace but at the same time he had to struggle with the reality of the world.
Ludwig admired a opera music composer, Wagner. He became a patron for him. He liked Wagner's most famous opera "Lohengrin." He was a romantist.
But his kingdom faced wars and its sovereignty was weakened by defeats of the wars.
Then he tried to escape from such harsh reality and in his late years he ordered to build his own imaginative castle Neuschwanstein. Neuschwanstain was modeled after the castle on "Loengrin" stage. In Japan it is famous for model of Cinderella castle in Tokyo Disneyland.
I visited Neuschwanstein in April, 1995. Before visiting the castle, I went to Ludwig's home castle nearby. Luckily I was the only visitor so I could speak with the local guide about Ludwig's life. She told me the relationship between his dynasty and commoners was not bad so there was no bloodshed revolts like France. I asked if Ludwig was gay. The guide just laughed. Actually he was and that thing was portrayed in the film.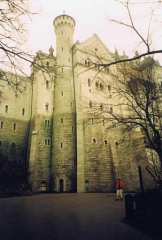 It was of course, a taboo in his society at that time. He struggled with that thing as well.
Lesson of this biography is no one can avoid reality. We all have to deal with it. If you try to escape from it, in the end you will be like Ludwig.
But art and music are really important in our real life and energize us.
Wagner's "Lohengrin" and Neuschwanstein in fact became German's most glorious heritages. Ludwig indeed contributes to his nation even after his death.
29 September 2014
I could never understand why a girl like her has become so popular internationally.
Her name is Kyary Pamyu Pamyu.
She is like Lady Gaga of Japan. Her sales points are very unique custumes.
But her singing is not music, just high tone voices.
Last Sunday I went to Tokyo Metropolitan Gymnasium. There was a festival of concerts, fashion shows and exhibitions. Those were awesome but the biggest event was her concert in the final session.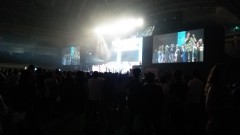 What surprised me was there were many audience from abroad including Europeans. Some wore custumes like she wore.
Can they understand and enjoy her singing?
It seems they did.
I can never follow what they are doing.
What is going on in this world? I felt like Alice in the wonderland.
31 July 2014
I saw the dragon there, in Henoko, Okinawa prefecture, southernmost chain of the islands in Japan.
You might not believe that. This is the proof.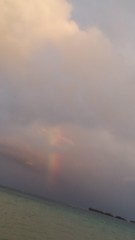 Yes, it looked like rainbow. But the sea is known to be sacred place for the dragon. The locals worship it and established a shrine on the sea coast.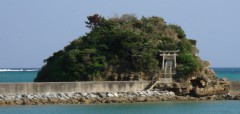 Recently the dragon seems not very comfortable living there because of construction project going on his or her place. On the sea coast is US Marine training camp base, Camp Schwab. There is a plan to expand the base by reclaiming the sea where he/she lives.
The locals oppose the plan because their environment would be deteriorated as well. However, US military and the Japanese government never mind local resisitance movement.
Will he/she leave as the things are? I doubt it.
The sea reminds me of what I experienced 3 years ago in Kaminoseki, Yamaguchi prefecture in the mainland of Japan. Actually I learnt about that town when I joined environment activists meeting in Henoko. I met Kaminoseki activists who protest the construction project that reclaims the sea to build nuclear power plants there. They did the same things as locals in Henoko do, kayaking the sea to prevent construction work from proceeding.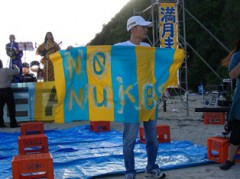 So I visited Kaminoseki later. There I saw the same scene.
Activists on the beach calling for the halt of the project but the authorities and power company never minded their voices. The project was about to be proceeded and the beach might be destroyed sooner.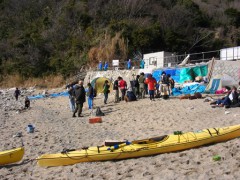 I felt something when I was on the beach. I sympathized, and then prayed to call for the help.
Two weeks later a big earthquake and tsunami occurred in Fukushima. 4 nuke plants were destroyed by the nature and massive radioactives were released to the environment.
Now the construction is halted in Kaminoseki (not yet terminated.) No nuke plants are operated in Japan at present.

In that town, there enshrined the sea dragon.
Was it just an coincident? I just don't think so. That is why I've been feeling fear.
01 March 2013
I went to the cinema last night. It was a late show that starts 9 PM.
I was not particulary interested in the story of the film. I was only interested in music played in the film. One of the songs, I dream a dream, has caused a sensation recently by a British middle aged singer, Susan Boyle.
The story was about a man who escaped from probation and became a burgalar but later turned into an innocent man and tried to save others.
"Les Miserables" means "Poor people" in French. The story took place in an era of post-French revolution civil war in 19th century. People who are desperate, and in despair because of condition they were in.
I just could not get what messages the story delivers to the audience. The story goes on like a revue.
I just guess it tells life is not easy. You can't easily overcome. Even though you are desperate to change the world better, things cannot move as it should.
You should just be patient or keep dreaming. Dreams that never come true.
Does it mean we all live in hell and be as we are?
Yes, we are all "Les Miserables."