26 June 2009
Today was a big news day for showbiz.
The king of Pop Star, Micheal Jackson died of heart attack and one of the hottest angel of "Charlie's Angels", Farrah Fewcett died of cancer.
Two big icons of American entertainment died. Both of them were very familiar to me.
I remember when Micheal Jackson visited Japan in 1980's. He stayed in Japan for more than 40 days.
He really liked Japan and gave big compliments to our country. He said something like "In Japan shy people like me can be welcomed unlike the U.S."
Did it mean he was not welcome in the U.S.?
The other big star, Farrah Fewcett was one of the casts of my favourite show "Charlie's Angels."
Actually I liked Cheryl Ladd who acted as her sister better.
The three beautiful women acted as detective. The story was made into film.
I like the episode that Cheryl Ladd and Farrah Fewcett were together as sisters.
But Micheal and Farrah are gone.
Not only that, my image of America of those days were gone, too. America is not dream country any more.
Actually I hate that country although I had lived there for more than 5 years.
Maybe since I learned the U.S. Navy decided to deploy nuclear aircraft carrier in Yokosuka.
But America has drastically changed recently since 911, war in Iraq and financial crisis.
The End of Era.
Even Obama, the first Black man to be the president of the U.S. work too well, the things would not be much better.
This article describes why.
Good bye, Micheal, Angel and the era of America!
21 June 2009
This was in fact Scottish folk song.
The song for rememberance and friendship. In 19th century the song was introduced to Japan and was used as martial song.
Japanese translated version "Hotaru no Hikari, The glow of a firefly" was for promotion of patriotism and imperialism.
I learned this song when I was small. Recently I enjoyed the song in the war story film "Umi-yukaba."
The story took place in early 20th century, when Japanese sailors fought against Russian fleet.
When the battle ship departed from Japanese imperial navy's port, Sasebo. This tune was played on the ship by its brass-band.
The sailors were waving their hand to the local people who were waving national flags to them.
The battleship was called "Mikasa." I have strong spritual connection with the ship.
I remember when I first visited Yokosuka to join the protest activity against deployment of USS George Washington last year.
I was invited to the ship by the souls of the sailors. At first I tried to get to the office of the activist group from the train station, but I got lost and after a while I found myself standing in front of the ship exhibited in the marine park.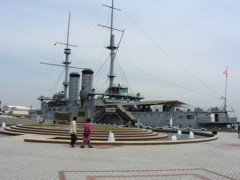 The Mikasa was flagship of Japanese imperial Navy in early 20th century. During Russo-Japan war (1904-05) the ship and its fleet struck down Russian imperial navy's Baltic fleet in Sea of Japan. Japan won Russian Empire. The ship was built by British. Japan was supported by Great Britain in the war. British did not allow Baltic fleet to pass Suez Canal so that the Russian fleet had to spend more time, supply and coals to reach Japan's sea.
We owe a lot to Great Britain but unfortunately two nations fought against each other in the war later.
I recently found a good video clip for the song. The background image is scenes from a classical film "Waterloo Bridge" which Vivien Leigh, an actress who also starred in the very famous classical film "Gone with the Wind." I don't know who sang the song. I wish some day I would be able to listen to the song sang by a famous British singer, Suan Boyle.
20 April 2009
A big surprise in this world.
A 47 year-old Scottish woman who had never been married and even kissed by a man sang a very beautiful song.
You can never match her appearance with her voice.
I am waiting for the CD of her singing released in Japan.
Surprisingly she was never noticed as a professional singer until now.
It is like Cinderella Story in 21st century.
She's having an ordinary sigle life living with a cat.
Now the world knows her.
This is where you can find her.
But you can easily find her by searching "Susan Boyle."
I learned that a song titled "I dream a dream" exists.
She gave a dream to everyone. Even you become a middle age person, you still have a chance in life.
20 October 2008
I went to Former Furukawa House & Garden Park in Tokyo. The house and garden used to be owned by one rich family named Furukawa, who established very big conglamour. The house was designed by British architect Josiah Conder. It was built in 1917.
Now it is owned by the Tokyo metropolitan government. It is beautiful, especially the time like this with beautiful roses blossoming in the garden.
See the photos of the below.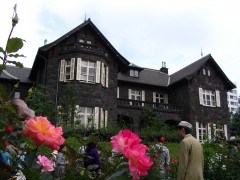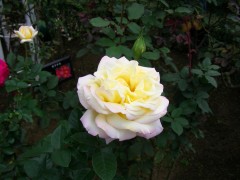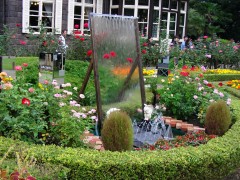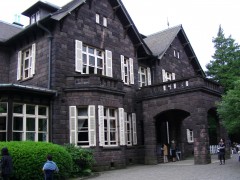 I'll post some more photos of the garden on album section.
The Poem reading and guitar playing show was held in the garden. The below photo is a woman reading a Shakespear's poem.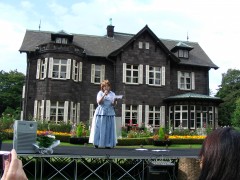 You can also enjoy the You Tube clip of the visit.
Enjoy the acoustic guitar playing at last part. It was very nice.