20 October 2008
I went to Former Furukawa House & Garden Park in Tokyo. The house and garden used to be owned by one rich family named Furukawa, who established very big conglamour. The house was designed by British architect Josiah Conder. It was built in 1917.
Now it is owned by the Tokyo metropolitan government. It is beautiful, especially the time like this with beautiful roses blossoming in the garden.
See the photos of the below.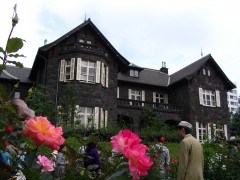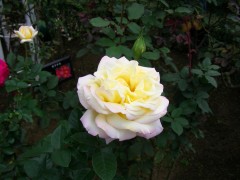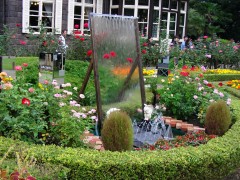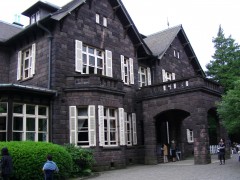 I'll post some more photos of the garden on album section.
The Poem reading and guitar playing show was held in the garden. The below photo is a woman reading a Shakespear's poem.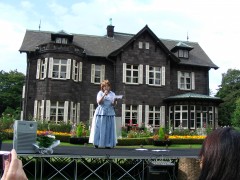 You can also enjoy the You Tube clip of the visit.
Enjoy the acoustic guitar playing at last part. It was very nice.
22 March 2007
By John Mayer released last year.
I bought a CD which contains the song. I just happen to hear this song on the radio then I liked it very much. That is why I bought it.
I like the lyric very much. "It is hard to beat the system. So you have to wait on the world to change."
This song reflects the current situation of America regarding ongoing war in Iraq.
Many people want to stop the war but the system doesn't allow it.
It is true not only regarding the war but other issues in this world.
You just have to wait, you can't do anything to fix, not right away.
Things would be eventually changed after massive casualties were seen.
Yes, this is the world we live. And this is our life.
28 November 2006
20 years ago, I was a big fan of Billy Joel. That was when I was in secondary school.
At that time I did not live in a big city where a big star like him would come. Now I live in Tokyo.
I bought a ticket that cost 10500 yen ($85). Actually I am not his fan any more but somewhere inside me I still wanted to see his performance.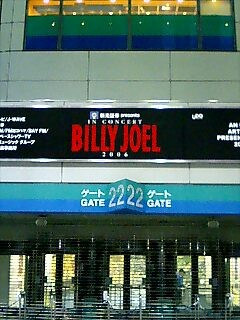 Indeed his performance was as great as I expected. He was 2-300 meters away from where I was standing. But I still could see him moving on the stage, drinking water while singing. He got older, and bald. But he was very energetic. I could not believe he is close to 60 years old. He sang the songs I know, and I still remember although I haven't heard it for years.
Just the way you are!
Stranger!
Big shot!
New York State of Mine,
Allentown
In the middle of Night
My life
Honesty
Innocent Man
And other songs I still know but could not remember title of it.
The last song he sang was kind of his debut song "Piano Man."
He sang playing piano by his hands and whistling harmonica set on his shoulders.
"Sing a song, Piano man, Sing a song tonight."
Unfortunately my favorite among all, "Uptown Girl" was not sung.
The dome was almost filled with tens of thousands of spectators.
I realized he is still a big star to me!
Thank you, Billy.
21 February 2006
I just recently bought the CD that contains the song of the below.
From the Halls of Montezuma
To the Shores of Tripoli;
We will fight our country's battles
In the air, on land and sea;
First to fight for right and freedom
And to keep our honor clean;
We are proud to claim the title
of United States Marine.

Very rythmical and powerful song, isn't it?
Then I want to ask,
What are they doing in Iraq?
Fight for right and freedom?
To keep your honor CLEAN?
See this!
This is just like Japanese troops in China in 1930's.