23 January 2016
From last December to beginning of this month, I was in Okinawa to join protest activities of locals who are opposed to construction of new military base runways in US Marine Camp Schwab in Nago city, Okinawa.
Why we are opposed has been described in this blog for years. Please read the posts clicking the tag Okinawa.
Especially, this article gives you outline of what is going on there. My letter to US Ambassador to Japan, Caroline Kennedy, daughter of JFK.
While I joined the protest, I used picket board that says "We are Rosa Parks."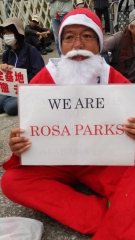 Rosa Parks as you may know, is the symbol of refusal to unjust matters. A Black woman who refused to give front seat to white passengers in a bus and was arrested in Montgomery, Alabama, 1955. But her action sparked bus boycott protest led by Dr. Martin Luther King. 9 years later, civil rights Act was passed. A year after that, Dr. King led peaceful march from Selma to Montgomery to call for enactment of voting rights bill. Black people in the Southern states were blocked at voting registration office.
What surprised me was marines reaction to the picket board. Young marines looked positive. I asked one security guard, who was a young white man inside the camp premise, if he knew what it meant. He said smilingly "I know what it means." One Black man driving a car looked at me, smiled and gestured his support. "Rosa Parks" is known to every American.
I saw the movie, "SELMA" after I got back home in Tokyo. It was a great movie. I found how hard it was for him to do this. A lot of people were hurt and even killed. But he and his followers never gave in.
Interesting thing to know was Dr. King was a very smart man so that he once retreated the march to avoid bloodshed by local police. He filed lawsuit against the Alabama state that bans peaceful march. Then the court made an order to allow the march. He prevailed.
Just like Rosa Parks and Dr. King. we did peaceful protest at the gate of Camp Schwab. Sit-in-protest at the gate that construction vehicles passed through.
Police came and took us from the gate. We never foughtback but just kept sitting down on the ground. I was carried by the police from shoulders to toes.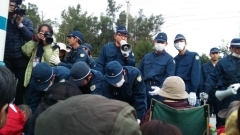 Protestants do every day. It has been going on for years. There were several injuries and arrests. But we still keep doing this. We cannot stop the construction but at least we are delaying that. We will never give in.
While I joined in the sit-in protest, I really felt like Rosa Parks, Dr. King and their followers in their times. We may be backed up by their souls.
Thank you, Dr. King and Ms. Rosa Parks. I am proud of being part of this protest activity.
The US government should hear the voice of protestants and halt such stupid construction project. It is as stupid as segregation laws. It is actually what is happening in your own yard.
15:28 Posted in Ecology, Film, Japan News, Politics, Society, US-Japan relationship, USA issues | Permalink | Comments (0) | Tags: history, military, okinawa, racism, afro-american
15 February 2015
A story of a man whose father was shot in front of him on the cotton field by a white farmer and later became a house servant of the farmer and then hotel servant and finally was hired by the White House.
It is a fiction but it is based on a real batler who served the White House from 1950's Eisenhower until Reagan's administration.
It was like Black history of America.
How Black people struggled with the oppression and finally be honoured by the society.
Maybe Obama should have experienced similar things.
In order to change the society, people need to be not only brave but also clever. You cannot just fightback. You might have to get along with majority of the society regardless of their unfair treament of you.
It is a fiction but surprising thing was even in the White House, Afro-Americans were discriminated in salary and positions. It was fixed after Reagan's administration 1980's.
I like that part of America's history, not interested in founding fathers.
It is common with current event happening in Okinawa, Japan.
Because of that, America is no longer my favourite nation.
I can only feel mutuality with the oppressed Afro-Americans who lived in the past.
31 August 2014
The film was released last February. Recently DVD was released so I rented and watched that.
Animated film of famous Andersen story "The Snow Queen." The queen who had magical power which can freeze anything around her and cover her country with snow and then escaped to the top of a mountain. Her sister tried to save her.
It was as good as expected. Great thing is music because it is a musical film. "Let it go" was really great and aspiring.
However, I personally do not like such film. It is just an ordinary story of fairly tale except the prince being evil. I do not like computer graphic animation. It is OK to watch it on TV screen but not in theatre.
Computer graphic animation is very shallow image. Not very substantial.
Furthermore, this film just made me sure that American culture is after all, plastic replicas of European ones.
When we image American scenes of towns, people. Typical ones are very replicas of European ones. Not exactly Europeans but looks newer, modern and cleaner. But replicas are replicas.
Just plastic things with no souls.
When I visited European countries such as England, France, Switzerland and Germany from the U.S. during my college study years in US, 1990's. I felt that very strongly by comparing the two.
Maybe that is good things about America. Not being bound by tradition, and easy to join.
I really like such things in my younger days but not any more, I am over 40.
I want more substantial and traditional things in life.
In fact, America seems not giving good influence on our country like US military bases and global free market economy policies. We should make a distance from the U.S. Not too much being brainwashed by American things.
I do not enjoy replicas any longer but more substantial, real things.
Not easy to find that but I will find ones in order to make my life better.
23 January 2014
Last Monday, US Ambassadar to Japan, Caroline B. Kennedy wrote the below comment on her twitter page.
"Deeply concerned by inhumaneness of drive hunt dolphin killing. USG opposes drive hunt fisheries."
I guess she was impressed by the documentary film "The Cove" which describes brutality of dolphin hunting in Taiji town in Mie Prefecture.
Whether her remark is right or wrong, it is double standard. So I replied to her as below.
"Double standard! Saving dolphins in Taiji and killing dugongs for new Marine base (construction) in Okinawa at the same time."
If you want to know why I wrote that. Read the posts with Okinawa tag on this blog or the below newspaper article.
We are sick of America's hypocrisy.