30 April 2011
Tomodachi means "friend(s)" in Japanese. The U.S. military in Japan is undergoing "Operation Tomodach" after the earthquake of magnitude 9.0, tsunami and nuclear power plant explosion occurred in our country.
Yes, the U.S. has been our greatest and closest friend, especially in a turmoil caused by the earthquake, tsunami and nuclear power plant disaster.
The U.S. government and military helped us a lot by sending air craft carrier, Ronald Reagan to the disastor area coast to transport commodities and equipments in order to rescue refugees in the disaster areas. The U.S. goverment provided expertise and machines to crippled nuclear power plants.
We do appreciate that. But the U.S. is not only country that provides assistance to us. China, Russia, France, Israel and a lot of other nations do so. We do appreciate those nations as well.
I do know for the U.S. Japan is not just a friend, rather very important ally in terms of politics and economics. Japan is 2nd largest owner of U.S. treasury bonds next to China. Japan is one of the biggest trading partner for the U.S.
As for crippled nuclear plants, the U.S. should be very much concerned about this issue because the U.S. is heavily dependent on nuclear power generation having more than 100 plants in the nation. In fact crippled nuclear plants in Fukushima-Daiichi contains U.S. made reactors, designed by General Electronics. The same type of reactors are used in 23 plants in the U.S.
Like the U.S. France is very concerned as CEO of France's biggest nuclear power plant corporation came to Japan to fix the problem. France is much more heavily dependent on nuclear power generation, 80% of its electriciy comes from nuclear power, while 20% in the U.S. and 35% in Japan.
Just recently the U.S. and Japanese government agreed to relocate U.S. Marine in Okinawa. The plan is relocate around 8000 marines to Guam and newly building base inside Okinawa island. That plan has been disapproved by local Okinawans. Even the Okinawa governor demanded the change of plan.
But the both governments seem to go ahead despite the protest movement there because the "Operation Tomodachi" can ease the tension there. But it seems not.
We feel the U.S. is taking advantage of this turmoil to get what they want. In our country such act is called "stealing things from burning house." Later you will be demised.
Don't do that, please if you want to continue to be good friend to us.
Under this plan, Japanese government not only provides the area for the new base but the budget to build the new base. This is huge money.
You know we are now in a big crisis. We need so much money to rebuild the disaster areas and fix and safely abandon nuclear plants. How come you can receive such benefits from troubled nation?
In Yokosuka, USS George Washington evacuated from Yokosuka, home port for the ship right after the earthquake and nuclear power plant explosion happened. Now he returned.
Funny, that ship was deployed for the purpose of defending Japan. This time he did not. Ironically, the nuclear powered ship which contains so much of radioactive materials got away from radioactive.
After he returned, they say the ship is safe. But localies in Yokosuka cannot agree. People have been so concerned about radioactive since its home porting in 2008. Now we've got one from our own.
My advice as your Tomodachi is to rethink the whole package of US-Japan defense treaty and its operation.
We do appreciate great friendship so in order to stregthen such friendship why not just rethink about this issue?
Especially after the earthquake disastor, our nation's financial and mental situation has greatly changed. We do not want to suffer any more.
So be nice TOMODACHI!
19 March 2011
Dear Everyone in the world,
I just have to apologize to you as a Japanese citizen for causing such trouble.
As you know, our island was hit by historically big earthquake (Magnitude 9.0) and big tsunami swept away so many coastal towns. Tens of thousands of people died. These were natural disastors.
But next thing happened was not just natural cause. The earthquake and tsunami hit three nuke power plants in the disastor area. Two of the three were deactivated safely but one of them, Fukushima Nuke Power Plant was severely hit by the earthquake and tsunami. Japanese nuke power plants are said to be designed to resist any kind of earthquake but what was unexpected was a big tsunami.
The tsunami swept away diesel turbins which cool down nuclear reactors. Now those reactors are still self-heated because of lack of water. Water pump cannot work without generation. The heat caused hydrogen which led explosion within reactor building and then blew the roof away. Reactors themselves are still safe but it is very difficult to predict what will happen next.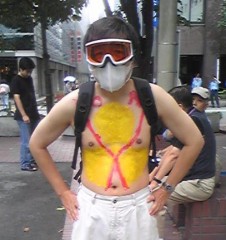 I've been against nuclear power generation. Not just because of risk of such accident but hazardous and difficult-to-manage nuclear wastes after generation. I support renewable energey such as solar power and wind power as substitute for nuclear, oil or big dam.
Now this happened. Radiation has been leaked. I am in Tokyo, where 200 kilometers away from Fukushima nuke power plant. Radiation came with wind. People are afraid. Foreigners are escaping from Japan. Some of foreign nations embassies are relocated to some other places.
As for citizens' life, there is a big change. Because of shortage of electricity, Less commute trains run. Neon and lights are turned off. The city became darker than before. In shops and supermarket food and daily commodities are sold out because people are in panic. I am in panic, too.
Suddenly I have to live extra-ordinary life. The days I enjoy watching films, skiing, and writing blog are all gone. I don't know when I can come back to such normal life.
This may be last message to you if the worst scenario happens afterwards.
03 March 2011
Last weekend I visited most weird beach in the world. That is in Kaminoseki town, Yamaguchi prefecture.
It is said to be the construction site for newly built nuclear power plant that is scheduled to start operation in 2018.
See this video.
This is what it was like. The beach is watched by construction workers and security guards but people set up tents and held music concerts like enjoying party. Although annoucement that says "This is construction area. Please leave here immediately" was made every hour, they never moved. I joined them. They are activists who protest ongoing construction of nuclear power plant in Kaminoseki.
If the plant is constructed there, people living on nearby island called Iwai-shima should have very harsh life. Not just fear of radioactive leaking but the sea being polluted by warm water released from the plant, which kills fish they hunt for living.
They occupy the beach to show objection to the construction. They also sail to the sea where construction ships are anchored. Using fishery ships and kayaks, they try to stop the construction of the plant.
Nuclear plant is out of date power generation. The cost efficiency is lowering and renewable energey has become more common around the world.
Nuke plants have now become like US military bases in Japan. Both do not function as people expect to do. However myth that these things are very functional is still common.
A few weeks ago I joined the protest march to the U.S. embassy in Tokyo to show objection to construction of U.S. marine helipads in Takae, Okinawa. Two people were arrested by the police near the embassy.
16 March 2009
From Cherbourg, France 2 ships that carries very, very hazardous nuclear fuels, so called MOX departed. The ships' destinations are several Japanese ports near nuclear power plants.
That is nothing but bothersome not only to Japan but also France and other nations in the world. From France to Japan the ships would sail on the Atlantic ocean and Pacific oceans. If the MOX fuels got some troubles such as radiation leak, coastal regions near the ships would be affected. The potential regions would include North America, South Africa, Australia, New Zealand. The transported MOX fuels contains 1.4 tons of plutonium that can possibly be converted to nuclear weapons.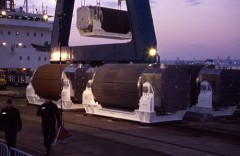 If the terrorist attack the ships, what would happen? Is this what people of the world can be happy with?
That MOX fuels are not even welcome by Japanese. Only by people related to nuclear power plant businesses.
The MOX fuels are very inefficient. The current power plants in Japan are not well equipped for MOX fuels.
The use of MOX fuels are not even permitted by local authorities. After the fuels arrived, it would have to wait for years in order to be used in the plants. It may never be used!
People of the world, especially French, Americans, Australians, New Zealanders, and Japanese. Please protest this stupid and dangerous sailing. That is much worse than whaling ship and even nuclear powered aircraft carrier like CVN 73.