30 April 2016
March and April were the big months for anti-nuclear movement of this year. 5th anniversary of Fukushima Daichi nuke plant's accident and 30th anniversary of Chernobyl nuke accident.
Since 5 years ago, Japanese public opinion has turned out to be mostly anti-nuke generation. Before that, survey results are usually pro-nuke generation.
Since that time, terms such as sievert, becquerel, caesium, iodine, plutonium, strontium, thyroid cancer, china syndrome, and etc have become very familiar. Not just with experts but ordinary citizens.
Fukushima Prefecture still suffer from radioactive released from the crippled plants.
I went there last month. I saw the radioactive-level measurement machine in front of railway station located 45 km away from the plant. Neighboring area of Evacuation zone.
That level is double the normal level before the accident. Radioactive still remains.
It is reported that tens of times of higher percentage of thyroid cancer cases are found among minors in Fukushima. That level is similar to Chernobyl which was estimated to release 10 times more radioactives to the environment.
Currently only two plants out of 50 in Kagoshima Prefecture are being operated. Last month two plants in Fukui Prefecture were shut down due to the court order after citizens filed lawsuit against the power company.
In Tokyo, on 5th anniversary day, citizens gathered at prime minister's residence to show their protest.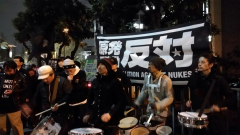 In a corner of a ministry building which is in charge of nuclear energy administration, protestants set up occupy tents to show their will since September 2011. It was modeled after Occupy Wall Street movement.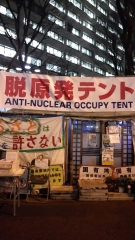 Kan Naoto who was a prime minister at that time interviewed by Asahi Newspaper recently claimed there was a possibility that whole Tokyo area would have become evacuation zone. It was a kind of miracle that it did not go so terrible. It may be attributed to God (or Buddha).
I remember that 5 years ago, I was working and emailing with a client who said the job we were dealing could be worthless because we never knew how our society would have become.
In Chernobyl another centuries are needed to completely dismantled the crippled plant. Thousands years to recover the area to get back to normal zone. As Einstein claimed, humanity and nuclear can never coexist.
Renewable energy has been booming lately. In next decades price of renewable energy will be much lower than nuclear energy.
Nuclear age is coming to end. We must end it!
Not just that, we must change our lifestyle so that we do not need so much energy that we have to rely on such hazardous energy source.
04 March 2014
Not homosexual, homosocial! I joined naked men in thong festival in Hobara town, Date-city, Fukushima Prefecture.
You may feel familiar with Fukushima. Yes, that is in the same prefecture in which that severe nuclear accident occurred after the earthquake and tsunami hit the nuclear plants 3 years ago. Hobara is 50 kilometers away from the Fukushima Daiichi Nuclear Power Plants.
On 2nd of March, I traveled to Fukushima from Tokyo. I brought my gaiger counter (radiation level measure). This was my 5th trip to Fukushima since that disaster. My purpose this time was my third time participation in the festival as naked man in thong walking and running on the street. Other 2 times I joined radiation clean-up mission of the town.
What my gaiger counter indiated at the Tokyo Railway and Fukushima Station were very similar.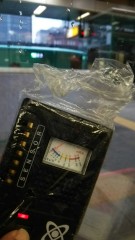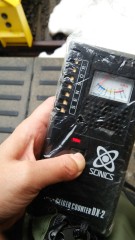 3 years ago, it was different. The below is what I took in Hobara Station July 2011, 4 months after the accident.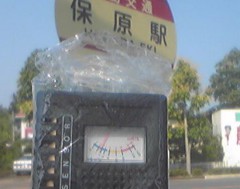 As you see, the counter needle went more right. It was over 0.1 Rem. More than 10 times of normal level.
However, it went down but still radiation level is higher than normal.
On that day I went to the gathering place near the Itsukushima Shrine in Hobara town to put on thong.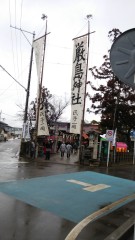 Over there around 70 men gathered to prepare for the participation. All guys became naked and bathed in hot water tub and after that they got themselves in thongs by local festival staff. Naked guys waiting in a room holding thongs in their hands. Talking about their bodies. Someone joked about that. (See the photos on this Japanese site which were taken 3 years ago) The thong contains cup to hold guys' private thing. After it was tightened by the staff, it was like being chained on your ass to hips. Kind of extra-ordinary feeling.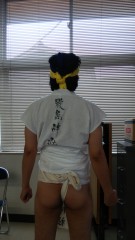 It is called, Fundoshi or Mawashi in Japanese. Sumo wrestler wear that. In the old days, it was maily used as underwear or swimwear for all the men in Japan.
The festival is named, Tsutsuko-hiki Festival. It literally means pulling the Tsutsuko, divine rice in a big straw bag which weighs 800 kg. To wish for rich harvest and health of the localies. By pulling the bag from all the direction the rice turns out to be soft and sweet rice cake. If you eat that, you can stay healthy all year around.
I learned about this festival when I joined the radiation clean-up mission. Then I decided to join the festival every year to wish for betterment of the town's environment. Only God can change things better, I guess.
After dress-up of the thong guys had to wait for the main event for 1 to 2 hours. Until then other things such as performances or children sports event went on outside.
During that waiting period, guys chatted each other drinking sake (Japanese alchohol beverage) and eating foods in a small room. It is the very men's world. Talking about life, sex and etc. I hesitated to talk about nuclear things because it was too serious for the localies.
Guys were mostly from Fukushima. One young man was from Australia. He said that he now lives in Iwaki-city in Fukushima as translator. He said that he enjoyed wearing Fundoshi. That amazed me. Only one caucasion young man among 70 Japanese men. It was like the short novel I wrote on this blog. A foreign guy experiences very traditional thing which modern Japense do not any longer.
After an hour long talk, I found myself very drank. The main event started and I ran with other guys to the shrine. Guys transported Tsutsuko on the carrier shouting "Wasshoi." After transporting it on main streets of the town, we placed that on the road. Then we, guys pull and bang that on the road shouting.
Later we transported that back to the shrine and the Tsutsuko bag was cut to open. Rice cake in it was divided and handed to participants and gallery. I enjoyed this festival last year and two years ago. However, this time I got too drank to remember what exactly I did.
I just hope things are getting better in Fukushima, Japan and the whole world.
05 August 2012
Jane Fonda played as ambitious journalist who happened to witness a very serious nuclear accident, that revealed how ridiculous nuclear industry functioned seeking profit in priority to safety.
When it was first shown in public, Three Mile Island accident occurred. The film seemed to be a preview of that accident. Since then, there was no new nuclear power plant constructed in the US except military purpose.
Now the same type and even much more severe accident occurred last year in Japan, Fukushima accident. The China Syndrome-like phenomenon occurred. Nuclear fuels may have melted down to the ground and theoretically went to the opposite side of the earth. No one yet knows how serious the damage was.
I actually watched the film several years ago on TV. At that time it was just suspense action film to me. Now I watched the film on DVD I bought. It was totally different story to me. It was no longer fiction. All the words and events occurred in the film were too much familiar to me, and other ordinary Japanese. I fully understand why water level in a reactor is important in terms of managing nuclear energy.
I also learned "No Nukes" movement existed even before Fukushima, Chernobyl and TMI.
It was very much late 1970's style film. Anti-big power type of message was in as anti-Vietnam war activist played main role and detailed and obvious description of how greedy the corporations are. Late 1970's was post-Vietnam war era, which people have become suspicous of authorities.
In fact we have to, we always had to. In reality everyone had been too much reliant on authorities, believing what they say is true.
Now we have changed such attitude since Fukushima. Less people believe what politicians, scientists say. People take actions gathering near the parliament building and prime minister's office, demanding direct voting on nuclear energy policy.
I hope this movement would be called "The Japan Syndrome."
08 July 2012
On July 1, 2012 one nuclear reactor, Ohi No.3 located in Ohi town in Fukui Prefecture was restarted. It was first time re-operation of nuclear power plant in Japan since 311 Fukushima nuclear crisis.
The government says it was to prevent blackout in case of energy shortage in heated summer. But the truth is to help electric power company from financial crisis. That is why so many people protesting the restart. More than 100 thousand people gathered in front of Prime Minister's House and Parliament building to shout "No Restart!" on the eve of restart.
In Ohi, local town of the nuclear plant, 7 hour bus ride from Tokyo, hundreds of people gathered at the entrace of the plant.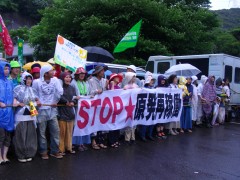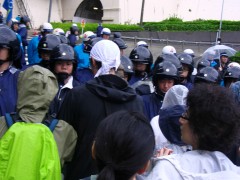 The problem is the plant had no safety measures to counter what happened in Fukushima. No wall to protect from tsunami, no filter ventilation, no earthquake resist building.
Even after a terrible disastor happened in Fukushima, there are people who want to forget about Fukushima and restart nuclear business.
In last two months, electricity was provided all over Japan without nuclear generation. That proves we never needed one. Japan has only relied 20-30% of energy on nuclear even before 311. It is easy to supplement that portion by other methods.
What we have to do is keep shouting protest against nuclear energy which is not only dangerous but cost-inefficient, harmful to the environment and human health even while regular operation. It consumes so much water and oil to dig and transport. Many got sick while digging uranium and maintenance. So much money is needed to operate including subsidies to local towns' poor budget in order to obtain approval for acceptance.
Stupid! We have to stop such stupidity.