04 May 2014
The story based on autobiography of former British military personnel in charge of radio communication, Eric Lomax, who became POW of Imperial Japanese Army in occupied Singapore during the second world war.
Even after the war he suffered from trauma caused by his experience as POW in Thailand where he and his comrades were transported to. Later he found that the interpreter, Nagase in the Japanese army, whom he met at that period was still alive in Thailand and decided to return there.
It was really shocking to see the film and know the facts. British soldiers were used as labour for construction of the railway and tortured by the Japanese army.
The film, itself was well-done however, reaction from Japanese audience seemed not so positive maybe because of portrayal of Japanese army in the film. It was indeed British perspective.
I was impressed by some words in the film.
"Japanese soldiers choose to die rather than being humiliated alive but Britons live to fight. "
"I have lived for this day. If the war did not end, end this (with your sword)."
Those were paraphrasing of what Nagase said when he re-encounter with Lomax and told him how guilty he had felt for what he did.
In the end, both men reconciled and kept good friendship until they both died recently.
We are all humans. We make mistakes. We hate each other but can understand each other. We hurt each other but can help each other.
We can learn from past mistakes and improve ourselves for better future and our decendants.
I think, that's the message from the two men.
30 July 2013
I just saw the film. It was not excellent but not bad, actually it was good considering it was made by Americans. It was indeed made from American perspective but thoroughly desriptive about Japanese personality and culture.
The story was based on memoirs of a former military officer who did research on the emperor's responsibility for the second world war. He interviewed with former politicians, military officers, and servants for the emperor to learn about what Emperor actually did before the war and end of the war. He also tried to find where his loved Japanese woman was.
One of impressive things about the film was one former prime minister said "Japan just followed what US and European nations did in terms of invading China and Phillipine. But why were westerners never convicted?"
The film described difference between Honne (true feeling) and Tatemae (appearance). Japanese seem to be calm in apperance but in their mind they have strong feeling and devotion which can make them brutal.
Emperor's role was very ceremonial so he was not actual starter of the war. It was the nation and militants that led the war.
However, I want to rate this film "B" not "A." It contains love romance essence but the conclusion of the romance was not what I expected. It was reverse and not so good.
Emperor has no responsibility for the war act. Not totally true. Recent research suggests the emperor actively coped with military people.
I just could not be totally satisfied with the film. I wanted more twists and surprises. Kind of clechay for Japanese who has studied this part of history.
Personally it was really helpful to me. I recently started to write a novel on the same period of the history. Mine is gender reverse. American woman and Japanese man. The woman character is inspired by a true character who helped rebuild and democratise Japan in post-war era. She visited Japan before the war.
Hope mine will come out as a film like this film.
11 September 2011
A decade has passed since that incident.
The U.S. declared global war on terror. The U.S. sent troops to Afghanistan and Iraq.
After all, did the U.S. win?
The U.S. killed Hussein and Binladen.
But the Taliban wasn't defeated. They now revived their momentum gaining support from the localies.
Iraq was never democratised but became anarchic. Iraq never had weapons of mass-destruction.
It was a fake information. The U.S. provoked war based on the lies they made up. That deteriorated reputation of the U.S. government.
The U.S. spent 1 trillion dollars for the two wars. Now the budget is in serious condition.
The economy is in very bad shape. High unemployment rate, lower rating of U.S. treasury bonds.
The U.S. parliament passed PATRIOT law. The civil liberty has been violated. The distrust against Muslims is growing. The nation is divided. The U.S. is no longer free society.
Oh, it seemed things has moved as the terrorists wish.
15 December 2010
I guess not, but I did kind of similar thing to what he did. But much more minor scale.
An Australian whistle blower site manager, a former hacker was arrested for alleged sexual offense filed by Swedish police. Since US government information he leaked in collaboration with US military serviceman caused turmoil worldwide, this arrest is considered politically motivated. I think it is.
I secretly interviewed with US miliatary serviceman in order to get sensitive information of his organization.
If you are interested, please read the below article.
Interview with CVN 73 Nuclear Reactor Crew
What Mr. Assage has done is controversial, can it be part of free speech or promotion for transparency government, or threatening national security?
It is interesting to know there are people in the U.S., who support Assange. That is great thing about the U.S. Micheal Moore is one of them.
As Moore describes, what if some necessary information was open in public, we could have avoided tragedy or change the course of the country. History tells that is true.
Last Sunday I attended the speech event of Nanjing massacre survivor. The massacre was committed by former Japanese imperial army in former capital of China, Nanjing, December 1937. Her parents were shot to death by Japanese army men when her family evacuated to the air-raid shelter. They found the evacuees and shot bullets to them from the shelter entrance by machine gun. Later they poured gasoline into the shelter and burned the dead bodies in it.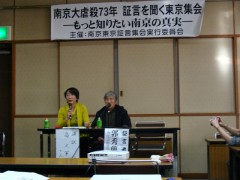 Something like that has been happening on and on in recent Iraq and Afghanistan but has been never publicised until Wikileaks released.
"Leaking war crimes is not crime" is right!