10 November 2007
It is getting cold lately. A winter is coming close. I do not like winter except that I can go out and ski.
I have good memories of skiing.
During my college days in the U.S., I visited Colorado to ski 3 times. The same ski resort, Steamboat.
It was college's students ski tour. In the first time we travelled by Amtrack. I remeber it was more than a half day trip from Auckland. Crazily long and boring. 2nd time and 3rd time we went there by plane. Less than 4 hours.
On 1st time trip, since I had never skied before so I took 1 day ski lesson and that enabled me to ski very well afterwards. Steamboat was a huge ski resort. Even I stayed there for 5 days, I couldn't ski on all of the courses there.
The photo was taken there.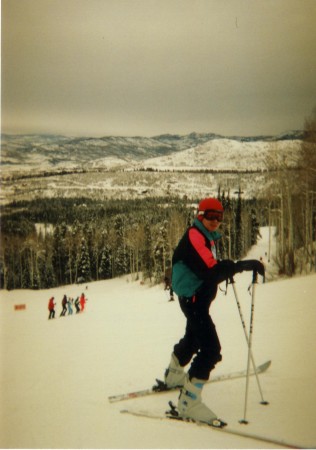 Other place I skied than Steamboat was Zermatt in Switzerland. I skied there in August seeing the view of Matterhorn.
But not as good as Steamboat, because the ski zones were limited because it was summer.
Well, now I get older, I don't think I want to go out and ski somewhere. There are many good ski resorts in Japan. But not as good as Steamboat or Zermatt. I don't want to get in crowded ski bus or trains to get to a crowded ski resort.
As it gets cold, I would stay longer at home watching DVDs. I rented an old Charlie Angels' drama episode that Angels went to Veil in Colorado to bodyguard a foreign important person. Kate Jackson (or lookalike) skied chasing a criminal very well.
That brought me back Steamboat memories, too.
Skiing is what you have to do NOW. As the whole earth gets warmer, more and more ski slopes are being closed. We wouldn't be enjoying skiing in near future. Maybe we should ski on artificial snow ground.
I was lucky I could enjoy skiing on real snow. It was high quality powder snow. I remember I could not make a snowball out of it.
15 October 2007
I rented DVD of the old time TV Mini-Series "Roots." It was aired in 1977. The story is based on Alex Hailey's novel. He wrote the story of generations of his family going back to late 18th century when an African tribe boy, Kunta Kinte was born. Kunta Kinte was captured by slave merchants and transported to America.
He was sold as slave to the plantation owner. He tried to escape but in vain. Then he left an offspring. Generation after generation, a story of Kunta Kinte was succeeded to an author, Alex Hailey. Between Kunta Kinte and Hailey, the family experienced enormous oppression by American society.
More than 10 years ago, when I was a college student, I took the course titled "Black Studies." It was very interesting course, the most interesting of all I took in my college days. A Black woman was an instructor. The below is what I learned.
1. Anything what you learn outside Black Studies is white studies.
2. Whenever you type "black", you have to capitalize the first letter "B." Don't care about "white."
3. U.S. doesn't want to provide Black people good education. Even the schools are integrated, the school districts are divided by racial residential areas. In the slavery time, it was illegal to teach Blacks how to read. It is easier for whites to control Black people when Blacks are uneducated.
4. Founding fathers, George Washington, and Thomas Jefferson were hypocrats because they owned slaves.
5. Christianity is not good religion because churches supported the slavery in the South, and didn't even treat Blacks better than other people.
6. IQ tests are culturally biased towards East coast white people. That is why Black students scored less than white students. IQ tests cannot be a good tool to measure one's intelligence. When someone talks about intelligence, ask him or her what the definition of it. In fact, there is no such thing. Very ambiguous.
7. Whites may be fearful of Black people because they do not want to know they are inferior to Blacks in terms of intelligence and human body conditions.
8. According to the Cress Theory, the anscestors of whites were albinos of Africans who later migrated to Europe.
9. In the past, it was believed that first man on earth was born in Europe, not in Africa because they did not admit Africans were the anscestors of whites. Now they say whites are advanced creatures of Africans. They twisted the theory not to give up their supremacy.
Her lectures were very radical so she had been criticized even by African students in class. I did not agree with all of what she taught. But I learned very important things. I learned how to counter ridiculous things in the world, how to overcome oppressions. Everyone is biased and everything in the world is political. Nothing is neutral, even in the academics.
Thanks for Black Studies, I survived in this hell.
11 October 2007
I rented a TV drama series DVD "Flipper" this week. What I rented is not original 1960's series, it was 1995 version of it.
In 1960's version, one park warden and his two sons, Sandy and Keith and a dolphin, Flipper were the main characters. In 1995 version, the main character was grown-up Keith, who became a marine biologist and managed a university's research facility. Keith was acted by Brian Wimmer. Jessica Alba was among the cast.
The stories were messy and unrealistic. That is basically kids' show, but the good things for all viewers were the beautiful scenaries and cute dolphins.
I guess Brian Wimmer may be one of major attractions of the drama. In every episode, his half naked body appeared, and in the very first episode, he totally became naked and swam in the dolphins' pool. Targeted viewers may include adult women and gay men.
I've been to Florida a long time ago when I was a college student in U.S. I went there on spring vacation. My brother came over from Japan. We stayed in Miami, and visited Key West. I ate crabs in Miami. I visited Hemingway's house and scuba-dove in the Key West ocean. Unfortunately I could not meet any dolphin. The below photo was taken at Southernmost point symbol with my brother in the Key West.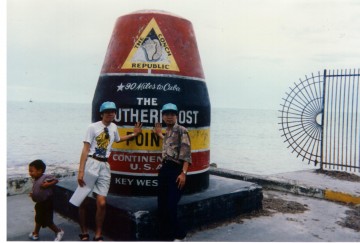 Florida was fun place to visit. I love tropical oceans and beach. When I become an elderly person, I will live in the tropical place like Florida, or Hawaii.
08 July 2007
The film describes how danger our planet is in. The carbon dioxide rate in the air is highest in last 650,000 years. The ice in North Pole will disappear in 40 years. Manhattan will be under water by rise of sealevel. There is greater threat than terrorism. That is "Global Climate Crisis."
The most of what Al Gore presented was what I have already known. I learned those things from Professor Glenn Fieldman's class at San Francisco State University. The title of the course was "World Eco Crisis." That was one of the courses of my major, International Relations.
Professor Fieldman was a liberal type of scholar, which you can easily find in San Francisco. She was expert for environmental issues. Al Gore reminds me of her so well.
Al Gore not only talked about the critical situation we are in. He also noted that there is political factors that drove the situation worse. That is journalism and the political and economic entities behind. The environmental crisis issues have been reported for many years and in many media outlets but there are many that deny such facts. So people have to wonder if the environmental crisis really exists. That was what Ms. Fieldman emphasized. News media are sponsored by large corporations. They can't critisize their major ad clients and shareholders. NBC is owned by General Electronics, that is why they can't critisize Nuclear Power Plant management.
Al Gore says Bush administration is backed by oil business tycoons. That is why Bush withdrew from Kyoto Protocol. It seemed Al Gore really wants to strike down his opponent who unfairly took away his "President" title.
But there are very important things that are missing in the film which Ms. Fieldman most strongly emphasized. That is gap between the rich and poor countries. That may be a major causes for current global eco-crisis. The rich countries have exploited poor countries, and made them poorer. People in those countries have to exploit their natural resources to live on.
This is what Al Gore could not mention because he is a man who drives a Mercedes-Benz, very luxurous and high emission car, and who lives in a mansion that consumes so much electricity which is worth 30,000 US dollars every year. 20 times as much as average household in U.S.
After all, politicians are hypocrats.