28 February 2021
It's been thought women are not good at mathematics and not suitable for engineering jobs. But that kind of notions were proved to be nonsense a long time ago. The film "Hidden Figures" described three Afro-American women working for NASA rocket engineering department as mathematicians, in Jim-Crow era, 1950's to 1960's.
I learnt about the film by Voice of America article on NASA's International Space Station program. NASA named the supply ship to the ISS Katherine Johnson after one of mathematicians in the biopic film.
They were not only being woman but Black women, who had to sit down on back seats in public bus and could not share the same bathroom with their white co-workers. But they did contribute to the very difficult space programs by calculating the orbit and designing rockets.
If they were white male, this story cannot be a film.
Breaking stereotype is the most important factor to counter racism or other type of discrimination such as gender, and sexual orientation. Stereotype is the origin of discrimination. Prejudice is biased view on others using stereotype images. Then people discriminate others based on prejudice.
Stereotype is baseless information about others. Like all Japanese can do Karate, which I don't. You cannot generalize others based on such stereotype. The sad thing is people judge others by these stereotypes and then sometimes treat them badly.
In the film, NASA officials found the women very useful to the organization's projects so they accepted them equally. If they hadn't accepted them as legitimate staff, NASA would have lost such great assets and wouldn't have succeeded in historic space missions in those days.
Stereotype, prejudice, and discrimination undermine progress of our society.
Let's get rid of such things from our world.
20 February 2016
The film's portrayal of the 19th century South was unrealistic. Although the story took place after the Civil War, portrayal of Blacks was not bad.
Until civil rights era, the old South was wrongly portrayed as if Black people were happy serving white people.
In that film that was the way they were portrayed. Funny thing was they had friendly relationship with their white family. In the first scene, a Black servant woman sat right next to a white boy facing his parents in a carriage. That woman was played by the same actress who played Mammy in the film "Gone with the wind." However, that thing never happened in the old South. Blacks were supposed to sit in the back of a carriage. "Gone with the wind" has the same portrayal as well. Mammy was like mother to white family's daughter.
Maybe that was the problem. The film depiction of the old South was wrongly better than real history.
Great thing about the film was combination of real scene and animation. It is as good as modern time computer graphic technique.
The story of rabbit gives us lesson of how to handle troubles. Even you get away from some troubled place, you never can get away from troubles in life, so you have to deal with it and be smart.
I think that was the core message in the film.
23 January 2016
From last December to beginning of this month, I was in Okinawa to join protest activities of locals who are opposed to construction of new military base runways in US Marine Camp Schwab in Nago city, Okinawa.
Why we are opposed has been described in this blog for years. Please read the posts clicking the tag Okinawa.
Especially, this article gives you outline of what is going on there. My letter to US Ambassador to Japan, Caroline Kennedy, daughter of JFK.
While I joined the protest, I used picket board that says "We are Rosa Parks."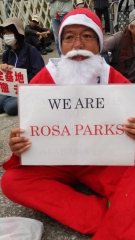 Rosa Parks as you may know, is the symbol of refusal to unjust matters. A Black woman who refused to give front seat to white passengers in a bus and was arrested in Montgomery, Alabama, 1955. But her action sparked bus boycott protest led by Dr. Martin Luther King. 9 years later, civil rights Act was passed. A year after that, Dr. King led peaceful march from Selma to Montgomery to call for enactment of voting rights bill. Black people in the Southern states were blocked at voting registration office.
What surprised me was marines reaction to the picket board. Young marines looked positive. I asked one security guard, who was a young white man inside the camp premise, if he knew what it meant. He said smilingly "I know what it means." One Black man driving a car looked at me, smiled and gestured his support. "Rosa Parks" is known to every American.
I saw the movie, "SELMA" after I got back home in Tokyo. It was a great movie. I found how hard it was for him to do this. A lot of people were hurt and even killed. But he and his followers never gave in.
Interesting thing to know was Dr. King was a very smart man so that he once retreated the march to avoid bloodshed by local police. He filed lawsuit against the Alabama state that bans peaceful march. Then the court made an order to allow the march. He prevailed.
Just like Rosa Parks and Dr. King. we did peaceful protest at the gate of Camp Schwab. Sit-in-protest at the gate that construction vehicles passed through.
Police came and took us from the gate. We never foughtback but just kept sitting down on the ground. I was carried by the police from shoulders to toes.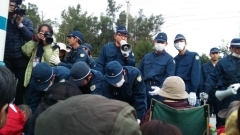 Protestants do every day. It has been going on for years. There were several injuries and arrests. But we still keep doing this. We cannot stop the construction but at least we are delaying that. We will never give in.
While I joined in the sit-in protest, I really felt like Rosa Parks, Dr. King and their followers in their times. We may be backed up by their souls.
Thank you, Dr. King and Ms. Rosa Parks. I am proud of being part of this protest activity.
The US government should hear the voice of protestants and halt such stupid construction project. It is as stupid as segregation laws. It is actually what is happening in your own yard.
15:28 Posted in Ecology, Film, Japan News, Politics, Society, un-USA, US-Japan relationship | Permalink | Comments (0) | Tags: history, military, okinawa, racism, afro-american
07 October 2012
Two films are stories about Afro-Americans in the U.S. Both of them described hard situations that Black people had experienced in the past and maybe even now.
"The Help" was a story of Afro-American maids working for white families in Mississippi in 1960's when segregation was very common. Afro-American maids were not allowed to share bathroom with white family members. They had to always put up with white people's arrogance. A young white writer decided to write about their experience and publish that by interviewing them.
"Precious" was about a girl of the same name living in Harlem, New York, 1980's. She got two babies with her father. She was raped since she was a child. Her mother abused her because of pregnancy. Her mother and she lived on welfare. She had to stop attending middle school for pregnancy. So she had to attend special school for dropped outs.
Portrayals of Black people in the both films are kind of, from white perspective although Afro-American characters played important roles. They spoke grammatically incorrect English like "You is smart." They looked uneducated, vulgar and violent, wheras white or lighter skin characters looked elegant, educated and kind. That reflects on reality? Maybe or maybe not.
For white viewers such kind of films satisfy their supremacy and ease frustration caused by forcible integration.
Has America changed since Civil Rights Act?
Mr. Obama is the president of the U.S. He is half-white and not descendant of slaves. If he was a pure Afro-American of slave descendant, he would have never been elected. He wasn't popular in the Southern States even among Democrats. Because he was elected, since his inauguration, number of Racist activist group has drastically increased.
Most recent survey for income gap among racial groups found Black and white gap recorded biggest since 1984 when the survey was first conducted. It was due to recession but why the burden biased to Afro-Americans? Racism? Poverty and lack of education caused by racial discrimination.
I don't like this part of America but this is reality of America.