25 July 2007
I went to Kyoto last night and came back home this morning. It was hectic trip. Indeed it was not a travel for private pleasure. The trip was for business. But I could manage to visit some tourist spots in Kyoto.
One of them is Gion town street, where my favorit movie "Memoirs of a Geisha" story took place. Geisha named SAYURI grew up there. It was pretty and very Japanese town. Unfortunately I could not see any Geisha walking on the street because it was early in the morning. But I enjoyed the street view very much. See the picture below.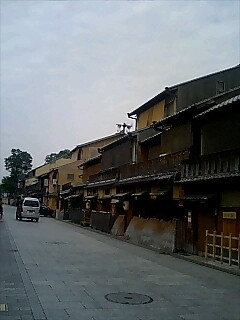 The other place I went to was Kiyomizu Temple. It is famous for high stage wooden building. There is a proverb in Japan, "Jumping off the Kiyomizu Stage." meaning trying to do a big new thing. Imagine how brave you have to be to jump off this stage.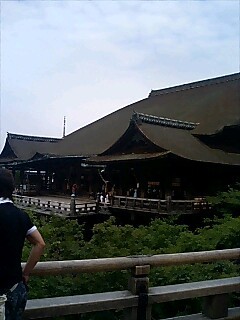 This is the view from the stage. It is 3-5 story building tall but in the old days, it was very high.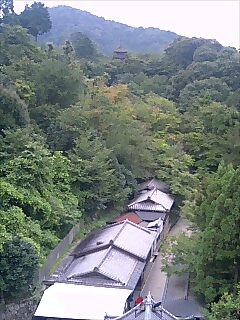 You can see other pictures of Kyoto along with other places in my photo album section on the right. Click on Japan Scenaries.
Kyoto is like foreign place for me because I used to live in US for several years and visite many foreign cities in Europe and China. Kyoto is one of great world's heritage.
Kyoto is beautiful, I am planning to visit there again near future. I will talk more about it later.
05 January 2006
I went to see the movie "Memoirs of a Geisha." Here in Japan the title was changed to "SAYURI."
The movie was kind of strange but also very interesting.
The characters in the movie speak in English. The hairstyle of the Geishas were appearently different from real Geishas walking on the streets in Kyoto.
The story was good in first half but the latter half was kind of difficult to understand. I actually did not like the story.
Some of Japanese argue Japan portrayed in that film was too strange to see. But how many of Japanese know the old time Japan, especially the life of Geisha? How many of us know how to wear traditional kimono?
So in that sense Hollywood made the best of their efforts.
One thing I find they are better than Japanese films is the scenes of the evening party. Usually those scenes are very bright like today's party room with fluor lamps on the ceiling. That never happened in 1930's. But in the movie "Memoirs of a Geisha," the room was not very bright and the Geisha's face was lit by orange paper lantern. That should be real scenes of those days, I think.
The thing I was kind of disturbed by was the main character was played by Chinese actress, Zhi Zhang. She is a great actress, but the point is the character she played might aggravate Chinese people. The story took place in 1930's Japan. It was a time Japan was invading China. The Geisha fell in love with Japanese rich man who once fought in Manchuria. Then after the war she helped him with reconstructing his business sleeping with American military man.
Today is the time the relationship between China and Japan has become worst in post-war time. It is due to our stupid prime minister and his uneducated conservative supporters.
As one of Japanese citizen who is very aware of how apologetic Japan should be to China, I could not enjoy this movie although the Chinese actress did played that role as Hollywood actress.