16 December 2007
Can you believe Japanese celebrate Christmas?
As you know, our people are predominantly Budhist. And even among Budhist, only a small portion of them practice it seriously. Most of our people are atheist.
Unlike Europe and the U.S. Japan's Christmas is basically commericial event. Good for business.
History goes back to late 19th century, Christmas was imported from the West. The below photo is taken from the top page of newspaper in December 1937.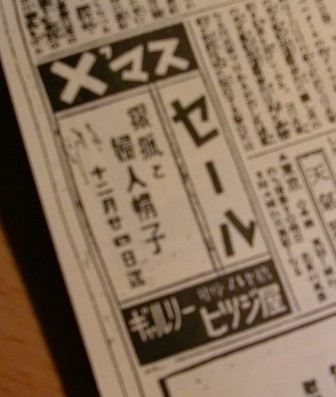 As you see, it says "X'mas," that is misspelling. No ' is needed to spell Xmas (Christmas.) That is the ad of lady's boutique. "Christmas sale for lady's hats and furs." Surprisingly the same page posted the news article of Japanese imperial army's victory in Nanjing battle, former capital of China. That is where Nanjing massacre took place. I can't believe people celebrated the war victory and Christmas at the same time.
I "You Tube" today's Christmas in Tokyo.
Please click on Christmas in Tokyo.
First scene is the flyer for Christmas mass in church.
Second scene is brass band playing Christmas song.
Third scene is Santa Clause from Finland spoke and translater translated what he said.
He said, "I was surprised that there is no snow in Japan. So I had to use good Japanese automobile instead of a sleigh. In Finland, fairies are making presents for good children."
Last scenes were illumination of famous shopping mall, Shinjuku Southern Terrace.
Anyway, MERRY CHRISTMAS!