03 January 2014
Dinner at LA TOUR D'ARGENT reminds me of what's happening in this world
Year of 2014 started.
On one of new year's days I was invited to the dinner at Tokyo's most expensive French cuisine restaurant, LA TOUR D'ARGENT. It is located in The Hotel New Otani Tokyo, one of Japan's high class hotel chain.
The below photo is me in kimono at the waiting room of the restaurant. Only waiting room is as big as one ordinary restaurant. I was allowed to take a photo of me within waiting room area.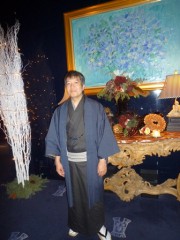 As you see the interior is georgeous. The dining room was georgeous as well. Mirror ceiling and chandeliers, candles. Tens of garsons in black uniform walking around to serve the same number of tables. That reminds me of the film "The Great Gatsby."
I had champagne, wine, and full course of very delicous meals. The speciality of the course was roast canard. Each guest was given a card of canard (duckling) he/she eats with its number.
A sommelier selected a wine that fits the course menu. He said one of most expensive wine the restaurant has is Romane Conti, which one bottle costs 2500000 yen, 25 thousands US $ or Euro. Of course it was not what our group could afford. So I chose half bottle of wine which costed around 19000 yen.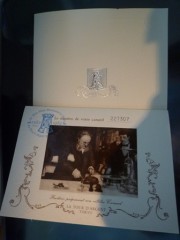 I really enjoyed that. But at the same time I had to feel guilty about it. The dinner cost a lot. That one dinner can equal a few people's monthly food expense. In the world half of the population are starving. This luxurious dinner should cost equivalentl to annual income of some portion of the people in this world.
Moreover, the bottle of Romane Conti costs construction of a school that hundreds of children can attend in third world nations.
Not just in third world but even in first world like Japan or America, such dinner is far exceeds the living standard of ordinary people. Last year I went to Okinawa. I visited the US Marine facilities. At the entrance of US Marine training camp, I saw the below sign that says "Hard training makes hard marine."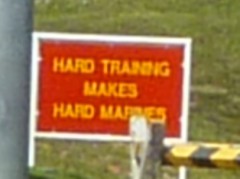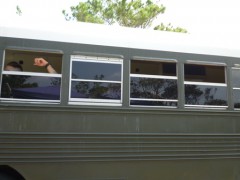 I saw the bus of trainees entering the gate. I heard those young people come from very poor family that could not afford college education for their children so they had no choice but to join the marine, what is called, Poverty Draft.
Meanwhile, very rich people like who can afford very expensive dinner like LA TOUR D'ARGENT exploits such young people to grow their wealth provoking wars all over the world. Kind of plutonomy. That is the social structure of today's world. I wrote a novel on this theme.
The bus transporting capitalism slaves to the military base reminds of one very historical place in Poland which I visited 6 years ago. The similar sign was posted at the gate of the facility.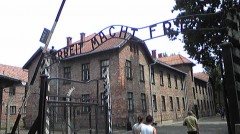 ARBEIT MACHT FREI. (Labour makes you free.)
18:55 Posted in Culture, France, Politics, Society, Tokyo Life, USA issues | Permalink | Comments (0) | Tags: military, poverty, class gap, economy, kimono, okinawa