11 August 2007
Do not bring 3rd atomic bomb to our capital!
I recently heard very, very surprising news that the U.S. navy has decided to station nuclear aircraft carrier, George Washington in Yokosuka city, which is 2 hour train ride from the capital of Japan, Tokyo. In fact it was agreed more than 3 years ago between the U.S. and Japanese governments.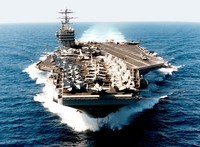 Outrageous and stupid! Japanese government allowed that happen. How ignorant they are!
We are paying so much money to the U.S. military. The government have to let them not to do what we hate.
Nuclear aircraft carrier is so dangerous. They've made some radioactive leaking accidents in the past.
The carrier will be stationed there permanently, we will have to live with the danger for half a year long every year.
If the worst thing happens in the Yokosuka, people living in the capital area would be required to evacuate, 30 million people have to leave! No way! Impossible! Millons of people would die after the accicent by cancers. It is like 3rd atomic bomb after Hiroshima and Nagasaki.
Local residents near Yokosuka navy base are suing the government not to construct pier to station the carrier. Since the carrier is US navy's property and its operation information is highly classified, we would never know how actually the inner nuclear reactor is operated nor intervene their operation. Even an accident happens, the U.S. government would not take any responsibility nor compensate for the damage because US-Japan Status of Force Agreement stated so.
It is time Japan rethinks the militaristic relationship with the U.S. We cannot get along with the U.S. navy's policy.
They made us help invade innocent Iraq.
We, ourselves have to realize the only military that can protect our country is ours. We have to amend the constitution so that we can have full-fledged military force so that we do not have to rely on the U.S. military any more.
Please read this article NUCLEAR CARRIER UNWELCOME on Japan Times. Yokusuka base is only 20 miles away from Japan's capital, Tokyo. This is just outrageous! U.S. government has to know this would just threaten relationship between the two countries. I became very anti-US person after I hear this news. A lot of us would be.
God damn America! Yankees, GO HOME!