31 October 2014
A biographic story of Grace Kelly who left Hollywood when she was a top star and got married to the Monaco Prince.
I remember TV documentary on her life a long time ago. It was her family's philosophy that leaving the business when he or she is on the top ranking. Not letting anyone see you downgrading.
Indeed, she did.
The film was criticized for historical inaccuracies, so it was noted as fiction based on facts.
But I enjoyed the film because Nicole Kidman who played Grace Kelly was really beautiful.
I first learnt that Monaco's official language was French. The kingdom always had struggles with its fearful neighbor, France.
Maybe getting Grace Kelly married to the royal family was one of biggest strategy to secure their kingdom's soverignty.
Monaco never had military but such a big weapon, the world's most famous celebrity so that no one wanted to destroy the kingdom including her.
A country image is a big thing. Japan has monarchy, emperor Akihito and his family.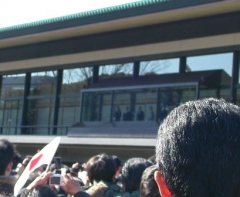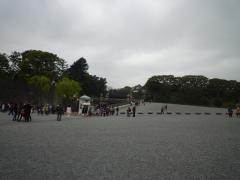 Their residence is size of Monaco. One family occupied huge area in the capital but they contribute a lot to the nation. Former emperor, late Hirohito was about to be accused of war criminal but the U.S. force did not indite him because of fear of rebellion from his people that might make occupation difficult.
The film made me think about Monaco whenever I go to the imperial palace in my city. Actually I am a guide who escorts foreign travelors to the imperial palace. If you want to know more about the tour, please visit this site.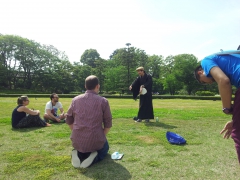 10 September 2013
IOC announced Tokyo will host 2020 summer olympic. This will be second time Tokyo was awarded as host city. First time was 1964.
Many people celebrated this announcement. However, I cannot fully celebrate. I think it was good news but there are some problems related to this event.
Biggest criticism of Tokyo's hosting is that crippled Fukushima Daiichi nuclear plants are still leaking contaminated water and no way to stop this is determined. Prime Minister Abe said contaminated water is perfectly blocked within fenced area. That was a lie. It is going beyond that area.
Many people should be worried that if visitors to Tokyo olympic including greate athletes are to be affected by radioactives. Nobody knows what is happening here 7 years later. That means that Japan must deal with this problem very fiercely since the world is watching carefully. We need to solve Fukushima issue very seriously rather than celebrating.
The other thing I do not like is that olympic games have become too commercial. The reason that Tokyo was chosen is that Tokyo has so much money. IOC hopes to get big sponsors' money.
In the old days like Japan hosted first olympic game in 1964, the opening day was October 10 to avoid heat of summer, now it is scheduled to open in July, hottest time of a year. I do not think it is appropriate time for athletes to mark good records. It is to get more viewers in summer than autumn.
Personally as I get older, I cannot enjoy sports events like younger days because I learn athletes are not heroes rather they are livestocks of states or corporations. Or they, themselves are just fake entertainers. Real entertainers are better to me because their job is to act to entertain audience, wheras athletes are supposed to play seriously and fairly which is usually opposite to reality.
Sports games shouldn't be business or too much spotlighted. Sports are just for health improvement and leisure. The only business athletes should make money of is to be a trainer or instructor of sports for players, who are doing this for health and leisure, not for glory, fame and money. No athletes shouldn't be too serious to get steroids in their bodies. Sports are not worth it.
In fact, for Tokyo and Japan olympic games are not as significant as we hosted first time in 1964 when Japan was aiming to be advanced nation after the defeat of war. Japan has become advanced and rich nation already. Japan hosted olympic 3 times before and the World Cup soccer games in 2002. Not very surprising. It was more like one of big international events. So what? Will this event boost economy? Not likely. After the game is over, business as usual, only that time like what happened after other olympic games. Just small portion of business people in very short period.
I do not care about what is happening in my city 7 years later. I may be moving somewhere else to escape from all the fuss.
13 June 2009
Today, I have become a guide for free walking tour guide for Imperial Palace in Tokyo.
Though I am not a professional guide but I speak English so I joined the volunteer activity.
It was nice. Today I and other two guides started the tour from Tokyo Station.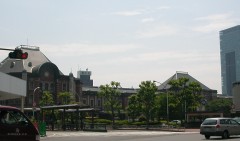 There were 10 people gathered at the exit. They were from Canada, Australia, Sweden and North Carolina (U.S.A).
After explaining to them history and current renovation plan of Tokyo Station, we took them to Tokyo's most famous tourist spot, Imperial Palace.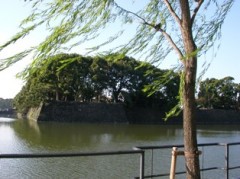 We explained to them how the castle was protected from invaders, such as surrounding mort, Stone Walls, Trap gate, and checkpoints.
We talked about middle age to modern time history of Japan as to how the country was developed into a unified nation.
It was sunny and hot day. They really seemed to enjoy the tour.
If you are living in Tokyo or have a chance to visit here, why don't you join the tour.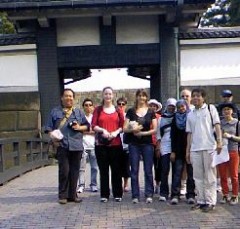 The tour is held every Saturday afternoon at 1PM. Gather at the Marunouchi central exit of Tokyo Station.
Straight-ahead is Imperial Palace.
See you there!!
03 February 2008
I am showing you some great photos of Tokyo's snowing views.
I took some photos and video clips in Tokyo's most famous park "Shinjuku Gyoen (Shinjuku Garden)."
Heavy snow covered big turf field.
It was very cold but very amazing views.
The below photo is Chinese house in the park.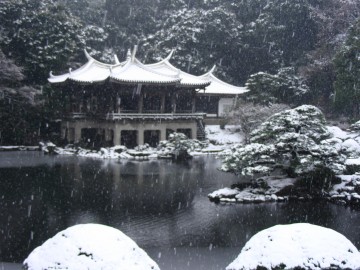 Next is Japanese garden and the skyscraper.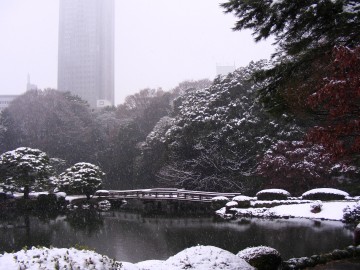 You can see the video clips on You Tube site, Tokyo Heavy Snowing. The first scene is the view of the city from balcony on the 11th floor of the building.
Compare with Tokyo's most beautiful Park, which is normal view of the park.