13 February 2008
Dear Australians: Apology to the Aboriginal people
The Austraian government made an official apology to the Aboriginal people. The Prime Minister said "sorry" to the Stolen generation who were taken away from their families to concentration camps to be assimilated to white values.
I've seen the movie "Rabbit Proof Fence." Three Aboriginal girls forced to live in the camp apart from their parents escaped from the camp to go back their home by tracking down the rabbit proof fence. That was based on a true story. What a terrible thing whites did to them. This Aborigines' sad history was mentioned in the You Tube Video about whaling issue. Some scenes of the video showed Aborinial people and subtitles "Australians treated Aborigines inhumanely." The video was viewed by the Australia's foreign minister. It is now removed. But it was very interesting. The theme was Australians' anti-whaling is racist sentiment against Japanese.
Now we feel like Aborigines who were taken away their identity and culture. What is wrong with hunting whales and eating the meat? You are not only protesting whaling because of the extinction issue. You think whales are special animal that even there were plenty of it in the ocean, anyone should not hunt even one of them.
Your government showed the photos of captured whales being transported to the fleet from the ocean by the anchor. Cruel? Haven't you ever seen the photos of the meat factories? See this video.
Are you extracting meat from cows, pigs and kangaroos without killing them? Are you living in the Disney fantazy? Learn the history of your people, there were Australian whaler ships in the past.
I shall stop eating Australian beef because cows are cute and intelligent. That is how you think.
I do not think your country is civilized nation. You might poison the beef like what Chinese did to us.
It is just fair to decide not to eat the meat imported from the people who criticize what we eat.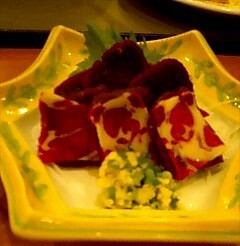 The photo of whalemeat sashimi served in a restaurant in Tokyo.