29 November 2009
Short Novel: "Bauhausler" Conclusion
A story of Japanese woman who experienced Bauhaus art and love romance in Berlin, early 1930's when Nazis came to power.
Please read introduction first.
Auschwitz Museum in Oswiecim, Poland, November 2009
"Now let us read the will she left. It was also a letter to our museum."
The head of the museum said.

"It was 1991 when I came back to Berlin. A year after reunification of Germany. Berlin Wall was fallen down. People were pleased with new reunited Germany. After the war, I started a hotel management in Tokyo for foreigners because I spoke good English and German. Japan turned into democratic nation with new constitution. The first hotel I managed was very small one but as reconstruction and development of Japan underwent, my business expanded, I could own more and bigger hotels in Japan and later in other countries. Next thing I knew, I became a successful business woman. People call me "Hotel Queen." It seemed my life restarted after the war. I felt like I never had any life in pre-war era.
When I turned age of 80, I decided to retire. I've accomplished everything I thought I should. Last business trip for me was Berlin and Krakow. Chikano Hotel opened new franchises in reunited Berlin and the old capital, Krakow in Poland. About 60 years have passed since I left Berlin. The city experienced heavy bombing in second world war and division by the wall during the Cold War era.
The view and scenaries seemed to be drastically changed from my memories except Brandenburg Gate.
I stood at Brandenburg Gate recalling my old memories. I still remembered some of the things. Yes, Bauhaus. School, friends, Meisters. But it was almost fading away as I became very old. However, Bauhaus has been part of my life even after I left. I tried to acquire Bauhaus furniture and design in my hotels. It was simply because I liked that. After I attended opening ceremony at Chikano Hotel, Berlin, I left for Krakow. Very last franchise I visit before retirement. It was my first visit to Krakow. I was pretty much impressed by the city's beauty. I was so glad that such a beautiful city became my last business deal. After the opening ceremony ended, my career as hotel woman ended. So I decided to have first trip in my retirement. The place was there in Krakow. Local tour guide recommended me to visit countryside of the city, which was also beautiful, too.
Then the tour guide asked if I knew Auschwitz. I told him I heard about it before. He told me I should visit there because it was world's historic place. I knew how historic it was because I heard about what Nazis did to so many innocent people in the war. I predicted thing like that would happen even before the war stared because I did witness what happened. That was the reason I had to leave Berlin a very long time ago.
At first I entered Birkenau and looked around the concentration camp that had a railway station. The final desitination for the prisoners. They became prisoners not because of what they did but because of what they were like being Jew, Roma, or homosexuals. When they arrived, they were divided to go to gas chamber or cottage. Those who could work had to be survived for forced labor. They had to live in cottages like ones for livestocks. When they became useless, they were easily executed in gas chamber or shooting place or by any other brutal method.
I went to the museum exhibition in Auschwitz main building. I saw so many things such as hairs, trunks, prosthetic limbs, shoes taken from prisoners. Over one million were killed in this place. I was shocked and saddened. But I had to face most shocking thing in my life there. I walked on the corridor of the museum and saw the line-up of photo frames hanged on the wall. The guide told me they were all black and white prisoners face photos. Some of them had flowers on top of the photo frame. That was what the survival families left. I saw the photos passing by. All were shaved head and looked frightened. I had to stop by at one photo. I looked at it carefully and then fainted.
A few minutes later, I woke up and drunk a glass of water at the office room. I asked who he was. I was very sure but I wanted to confirm. Then the museum staff checked out and told me he was whom I knew. Meister Marcus Weiss. The record indicates he was arrested for treason in 1938 by Gestapo. After years of deportation to several camps, he was finally deported to Auschwitz and executed in 1943.
I recalled all my memories with him. From when I first met him at Bauhaus and aparted in my apartment. After I left Berlin, I desperately waited for him but I gave up and decided to live my life. I almost forgot him. But I finally saw him again. In such tragic way. I told my story regarding relationship with Marcus to the museum staff. They all understood how I felt. I decided to become a donor for preservation of this monumental place. The place no one should forget and anybody should know. Please know my story."
The head of the museum finished reading the letter. He seemed to be moved to tears because he knew Madame Chikano very well. He saw her several times before she passed away. He continued the speech.
"Madame Chikano indeed became major contributor for preserving the museum. She donated so much money to this museum while she was living. Because she had no relatives or family members, most of her fortune went into preservation of this museum. She will continue to be a major contributor of this museum."
The head of the museum smiled and pointed out a Wassily chair on the stage.
"Her experience symbolized paralell of Bauhaus and Auschwitz. Both German made. Germany-born Bauhaus was once banned by Nazis who built Auschwitz. It was revived in post war era in the U.S. by exiled Bauhaus Meisters. Bauhaus art concept became mainstream for modern design and architecture. Bauhaus school was gone but its concept and art survived and prevailed. Madame Chikano spent only for 5 months in Bauhaus but her life experience was like how Bauhaus went through. The chair was one of what she used in her office room. To commomerate her contribution, we would like to place this in this museum." He put bouquet flowers on it and said,
"Rest her soul in this place and Bauhaus."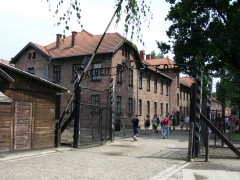 THE END!
This novel is copywrighted by this blog's manager, Masagata.
Next short novel would be "When East meets West" or "Fullbrightor" or anything else.