22 June 2016
Last month, US president Obama paid visit to Hiroshima and hugged survivor of the atomic bomb which the U.S. force dropped onto the city.
For most Japanese he was very much welcomed because he was the first sitting president who paid visit although he never apologised for the atomic bomb attack.
Many people in the world wondered why Japanese are not so much angry with the U.S. for the atomic bomb attacks.
There are two major reasons. One is we are the one who started the war attacking Pearl Harbour, and the other is we are the aggressor in that period. Before the war between Japan and the U.S., Japan provoked war against China and invaded that nation. In fact, Japan is the first nation that targeted civilians in an enemy state. US modeled after that. Civilian victims in China actually outnumbered that of Japan. So Japan is not a pure victim of the war.
We should have mixed feeling about Hiroshima. Like Germans cannot easily accuse the allied force of atrocities in Dresden that claimed around 20000 lives.
Speaking of mass murder, the mass shooting occurred in Orlando, Florida this month was very shocking. Most of the victims are LGBT Latino people. However, the gunman's motive is still unclear.
Besides that, why is the U.S. still allowing such offenders purchase guns so easily? Even after the shooting US Senate voted down gun control laws. Gun lobbying is very powerful in the U.S.
Seems the U.S. is not the nation that can value human lives. Not just people outside but in their own land.
SO SAD!!
14:50 Posted in Japan News, Politics, Society, US-Japan relationship, USA issues | Permalink | Comments (0) | Tags: war, lgbt, nuclear weapon, history, hiroshima, gun, china, atomic bomb
15 December 2010
I guess not, but I did kind of similar thing to what he did. But much more minor scale.
An Australian whistle blower site manager, a former hacker was arrested for alleged sexual offense filed by Swedish police. Since US government information he leaked in collaboration with US military serviceman caused turmoil worldwide, this arrest is considered politically motivated. I think it is.
I secretly interviewed with US miliatary serviceman in order to get sensitive information of his organization.
If you are interested, please read the below article.
Interview with CVN 73 Nuclear Reactor Crew
What Mr. Assage has done is controversial, can it be part of free speech or promotion for transparency government, or threatening national security?
It is interesting to know there are people in the U.S., who support Assange. That is great thing about the U.S. Micheal Moore is one of them.
As Moore describes, what if some necessary information was open in public, we could have avoided tragedy or change the course of the country. History tells that is true.
Last Sunday I attended the speech event of Nanjing massacre survivor. The massacre was committed by former Japanese imperial army in former capital of China, Nanjing, December 1937. Her parents were shot to death by Japanese army men when her family evacuated to the air-raid shelter. They found the evacuees and shot bullets to them from the shelter entrance by machine gun. Later they poured gasoline into the shelter and burned the dead bodies in it.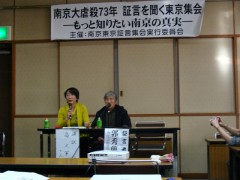 Something like that has been happening on and on in recent Iraq and Afghanistan but has been never publicised until Wikileaks released.
"Leaking war crimes is not crime" is right!
17 October 2010
The relationship between the two nations got worsened.
Both sides are afraid of the other's imperialism. China experienced invasion of Japanese army 65 years ago.
Japan learnt how Tibet has been treated by China in postwar era, which was typically described in the film, "Seven Years in Tibet."
What a mess!
One thing for sure is that we, Japanese should rethink how to deal with Chinese. It seems China cannot be good friend and market for Japan any more.
That does not mean we should rely on the U.S. again because they are more dependent on China than Japan is.
Maybe the most potential one may be South-Eastern nations. We also have to boost domestic demand.
11 April 2005
I am now just back from China. I visited Beijing and its neighboring cities.

Beijing was beautiful. I visited Forbidden city where last emperor lived, The great wall that was built thousands of years ago. I saw cute pandas.

Chinese people were so kind to me. I could never imagine in the past the two nations fought each other.

What was surprising to me is although China is known as communist nation, there were many capitalistic American things in the city. I saw KFC, McDonald, and HBO.