07 October 2015
Visited the location site of 007 film "You Only Live Twice"
Last month during what is called "Silver week" holidays (September 19 to 23), I visited a feudal period castle, Himeji Castle. It is located in Himeji city, 3 hours and half by Bullet Train from Tokyo and almost 1 hour from Kyoto.
As the train was reaching the Himeji station, I could view the white castle from the window.
As soon as I got out of the station, I could view the castle far away.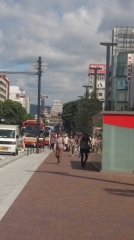 It was magnificient view. As I got closer to the castle, its appearance impressed me more.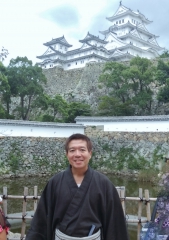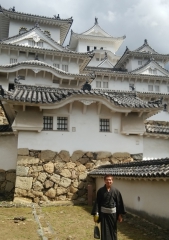 The castle has had that appearance since early 17th century. It is one of 12 still existing castles from the feudal period. In late 19th century, there were hundreds of feudal lords' castles in Japan but most of them were dismantled by new modern government order or destroyed by air raid during the second world war.
The castle went through several rennovation because it is old and wooden-made. But the basic structure and materials are the same as the old days with no elevator inside. Tourists have to climb up ladder-like stairs to the top 6th floor.
Actually such castle tower is not for residence of feudal lord rather, it was for symbol of power, observatory, and evacuation from the enemy invasion. So not functional for living. But the veiw from the top was spectacular.
It is designated as World Heritage site in 1990's. So it is famous internationally. But it was already famous before designated as World Heritage site. The castle was one of film location sites of 007 "You Only Live Twice."
The film was released in 1967. It showed how it was like in those days Japan. First James Bond actor Sean Connery wore kimono like a Japanese man and played like Ninja. Ninja were spies like 007 in feudal period. Himeji Castle was used as a ninja training facility.
The story is unrealistic like a comic. Maybe that is the feature of the film.
But viewers can enjoy sight-seeing of Japan. Seeing Sumo matches, kimono bond girls, fishery village, traditional wedding, Ninja, Himeji castle, volcano mountain and etc. All the things are very much Japanese. Not only those things but modern aspects of Japan were included such as subway, city neons, Toyota sporty car, 1964 Tokyo Olympic facility and pier buildings that James Bond fought against gangs.
Interestingly, foreigners could find more beauty of Japan than native Japanese.
This film is kind of basic form of 007 film since it was last work based on Ian Flemming novel. The story has some mutuality with film "Mission Impossible, Ghost Protocol". It included the global criminal organisation called "SPECTRE" that James Bond fought against.
SPECTRE is latest 007 film scheduled to be released this year. In that sense it is a great timing to see this old 007 film.
I am glad that James Bond, modern day ninja visited Japan and let viewers enjoy touring of this mysterious country.
Last scene of the film depicted Japan's mysterious aspect. Eruption of the volcano. Japan has many volcano. That is why we have many natural hot springs as well as earthquakes that sometimes caused big tsunami and destroy nuclear power plants.