06 September 2012
Biopic of former British prime minister, the only female PM in British history. Maybe she was as notable as Queen Elizabeth in pre-modern time.
She was born in a family of grocery. Her father was local mayor. She studied in Oxford.
She lived through 2nd world war, and struggled with male dominated society.
After she became prime minister, she won the war with Argentine over terriroritorital sovereignty in South Atlantic sea. At that time US was not very supportive, rather Reagan proposed peace pact with Argentine. That taught us what would happen if similar thing happens between China and Japan.
At that time, Thatcher told the U.S., what did you do when Japan attacked Pearl Harbour? Did you abondon Hawaii because it was so far away and not many people lived there? Did you propose peace pact to Tojo?
She was once about to be assassinated by IRA but survived.
This film described her being woman did not matter to what she did. She had capability of what she wants to do.
Recently I asked some British people about their reputation of Mrs. Thatcher. Surprisingly they did not like her very much. Is it because of her neo-liberal policy? She cut budget spending and privatised national businesses.
Whether that resulted in a good way or not, she had done those things with her firm determination.
Why we never had such a strong leader in our country's politics!
19 March 2010
A story of British queen who established the Golden Age of British Empire in 16th century.
The film described how she managed the country, how she unified the nation when it comes to the war with Spain.
It is not easy to unify big population, that is why a country needs a symbol of unification like queen, king, or president.
Sometimes the leader had to be cruel to maintain leadership and charisma.
I am recently relearning how past leaders of my country established this unified state such as Tokugawa Shogunate and young warriers who established modern type of government in late 19th century. They used Emperor as symbol of unification.
Unity or Anachism, that is critical point of every society.
If not united, people are torn apart, kill, rob each other and easily invaded by other nations.
Well, Japan was lucky in that sense because it was island nation and had good leaders like Britain.
In early 20th century Japan experienced similar situation of Queen Elizabeth's Britain did.
The war with Russian empire, countering unbeatable fleet sailing from Russia on the Sea of Japan.
Thanks to British made warships and financial help from Britain, Japan imperial navy could beat the fleet and saved our nation.
The below is exhibited former imperial navy's flagship, Mikasa located Yokosuka, Japan.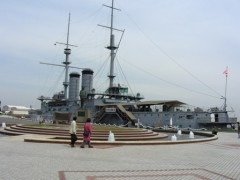 Well, real pacifists know how to manage the nation and win the war.
23 November 2009
Actually this is Japanese book written in Japanese and first published in Japan as "Aaron Shuyojo (Aaron Camp.)"
It was later translated into English. The book wasn't very popular in Britain. But in Japan it has become one of the most famous book of POW experience in the second world war. The writer Yuji Aida, who was drafted to the imperial army became captive in Burma by British military after Japan surrendered. He wrote the book after he came back home.
I learned about this book since former Air Force Chief, Mr. Tamogami, who was dismissed after releasing controversial essay in public quoted this in his speech to justify Japan's aggression in the war. To say it was the war to liberate Asians from white dominated nations.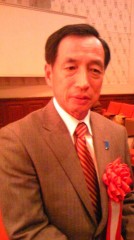 The below is what I was impressed in the book including what Tamogami quoted.
1. When the prisoners complained about the treatment, British officers said "That was what exactly your military did to us."
2. When one of soldiers in his corp apologized to the British for the war, the British preached him not to apologize because he believed he fought against Samurais.
3. When the prisoners went to female officers' house to clean, they met naked women hanging around not being embarrassed by their presence.
4. British higher ranking officers were taller than their low ranking subordinates and spoke different English because the high ranking people were from elite class.
5. Burmese were friendly to Japanese because they had been oppressed by the British under colonization.
What Mr. Tamogami quoted was No.3. The writer's analysis of why they weren't embarrassed was that they did not see Asians including Japanse as same human race. Asians were regarded as livestocks or animals, they should have reacted differently if white men came into their house. White racism was more sophisticated than Japanese one because Europeans had raised livestock in order to make a living so they got used to treating other people inhumanely. White people's brutal act was systematic rather than emotional. That was how he viewed.
I don't agree with his opinion. Japanese did systematic slaughter in the past. Like 731 Unit in Manchuria, and mass-murder of POW in Nanjing, China, 1937.
Recently Japanese people have become hostile to westerners and more nationalistic, so such thing was brought up.
However, I wonder if you, white reader would agree with the writer's points of view?
Are white women react not embarrassed if Asian male stranger came into the locker room when they are naked? If a stranger was white man, they would be embarrassed? Or vice-versa?
01 August 2009
As I described before on this blog, I became a free walking tour guide of East Garden of Imperial Palace. Read this article.
Last week, I met an American woman who is a college professor. I guided her to the imperial palace and explained history of pre-modern Japan and the imperial palace.
Imperial Palace was in fact, Shogun's castle before modern times. Shogun literally means "General." He was a actual ruler of Japan. A lord that takes control of all the regional lords of Japan. The emperor has been the symbol of Japan although former constitution states he was divine and above all. He never actually took authorities. The emperor was relocated to the palace in Tokyo from Kyoto after Japan's modernisation around 1860's.
I talked with her about TV mini-series "Shogun." It was aired in US and Japan 1980. The drama was based on James Clavell's book.
She told me she watched the show and read the book, too. It was reall popular show.
I wonder why someone wants to remake it as movie. Recently Japanese famous film stories were being remade by foreign film maker like "HACHI" and "47 Ronins."
Then why not remake this TV mini-series?
Can they make this long hour TV drama into 2-3 hour movie story? I think it may be possible. The film should be remade by Britain.
It is a story of British navigator cast away to Japan coast and saved by a lord who later became first leader of unified Japan in 17th century.
The British man, Miura Anjin was modeled after a real person named William Adams.
This time, I would advise the film maker to insert clearer description of homosexuality in that period. In TV mini-series, there was a scene that implied how tolerated homosexuality was in those days Japan. Now a generation passed. It should be featured more openly. Like Anjin has a sex with beautiful boy for pillowing following the advice from his interpreter, Mariko.
It was openly done that a samurai who had a wife or wives and even children had sex with boys for pleasure. They even had sex with their retainers or sworn brothers. It was very common and never considered abnormal like modern times.
Surely Shogun enjoyed gay love affair and sex not just with his 1000 wive in the castle. It is said that one of the reasons the Shogun could maintain good governance of Japan for centuries was he tolerated sexual life style of people. Japan was originally free-sex society unlike some Christian societies where sexual regulation was a key to maintain order of a society.
I am excited to see the remake version of "Shogun" and gay scenes in it.