27 February 2010
Maybe the most famous Hollywood film in history, I think. I bought the DVD of it for 500 yen recently.
The film was 3 hour and half long and all color though it was produced in 1930's. The story of a passionate and selfish daughter of plantation owner who lived through the Civil War period.
The first public showing in Japan was 1950's because of the war. Many say how come we tried to provoke the war against the country which could produce such dynamic film.
Yes, the film was great. I was really impressed when I first saw the film at younger age.
But now I grew up and see the film from different angle. Well, it still impresses me although it is not best film for me any more.
Beautiful, dynamic scenes, georgeous outfit and interior. Actors do very serious and dynamic acts. Easy to understand script to follow the storyline and its background.
It contains basic elements of entertainment film maybe like "Titanic" and current greatest hit "Avater."
The story was well-done. It was made politically correct as Mammy was taken as a very important character in the story taking into account the time the film was made and in fact a Black actress who played that role won the Academy's best supporting actress award.
However, romantisizing or beautifying the tradition of slavery in the South before the Civil War was not something we should get along. Slavery was wrong. The wealth of the South was consequence of exploitation of Africans. It is like the old western movies that portrayed native Americans as savages and cavalries, the police for white invaders as heroes.
Furthermore, the story is unrealistic. Scarlett who was born in wealthy plantation owner's family and spoiled could live through the turmoil of the war and managed to revive the wealth. She was really fictional character.
I think the theme of the story is what is real "good." Real "good" person is realist who knows how to survive and prevail in real world getting along with reality. Scarlett played a kind of role model for that. But no one could live like that. Those who could live like that are never impressed by this film because they think it is very common practice.
Interesting fact is when the film was first released in the U.S. It was near the second world war. The situation of its enemy, Japan was similar to the Southern Confederation. People believed braveness could beat the enemy states.
After the war Japan was democratised by Yankees and the old elite class people lost so much of their asset by high rate tax imposed on them. Their glory days were gone with the wind like the Southern plantation owners portrayed in the film. The below photo is former house of the old elite class people in Tokyo. Now it has become museum park for anbody to visit and have tea and sweets.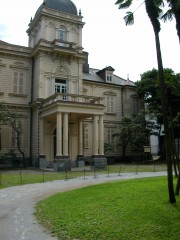 Me, having tea and sweets there.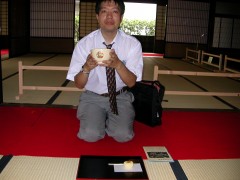 I like the ending of the film because it is not happy ending. In reality happiness doesn't last so long. If you get something good, you should lose something else. But don't get depressed too much, there is a way out and think to find a new way of living.
Yes, you can because tomorrow is another day.
12 August 2009
Walt Disney has been known as Hollywood's most racist and sexist person in history. His movies reflect his views.
"Sleeping Beauty" was one of the good examples. It reflects public opinion at that time. The film was released in 1959.
The princess named Aurora was cursed by a witch. The curse was that she would die at the age of 16. One of kind fairlies tried to get rid of the curse. But what she could do was to make it rather gentler one, which was fall into deep sleep until she be kissed by a man she loved.
3 things matter in the story.
1. A woman should be waiting for a man whom she has to depend on.
Girls are made to believe that. They are not expected to be independent. They are brainwashed to believe that they cannot live without reliable men's supports. How pity!
2. Bad guys are all Black.
Black witch took on the princess and prince. Her subordinates are crows. In the old days, crows are discriminately term for Afro-Americans. Disney would be surprised to know President Obama.
3. Your private life would be sacrificed for the statehood.
Like marriage between Princess Aurora and Prince Phillip who was her neighboring country's prince. Although they met in a forest accidently without knowing who they really were, they fell in love as though they had already met "Once upon a dream." That implies that people should think it is honorable to sacrifice your life to serve your country. Think that is your destiny.
Wow, interesting analysis! I don't like Disney film because they always contain such brainwashing methodology.
Disney films are great teaching materials for media literacy. DON'T BE BRAINWASHED, GOOD AND SMART PEOPLE OF THE WORLD!!
Remember Disneys and Nazis are lookalike. I want Tokyo Disneyland removed from our land as well as US military bases.
TOXIC and DANGEROUS!
22 February 2009
Well, very surprising! The movie was made in 1940 but the most important character was Black boy.
It was midst of World War I.
The story is a boy named Abu who lived his life by stealing things in Baghdad, met a young ousted king, Ahmad. Ahmad fell in love with a princess in Basra. Jaffar who was a closest retainer and ousted him to take over the position wanted the princess, too. Abu tried to help Ahmad and the princess. Then at last he killed a bad guy, Jaffar and saved the couple and had Ahmad to bring back his position, the king of Baghdad so that he could rule the kingdom peacefully. Ahmad said he wanted not to conquer the people but make them all happy.
Jaffar was Hitler at that time, or Hussein between 1979 and 2003, No! It is Mr. George W. Bush. Real war criminal.
Looked like a real story, I hope. Abu actually looked like Barak Obama, president of the United States.
Abu was a thief but very clever and brave. This was very different from a stereotypical Black character made by Hollywood. In fact it was British film.
In the last scene, Abu flew on the flying carpet and said to the king "I will go on a trip to find out what I want to do."
Well, the destination may be where Mr. Barak Obama is.
26 October 2008
Mr. Colin Powell endorsed Mr. Barak Obama for the president of the United States of America.
Well, after all, he was good man although he joined President Bush's team.
He grew up from poverty and is Black, that is common with Obama. That means he and Obama knows the pain and reality of the world.
White conservatives like Bush don't know the reality and they are basically fundamentalists, very idiot and break out unnecessary wars for the fake causes.
Powell is not only good man but also very shrewed realist. He is a military man but do things just necessary for the interest of his country.
There should have been things he, himself disagreed but got along with because those things were necessary to implement to make things better. He agreed to bomb Afghan but tried to convince Bush not invading Iraq.
I believe Obama's policy should be similar to Powell's.
Powell sometimes made very warm-hearted comments to the weak people because he did experience that position.
In 2004, 3 Japanese citizens were kidnapped in Iraq and held captive for 8 days. After they were released, they've been criticized for what they have done, which was trying to rescue abondoned children and find out truth. Japanese society did not get along with their objective and continued bashing them as to how selfish their act was because they ignored the government's warning of not going to Iraq. Read this post if you want to know more about this incident.
Powell said "Japanese citizens should be proud of them who were trying to do good things." That helped stop bashing them.
This time Powell endorsed Obama, at the same time he made very interesting comment to the U.S. citizens.
"Republicans say Obama is Muslim. It is not true, he is Christian but even if he is Muslim, what is wrong with it? Can't Muslim child dream of being a President of the U.S.? In Arlington cemetry, there is a grave for Muslim soldier who fought in Iraq."
Well, we want to have a leader who knows the pain of others. "Warm but Cool" is what politicians should be.